How Linde Technology Also Makes Automation Possible for Wide-Aisle Applications
A Project with Wide-Reaching Impact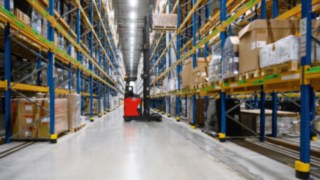 For FIEGE, one of Europe's leading contract logistics companies, automation has been part of working life for years. The company is now partnering with Linde Material Handling to tackle another innovatory project: automated wide aisle storage and retrieval by driverless reach trucks. A visit to the site of the pilot project in Worms, in the German state of Rhineland-Palatinate.
Sufficient qualified staff available at all times, a steady flow of orders, and endless space for picking at ground level: If a contract logistics manager could wave a magic wand, these are the conditions that they might conjure up. But no matter what they might wish for – at FIEGE in Worms, managers are being more realistic: "It's probably the same for us as for most contract logistics companies," says Jens Ritscher, Head of Projects at the subsidiary IDC. "We don't have qualified applicants queuing round the block, nor can we precisely predict peak handling periods." Goods handling work in Worms mainly relates to the distribution of power tools—and is carried out within a colossal 80,000-square-meter logistics facility.
Orders Need To Proceed—In Busy and Quiet Periods Alike
"In our business, we have to manage extreme seasonal variations. At peak times, we process 10,000 packages and 4500 Euro pallets per day," explains Jens Ritscher.
The logistics expert says that order volumes—and the facility itself—have been gradually growing in recent years. Goods picking is now undertaken to a height of up to 12 meters; this is certainly not child's play, especially for those staff who join the team as reinforcements during periods of high demand. "Any compromises in terms of process safety are out of the question for us and for our customers," emphasizes Ritscher.
The High Rack Warehouse: High, Wide—and Busy
So FIEGE set out to find those technical solutions which would be the easiest to implement for their ambitious automation project. "The project is ambitious chiefly because, firstly, we are dealing with an existing warehouse facility with standard shelf widths, which we do not want to modify. Secondly, we work at height and within wide aisles, rather than narrow ones—and thirdly, there are a lot of people moving around our warehouses as well," Jens Ritscher outlines the key challenges. After thoroughly comparing providers, FIEGE selected Linde Material Handling. The strongest argument in the company's favor was the long experience that the industrial truck specialist, based in Aschaffenburg, could already demonstrate in the challenging field of driverless reach trucks.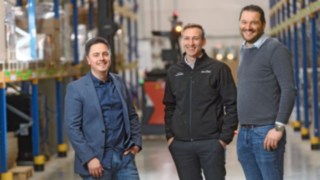 First Goods Transported After Just Three Weeks
Jakob Stoffel, Automation System Consultant at Linde Material Handling network partner Suffel Fördertechnik, explains: "By contrast to the—in any case limited—competition within this sector, our trucks are already second-generation models; this means that FIEGE can benefit from the learning derived from numerous other client projects." And FIEGE logistics expert Jens Ritscher says: "Just three weeks after the start of the project, the R-MATIC was transporting goods for the first time—and not in a separate test environment, but in real-life conditions."
Natural Feature Navigation Renders Infrastructure Modifications Unnecessary
Before commissioning the system, the Linde Material Handling team digitally mapped the warehouse environment; the forklift truck is able to then use the digital map to orient itself independently within the hall. A major plus point: Natural feature navigation does not require any modification or extension to the existing infrastructure.
To precisely record pallet dimensions in turn, the R-MATIC uses a self-calibrating 3D camera, which makes for significantly greater accuracy when picking up or setting down items—even on higher shelves. "Humans need to be extremely experienced to work at a level above six or seven meters. Overall, we were impressed with how 'relaxed' the Linde truck was while it was working," says Jens Ritscher. Features ensuring additional safety when working at high lifting heights include the integrated Dynamic Mast Control assistance system, which automatically compensates for mast oscillations.
You have to overcome people's reservations—it's not about replacing the human workers, but rather about compensating for shortages of specialist workers, and relieving the burden on colleagues.
Maximum Safety, Even in Mixed Traffic
Staff are constantly moving around the racking aisles, which are a good three meters wide, to pick their orders—and crossing the paths of the R-MATIC as they do so. To ensure safety, Linde relies on an intelligent combination of very different systems: the BlueSpot™, a safety laser at foot height, and a 2D curtain laser. "If this identifies an obstacle, the truck first decelerates and then, if in doubt, stops still," explains automation expert Jakob Stoffel. As FIEGE logistics expert Ritscher adds, the on-site team was also provided with comprehensive preparation for interacting with the driverless truck. "You have to overcome people's reservations—it's not about replacing the human workers, but rather about compensating for shortages of specialist workers, and relieving the burden on colleagues."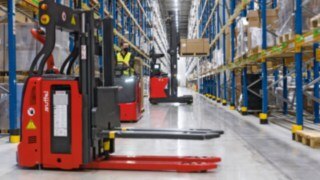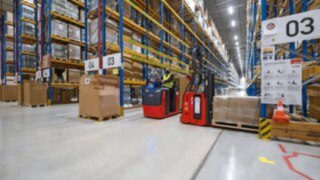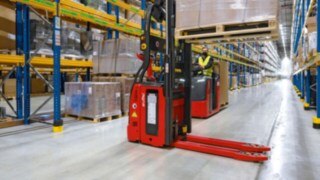 Other Sites Set To Benefit from the Automation Project
The initial results from the pilot project, which also includes the deployment of a Linde L-MATIC, will be analyzed and evaluated at FIEGE. One observation that has been made, for example, is that both trucks complete the storage and retrieval processes somewhat more slowly than human colleagues, but they score highly for working steadily. Jens Veltel, Senior Consultant at FIEGE Engineering, says: "Our objective is to identify modular approaches to automation for the FIEGE environment. So the next priority is above all to observe the performance of the trucks when fully laden, and when transporting goods over longer distances. All of this will give us an idea of how far we can take things with automation."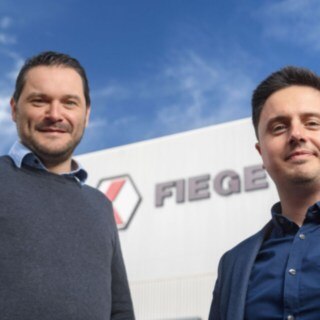 FIEGE Group
The FIEGE Group, which is based in Greven in North Rhine-Westphalia, is one of Europe's leading logistics service providers. The fifth-generation family business employs over 20,000 staff across more than 150 sites worldwide. At the subsidiary IDC in Worms, which belongs to the business area Industry & Tires, FIEGE undertakes logistics processes for a large electrical goods manufacturer in a warehouse that stretches over 80,000 square meters.