eMission ZERO: Linde Material Handling Operates In-House Hydrogen Infrastructure
Onsite hydrogen production
The fact is that hydrogen is an integral part of the energy mix of the future. Linde Material Handling was quick to identify this development, and has since come full circle with a groundbreaking project. Since May 2023 at its Aschaffenburg plant, the company has been using certified green electricity to produce hydrogen, which is then available as fuel for the plant's fuel cell trucks. This set up, which is the only one of its kind in Germany, is yet another example of Linde's pioneering work.
With its hydrogen infrastructure, Linde Material Handling is not only consolidating its role as a leader in technology, but is also gaining even more valuable experience, which will be of direct benefit to our customers.
Andreas Krinninger, President of Linde Material Handling, Member of the Executive Board of the KION GROUP AG
From Production to Fueling: How the Hydrogen Infrastructure Works
Green electricity: In order to make the hydrogen production completely climate-neutral, Linde only uses certified green electricity – i.e. electricity from renewable sources such as wind power, solar power or hydropower.
Electrolyzer: This green energy is used by the electrolyzer to break down water into component parts: oxygen (O2) and hydrogen (H2). The gaseous element is then dried out by cooling it down to -40°C.
Compressor: To make hydrogen suitable for use as fuel, it has to be compressed. This is done by a compressor, which compresses it from 30 to 450 bar.
Storage: Compressing hydrogen makes it ideal for storage, too. It is stored in a special pressure accumulator module with two sections that are alternately filled and emptied.
Dispenser: This is where the hydrogen is fed into the fuel cell trucks. Unlike conventional IC trucks, a data cable and a hose for the water suction have to be connected in addition to the actual nozzle.
Truck: In the fuel cells of the industrial trucks, the hydrogen again reacts with the oxygen in the air to form water, heat and electricity. The latter is stored in the lithium-ion battery and used to power the built-in electric motors.
Scenes from the Opening Ceremony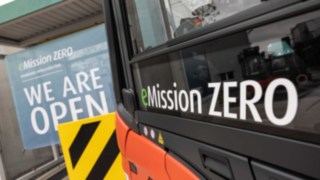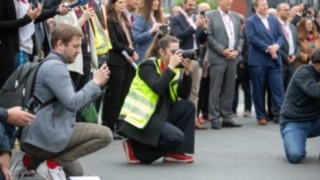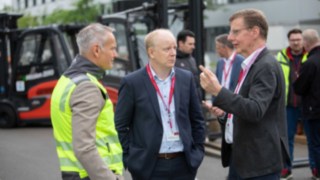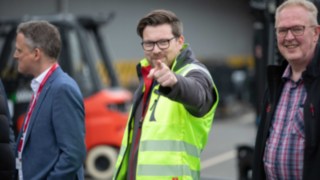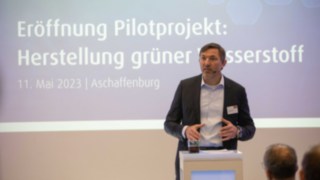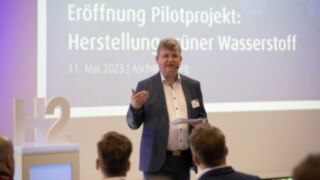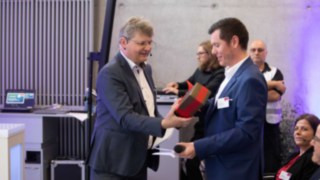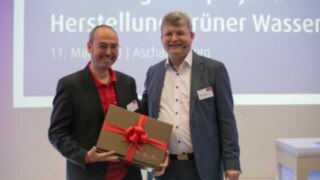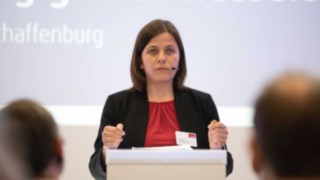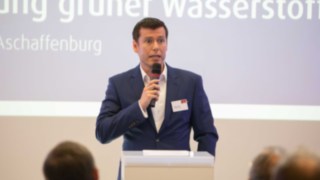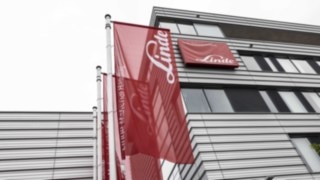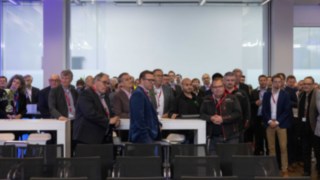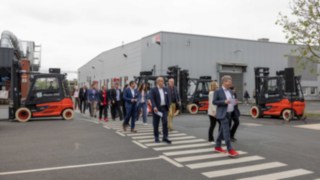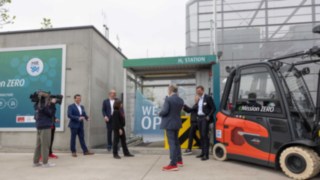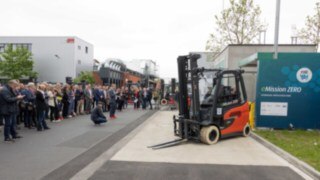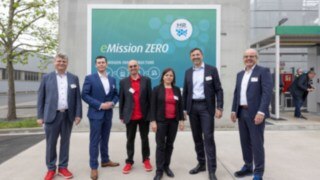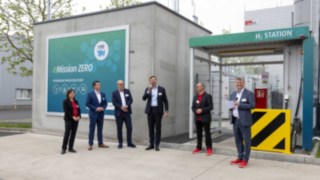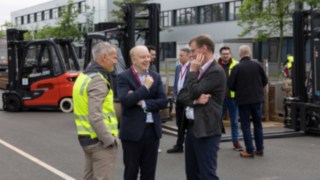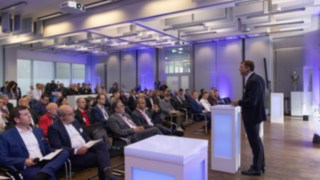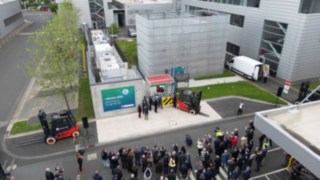 What Happens in a Fuel Cell in a Nutshell
The main keyword in terms of how a fuel cell works is "cold combustion": During the electrochemical process, oxygen (O2) reacts as an oxidizing agent with the actual fuel, hydrogen (H2). This generates a large amount of energy in the form of heat and electricity, which in turn is used to power the trucks. The only by-product is water (H2O), which is sucked back out of the fuel cell during the refueling process.
Linde Material Handling began series production of industrial trucks with this drive concept as early as 2010, and was the first manufacturer in Europe to do so. Since then, the company has gained valuable experience from many different customer applications, and this was incorporated into the development of Linde's first in-house fuel cell hybrid system. The Linde HyPower 24 V Fuel Cell system, with 24 volts and 1.8 kW output, was presented for the first time at the LogiMAT 2023 intralogistics trade fair. It will initially be used in Linde order pickers and tow tractors, and in the future will also be used in pallet trucks and double stackers. As of May 2023, a larger 48-volt fuel cell system is under development.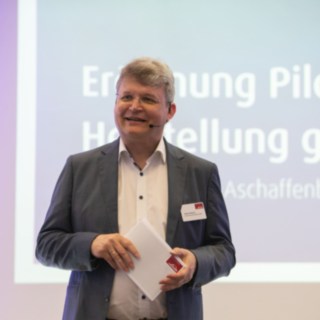 By 2030, our aim is to make fuel cell power units available for our entire fleet of counterbalanced forklift trucks – right up to our 8-ton trucks.
Stefan Prokosch, Senior Vice President Brand Management, Linde Material Handling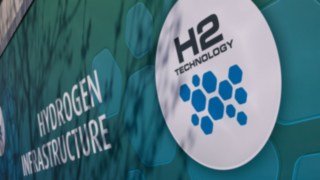 These fuel cell trucks are part of the fleet used in Linde's own plant
Linde Material Handling has replaced a total of 21 combustion engine counterbalanced forklift trucks in the fleet at the main plant in Aschaffenburg with climate-friendly fuel cell trucks: twelve Linde E50s with five-ton load capacity, and nine Linde E35s with a load capacity of 3.5 tons.
Green Means Go for All Things Safety
When designing the technical safety features of the hydrogen infrastructure, Linde used several of its own solutions. For example, the access control module from the Linde connect fleet management solution is used to ensure that only trained personnel can carry out refueling. Before refueling, employees have to identify themselves at the dispenser using an RFID chip, and in the background the software checks that the employee has the required authorizations. The Linde Safety Guard security system is used to prevent collisions between trucks and infrastructure. For this purpose, there is a 'static unit' located on the dispenser, which communicates with the counterpart (the 'truck unit') in the forklifts. This takes place with minimal interference thanks to the ultra-wideband technology. When a truck approaches the system, the Linde Safety Guard automatically reduces its maximum speed. Another truck unit installed directly on the fuel cell system tells the refueling system which fuel cell system the respective truck has.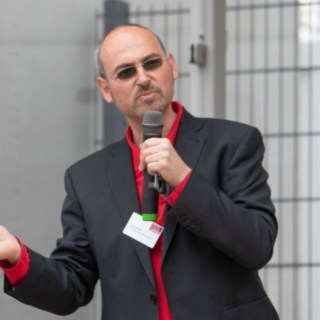 When it comes to performance and operation, we leave absolutely nothing to chance. Of course, the production facility and its various subsystems are also regularly serviced. In this area we work with a regional service provider.
Franz Huber, Project Manager Strategic Product Platforms CB-Energy
Would hydrogen also be an option for my fleet?
Fast refueling, emissions-free operation and clean handling mean that hydrogen-fueled industrial trucks offer an impressive range of advantages in intralogistics applications. However, the technology is not a "one-size-fits-all" solution because, as with all other energy systems, the concept is always based on the requirements and circumstances of the individual application. That is why Linde Material Handling has established a comprehensive range of energy consultation services.
Ahead of the Game with Hydrogen: Linde Material Handling as a Pioneer in the Industry
The topic of hydrogen has been gaining momentum in public discussion since the energy debate intensified at least. However, Linde has been experimenting with the idea for its forklift trucks since the turn of the millennium. In 2000, together with Siemens/KWU, Linde presented its first fully operational forklift prototype with a fuel cell power unit. Ten years later, the Aschaffenburg goods flow specialist brought fuel cell devices into series production. Customer companies can now select this energy system as a customer-specific solution for around 80 percent of the Linde series. The solution is available, for example, for counterbalanced forklift trucks, tow tractors and high lift pallet trucks. More information on the potential applications of these trucks, along with a range of case studies, can be found on this page.
Facts, Data & Figures about Hydrogen Infrastructure
100 kg hydrogen: The electrolyzer in the Linde plant can produce around 100 kg of hydrogen within 24 hours. However, in order to operate the infrastructure within the optimum efficiency range, the daily production volume is capped at approx. 52 kg.
21 trucks: The hydrogen infrastructure supplies clean energy for 21 fuel cell trucks in the fleet at the Linde plant.
100% certified green electricity: 100% of the electricity required to produce the hydrogen comes from renewable sources such as wind power, solar power and hydropower.
213 tons of CO2: The project will reduce Linde's annual CO2 emissions by approximately 213 tons.
> 50 companies: In addition to Linde, around 50 other companies were involved in setting up the hydrogen infrastructure.
2.8 million euros: Linde invested a total of 2.8 million euros in the development of the hydrogen infrastructure.