The Linde X-series forklift trucks put in a convincing performance at scaffolding specialist Layher
Fully Equipped for the Future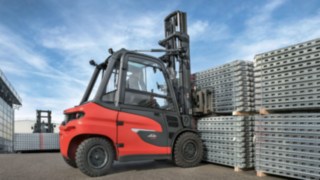 "More Possibilities": For global market leader in innovative scaffolding systems Wilhelm Layher GmbH & Co KG, this customer promise is at the heart of everything they do. And the catchy slogan applies to intralogistics too, as demonstrated by the use of the X-series electric forklift trucks from Linde MH. At the company's main location, they easily shoulder the same loads as their internal combustion colleagues – and may soon become a permanent fixture in the fleet.
In reality, the task of the eternally silent helper is a rather thankless one, despite the important "supporting role" played by scaffolding: Without these temporary auxiliary structures we would never have been able to admire the pyramids or indeed many other wonders of ancient architecture. Even our modern cities would have a somewhat less imposing profile. Of course, the scaffolding experts at Wilhelm Layher GmbH & Co KG don't need to be told this twice. The company, which was founded in 1945, has grown into a global market leader in the production of scaffolding systems, protection and event systems, mobile scaffolds, and ladders: "At our main site in Güglingen-Eibensbach alone, we process more than 30 million meters of steel pipe a year, and load an average of 100 lorries with our products each day," says Dr Fritz Barth, Head of Technical Service and Investments.
Constant Ups and Downs – Quite Literally
It is at this stage—or sometimes even earlier—that the other "helpers" on the site come into play: 45 diesel counterbalanced forklift trucks that are responsible for the disposal of production waste and loading, among other tasks. But why diesel? Head of Logistics Patrick Reiner explains: "Our site is in a rather idyllic location on the edge of the Stromberg-Heuchelberg nature reserve, but there's also a downside to that: Certain parts of the site are terraced, there are a lot of inclines, transitions between different terrains, ramps etc." The large distances to be covered over the site, which spans an area of around 250,000 square meters, don't make it any easier for the industrial trucks. This combination of heavy, awkward loads (including steel truss girders measuring up to 10 meters long) and difficult terrain has meant that for a long time diesel-powered trucks were the only option.
Performance is Key
Despite a historical preference for diesel, the company was in no way averse to trying out different energy systems. Reiner continues: "In recent years, we have repeatedly tested conventional electric forklift trucks in the load capacity range of up to five tons; however, none of them could match the performance of their internal combustion cousins. Poorer performance—and thus reduced productivity—is something we simply cannot afford when it comes to our customers." All that said, as you would expect of a company whose motto is "More Possibilities", they still kept on applying this philosophy to their forklift trucks. Finally, the Layher team found a potential solution. That solution came from Linde MH in the form of the newly developed electric forklift truck generation Linde X20 – X35, which promised to match the performance of equivalent internal combustion trucks.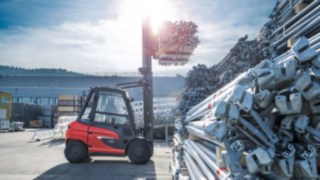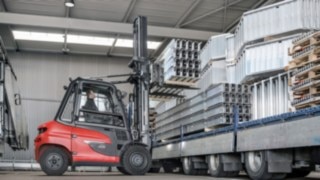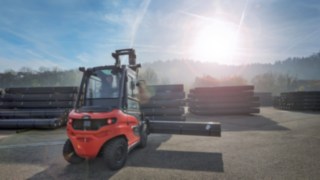 Time for a showdown!
"An electric forklift truck that could fully match the performance of an internal combustion truck, that really caught our attention," emphasizes Dr Barth, before adding with a wry smile: "Of course, we wanted to see for ourselves whether this would work in our little corner of the world, which is why we launched a field test." The protagonist in this case was a Linde X30, which had to prove that it was the right tool for the job under the tough conditions at Layher compared to both diesel counterweight trucks and electric forklift trucks from other market players. In the specifications, it was not only properties like speed, load capacity, and maneuverability that were under scrutiny, but above all the matter of the truck's performance. To everyone's amazement the Linde X30 performed solidly, even with the numerous inclines and declines on the site.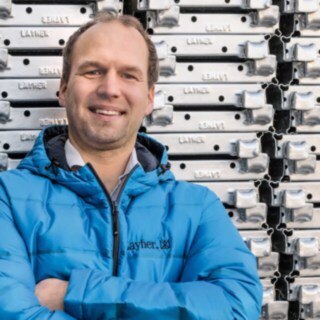 We see electrification as a key component of our overall sustainability strategy. The forklift trucks are no exception to this.
Dr Fritz Barth, Head of Technical Service and Investments at Layher
Impressed? Absolutely. Tonnage? More please!
The equation E = IC turned out to ring true for the Linde X30. "The truck really can do everything just as well as an IC truck. Our tests proved that without a shadow of a doubt," says Patrick Reiner, summarizing the outcome of the company's internal testing. Yet there was one variable that still needed tweaking: load capacity. The company really required trucks with higher tonnages for the loading of long goods and scaffolding components weighing several tons. "Here on site, Layher uses H40 and H45 diesel forklift trucks from Linde. In other words, the X30 would simply be too small for regular operation," says Gerhard Bauer, Head of Customer Services at the responsible Linde MH network partner, Hofmann Fördertechnik. Then they found out that Linde MH was already in the process of "upgrading" its X-series in terms of the available tonnages.
Performance Meets Precision
The scaffolding experts are now testing a pre-series Linde X50 under real-life conditions in close collaboration with Linde MH and Hofmann. The truck puts in two tough shifts a day, taking care of storage and loading. In the case of loading especially, the forklift trucks really have to use a bit of muscle. A task that the prototype has mastered with gusto: "The X50 is a real powerhouse; in terms of driving performance it's no different to a diesel model, both when going uphill and downhill," says enthusiastic forklift driver Waldemar Pepke. In addition to its impressive power, the precision typical of electric forklift trucks has also proven to be a boon for the Layher staff. "We have to approach each individual lorry up to 80 times before it is fully loaded. The new truck allows us to do this with extreme precision. When we're working outdoors, the powerful heating system is a real bonus too," adds Pepke.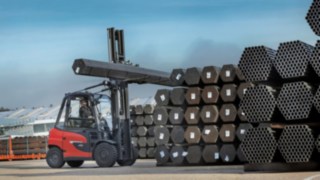 A Perfect Match
Precision is the buzzword: When it comes to distributing driving jobs, the company uses one of the most complex forklift truck guiding systems in the world. Each truck has a large terminal that displays a detailed map of the warehouse and guides the staff to the goods to be loaded. The guiding system uses laser navigation to direct the trucks through the warehouse with centimeter-precision, and the display even shows the relevant goods in 3D. "The Linde X50 allows us to access data for our control system directly from the CAN bus, for example the exact position of the forks. This is yet another major benefit," explains Head of Logistics Patrick Reiner. The test truck has shown its worth when it comes to endurance, too. Despite performing a very high-intensity task, the truck can easily last two shifts on a fully charged battery, with brief interim charging stops during breaks in work.
A Truck That Can Really Get the Job Done
Since October 2022, the Linde X50 has been buzzing around the huge Layher site in Güglingen-Eibensbach. Thanks to its significantly reduced noise levels, it has truly earned the title of "silent helper". Although the testing period for the prototype is not yet over, and there are plans to test it in three-shift production as well, one thing is already certain for Layher: "Based on our experience with the X-series forklift trucks, we can see no reason not to gradually introduce them into our fleet of loading vehicles at the site," announces Patrick Reiner. When it comes to building the fleet at the new Layher site "Werk 3", they are even planning to deploy X trucks from the get-go. "There is going to be a large PV system at the site to supply the trucks with climate-neutral electricity produced in-house," adds his colleague Dr Fritz Barth. He summarizes: "This leaves us, quite literally, perfectly equipped for the future."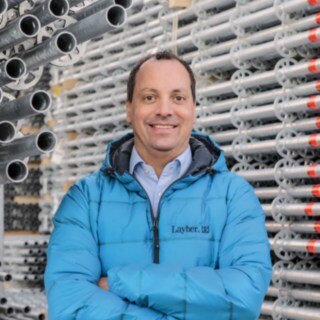 We are really impressed with the performance of the X-series forklift trucks, especially after an electric forklift truck from another manufacturer ran out of steam on a hill and broke down.
Patrick Reiner, Head of Logistics at Layher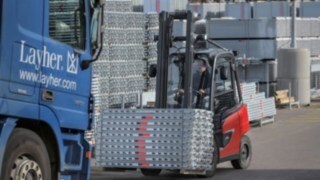 Wilhelm Layher GmbH & Co KG
Founded in 1945, Wilhelm Layher GmbH & Co KG is today a global market leader in innovative scaffolding systems and has subsidiaries in more than 40 countries as well as over 140 service bases worldwide. Around 1300 employees work at its headquarters in Güglingen-Eibensbach in the federal state of Baden-Württemberg, not far from Heilbronn. For its own on-site intralogistics, the company uses 108 counterbalanced forklift trucks from a range of manufacturers, 45 of which are deployed in the labor-intensive areas of production waste disposal and loading. The trucks currently in use, which include numerous Linde H40 and H45 trucks, each rack up several thousand driving hours a year. In future, the company plans to incorporate modern Linde X-series electric forklift trucks into its fleet. For Layher, the use of electric vehicles forms an integral part of its overall sustainability strategy. The Linde MH network partner Hofmann Fördertechnik in Neckarsulm is responsible for customer care and service.