Automation at TST: The Shortest Route to Greater Efficiency
A Sweeping Success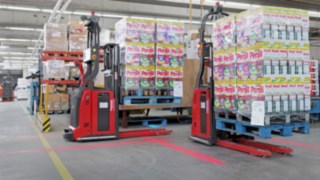 Automation made easy, for a customer with high standards when it comes to everything from the throughput of goods to safety in the workplace: This was precisely the challenge facing TST GmbH in Düsseldorf (Germany) in its role as Henkel's logistics partner. Armed with the expertise and technology from Linde Material Handling, it was possible to overcome this challenge in an impressively short space of time.
Displays really grab people's attention. This is not just relevant for products like smartphones, but also for branded supermarket displays that are stocked with drinks, confectionery, or cleaning products. In the case of the latter, it is highly likely that TST GmbH is the company behind it. The remit of this family-run company includes assembling cleaning products made by well-known manufacturer Henkel at their customer's site in Düsseldorf. "The end buyers, so large supermarkets and retail chains in both the DACH and Benelux regions, want to store as little as possible nowadays. That's why they put on display solutions, for example, as part of spontaneous promotional campaigns," explains TST Managing Director Marcel Bicking.
On the Hunt for Greater Efficiency and Safety
A booming business, where timing is everything, capacity fluctuates, volumes are large, and standards are naturally high when it comes to internal transport processes. Since commissioning the site in 2014, everything was carried out manually at TST. This not only kept employees on their toes as they worked in a two-shift operation, but also became more and more of a problem given the shortage of skilled workers. "Together with Henkel, we also place great importance on safe operating processes and minimizing the risk of accidents," emphasizes TST boss Bicking. On the hunt for potential optimizations, the company eventually turned to Linde MH network partner Suffel Fördertechnik in early 2021.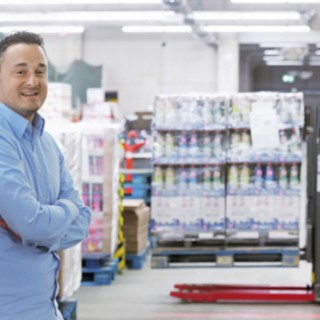 The display business has been booming for several years now. And we have to work with some extremely short lead times.
Marcel Bicking, Managing Director at TST GmbH
Automation Arrives, Infrastructure Remains
"TST had already had positive experiences with automation in other areas outside goods flow processes. So it was only natural for those in charge to take this step for goods flow processes, too," explains Jakob Stoffel, Head of Automation at Suffel.
One point was clear from the outset, however: "We wanted all of this to take place without having to modify our infrastructure," says Marcel Bicking, outlining the initial requirements. With this requirement in mind, the Suffel team then simulated various approaches, of which automation using Linde L-MATIC pallet stackers came out on top. A total of five trucks were implemented. Their job is to transport assembled goods from the processing station to a conveyor belt linked to a stretch wrapping machine.
Synchronized Interaction between Human and Machine
In line with the specified requirements, the process behind it is extremely simple. When employees have finished picking a pallet containing display products, they "call" the Linde L-MATIC at the push of a button. Each station has three color-coded pick-up zones and associated buzzers attached to a Combox to ensure the highest possible throughput. This system allows the teams to move onto the next orders, while the Linde L-MATIC trucks work steadily through the transport orders one by one. The trucks orientate themselves on their routes with no need for any guide rails or mirrors.Instead, they use the extremely reliable natural feature navigation system. Bicking says: "That works seamlessly and the mapping can also be easily adjusted if necessary."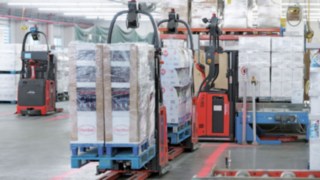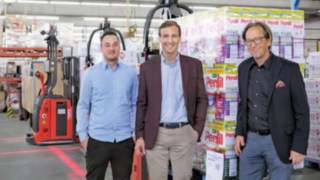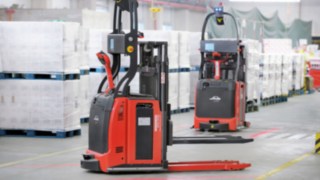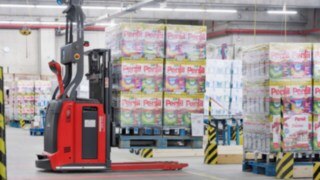 Safe and Visible in Mixed Traffic
Those in charge at TST are also impressed by how safely the trucks operate in mixed traffic. This is still very much relevant here, because manually operated pallet trucks are used to prepare products for assembly, for example. However, any other trucks or pedestrians crossing in front of the Linde L-MATIC are detected by the laser-based safety equipment.
As a result, the "automated colleagues" can react quickly when faced with a potential danger. Safety standards are increased further by visual warning systems such as Linde BlueSpot and highly visible LED stripesthat the truck projects onto the floor.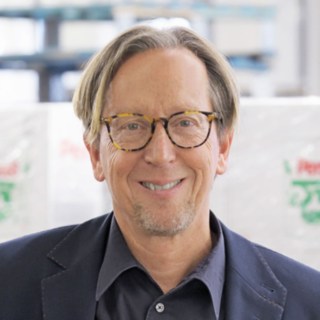 We have a zero-accident strategy here at Henkel, together with TST. The Linde L-MATIC makes a significant contribution in this regard.
Oliver Wittig, Head of Logistics at Henkel AG in Düsseldorf
Continuing a Successful Automation Debut
From the start of the project through to the go-live, the whole automation project at TST took just eight months. And since then – since 2022 to be precise – the automated transport helpers at TST have of course become fully integrated in everyday work. Alongside the support from network partner Suffel, Marcel Bicking cites the connection to the workforce as another key part of that successful integration. "We explained to our people from the outset that this was not about cutting back on staff. On the contrary, the colleagues who were previously entrusted with these repetitive transport tasks have now gone onto become shift supervisors." Small wonder, then, that TST has not only automated their Düsseldorf site, but also plans to expand this to their other (80 in total) company sites.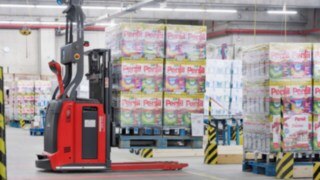 TST GmbH
TST GmbH is a family-run full service logistics provider with around 3500 employees across 80 European sites. The company provides their clients in the industrial, trade, and FMCG sectors with a wide range of services, be it production logistics, warehousing, e-commerce, or value added services. TST also provides value added services directly at the company headquarters of their long-standing partner Henkel in Düsseldorf (Germany). Since 2014, the team there has been assembling Henkel detergents and cleaning products for mixed boxes and displays, among other tasks.