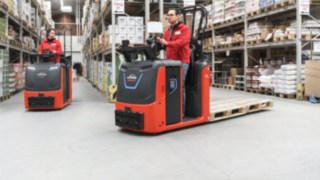 N20 C Order Pickers from Linde: Your Perfect Partner.
Manual order picking is a time-consuming task comprising many small steps: Drive to the correct products, load them onto the pallets, move to the next shelf and repeat—stepping in and out of the truck all the time. Today's customers expect increasingly short delivery times, meaning staff are under significant time pressure. Any lapse in concentration when picking orders in these demanding conditions will soon lead to mistakes. And whether it's the wrong product on the wrong pallet or an unnecessary truck journey, every mistake costs resources, and ultimately money, for the company. To ensure the picking process runs as seamlessly as possible, it is therefore essential that trucks are adapted to the particular work sequence and requirements of the operator.
The N20 C series from Linde Material Handling has been designed to meet exactly these requirements, not least when it comes to high comfort standards for operators. All models are fitted with a raft of ergonomic features to make the operators' work easier and ensure they do not become fatigued at any point during their shift. For example, when loading, operators can raise the pallets to a comfortable height, so as to prevent additional strain on their backs. The operator platform can also be lifted on some models. Moreover, the extensive range of safety features can all be tailored to the particular warehouse environment, providing additional protection for operators, goods, and pedestrians alike. All models from this series can also be easily integrated into your existing fleet to ensure you maintain an efficient material flow.
Order Pickers: All Models at a Glance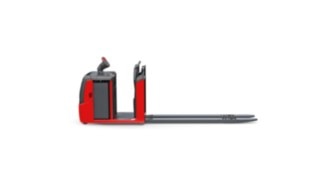 N20–N25 C
These order pickers are real all-rounders. With fork dimensions up to 3100 mm, they can carry a wide variety of loads weighing up to 2500 kg. They can quickly accelerate up to 14 km/h and are very maneuverable in narrow aisles. Click here for further information about this product.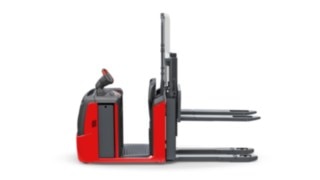 N20 C D
This order picker can transport two pallets stacked on top of one another and weighing up to 2000 kg in total. The lift feature means the operator is always at the most ergonomic height for picking and is able to separate heavy goods from more fragile ones.
N20 C L
Thanks to this truck's high-performance free lift, the operator can load heavy goods weighing up to 1200 kg onto pallets at a comfortable height, thereby reducing the strain on their back.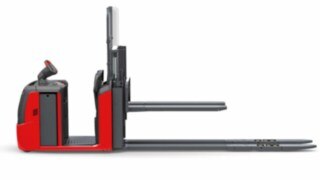 N20 C LoL
This truck enables the operator to carry a second pallet vertically, which they can then turn over for loading, meaning they can pick two orders directly one after another.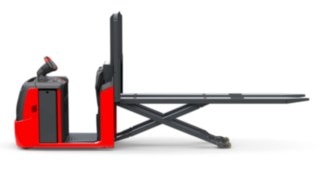 N20 C LX
The special scissor lift design on this truck allows the operator to load two pallets at the same time, both at a height that is ergonomic for their back. This ensures that even very heavy or long goods can be loaded easily.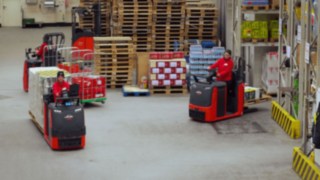 Efficient Solution for any Requirement
Seamless Handover
In most companies, order pickers are in continuous operation: At the end of their shift, operators simply hand their truck over to the next driver. Linde connect is an optional fleet management system which uses PIN codes or RFID technology to ensure that order pickers are only handed over to authorized staff. During the handover, there is very little time to charge the battery. However, the total charging times for lithium-ion batteries are shorter than for lead-acid batteries, meaning operators can charge their trucks during their regular breaks. Both types of battery are available for the N20 C series models, so the trucks can be integrated seamlessly into the existing fleet and infrastructure.
The N20 C series is also very well designed for picking operations involving lower shelves, thanks to the non-slip mat which helps operators maintain a secure footing.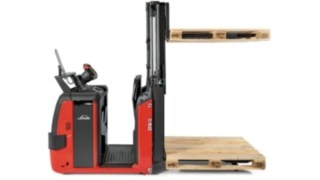 Heavy, Long, or Fragile Loads
In the food and cosmetics industries, order picking staff handle an enormous range of different products. To prevent anything from being crushed, operators must first load heavy products onto the pallet and then place light and fragile goods on top. The sequence of these order picking cycles must therefore be planned in advance. The N20 C series includes a number of different features to help operators overcome these challenges. For example, the N20 C D double-deck order picker has two levels, allowing the operator to load two different height forks at the same time.
Safety in the Warehouse
Excellent Visibility
Warehouses are busy places, but Linde's comprehensive safety systems guarantee maximum protection for operators, pedestrians, and goods. Glare-free LED headlights at the front of the order pickers improve visibility for operators. In addition, trucks can be fitted with the Linde Bluespot™ system, which projects a blue LED spotlight onto the floor several meters in front of the truck. This visual warning alerts pedestrians to the approaching truck well ahead of time, particularly in noisy warehouse environments and at intersections between shelving racks. The optional panoramic mirror also improves the operator's view of the goods. All order pickers in the N20 C series have been designed to provide excellent all-round visibility and therefore prevent accidents.
Protection for Operators and Goods
If operators take corners too quickly in the warehouse, there is a risk that products may slide off the pallet. The order pickers in the N20 C series therefore regulate their speed based on the truck's steering angle and the weight of the load on the forks. The backrest behind the load also ensures that the goods cannot fall onto the operator. The order picker is fitted with front bumpers in case of a collision. These, together with the robust steel chassis, are designed to reduce vibrations and therefore protect both operator and goods. If there is no operator on board, the dead man's switch stops the truck automatically. Moreover, the operator workstation has an emergency stop button, which is easily accessible and will bring the truck to an immediate standstill if activated.
Ergonomic Design for Maximum Productivity
The Perfect Set-up for Everyone
At the start of their shift, operators can set the steering wheel and backrest to the optimum height for them. If they are covering longer distances and don't wish to stand, they can also fold out the in-built drawer in the backrest and use this as a seat. In this case, a padded knee-height support compartment provides additional protection in case of collisions. Clipboard, pen, and water bottle can also all be safely stored on the operator platform, so they are easily accessible when needed. The user-friendly interface on the multifunction display uses simple color symbols to inform the operator of the time of the last service check, the current speed, and the battery charge status.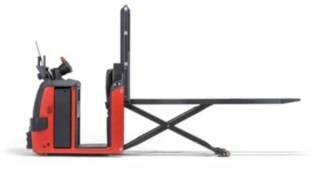 Simple Handling
The Linde steering wheel uses clear symbols and has an integrated horn. Operators can control all functions one-handed and even drive the truck forwards and backwards using just one finger. Whether they are wearing gloves or not, the non-slip surface ensures they maintain a firm grip at all times.
When covering short distances on foot, operators can also simply activate the pedestrian function from either side to save them having to keep climbing in and out. Plus, if the next station is a bit further away, it's just a low step back up onto the operator platform. Finally, the order pickers' rounded corners and edges reduce any risk of injury.
Advantages at a Glance