Cost-Effectively Transport Heavy Loads
The HT100 – HT180 Ds IC trucks are fast and efficient when handling heavy loads: a fact guaranteed by the well coordinated combination of modern diesel engines, transmission, and hydrodynamic drive. This technology ensures exceptionally strong handling performance, particularly for transport over long distances. What's more, drivers of trucks in this class benefit from excellent all-round visibility, as essential components, such as the mast and counterbalance, have been designed for optimal vision.

Characteristics
Safety
As well as allowing a clear view of the raised load, the armored glass roof also protects the driver against any falling goods. The cab's large doors provide an all but unrestricted view of the working environment on all sides, while the exhaust system, air intake, and the optional air conditioning system are all positioned on the truck so as not to obstruct the driver's field of view. When reversing, a loud (85 dB) warning signal sounds, alerting other trucks and persons on foot.
Armored glass roof
Vision-optimized counterbalance
Audible reversing signal
Good all-round visibility
Ergonomics
The visibility-optimized design of the truck means the driver does not have to make unnecessary head and body movements, and they also benefit from the ergonomic design of the spacious cab. The height of the armrests and steering column can be adjusted, all control elements are well within reach, and the bright display is easy to read. What's more, the low-vibration cab reduces the vibrations felt by the driver. The multiple equipment variants mean that the workspace can be made to measure for individual needs.
Adjustable armrests, steering column, and seats
Spacious driver's cab with ample leg room
Hydraulic suspension seat
Low-vibration driver's cab
Handling
Despite their size and power, the HT100 - HT180 Ds IC trucks consume very little fuel. This is made possible by the precise combination of efficient diesel engines and a hydrodynamic transmission, that allows the truck to move and accelerate extremely precisely. Additionally, Linde Load Control allows the driver to control all mast functions with speed and precision, thereby improving handling performance.
Efficient engines
Hydrodynamic transmission
Linde Load Control
Service
Robust engines, long maintenance intervals: in the MTU engine variant, the HT100 - HT180 Ds IC trucks require servicing only after 750 operating hours. With a Perkins engine, this figure is every 500 operating hours. For trucks with a 7" color display, the Linde Service Monitoring System is available on request, featuring sensors that detect driving performance and usage in real-time. This makes oil change intervals very precise. In order that every service process runs quickly, service technicians can tilt the cab forward to gain access to the equipment from both sides.
Long maintenance intervals
Service access from two sides
Linde Service Monitoring System
Videos & Images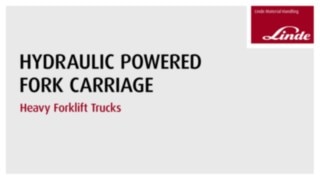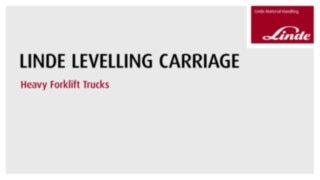 Technical Data
| Model | Load capacity/Load | Load centre distance | Travel speed, with/without load |
| --- | --- | --- | --- |
| HT100D/1200 | 10.0 (t) | 1200 (mm) | 28.8 / 30.1 (km/h) |
| HT140D/1200 | 14.0 (t) | 1200 (mm) | 28.1 / 29.8 (km/h) |
| HT140D/600 | 14.0 (t) | 600 (mm) | 28.3 / 30.2 (km/h) |
| HT150D/600 | 15.0 (t) | 600 (mm) | 28.3 / 30.2 (km/h) |
| HT160D/600 | 16.0 (t) | 600 (mm) | 28.1 / 30.1 (km/h) |
| HT180D/900 | 18.0 (t) | 900 (mm) | 25 / 25 (km/h) |
Optional Equipment
Attachments:
Multiple pallet clamps, rotators, clipboards, carrying pins, and much more are all available.
7" color display with load display
The large, high-resolution display makes it easy for the driver to view relevant truck data and the weight of the load, quickly changing between different views using a dial on the armrest.
Fork carriage
The range covers mechanical and hydraulic fork carriages, models with additional end position lateral lifts, tiltable, shaft-guided fork carriages, and everything in between.
Multi-functional fork carriage
Up to six hydraulic circuits can be installed on this fork carriage, making an incredibly wide range of carriage and fork movements possible: lateral movement of the entire fork carriage – even when both forks are positioned externally – individual movement of specific forks, and much more.
Tire pressure monitoring
The system automatically records the values and warns the driver of excessively low air pressure.
Get a Quote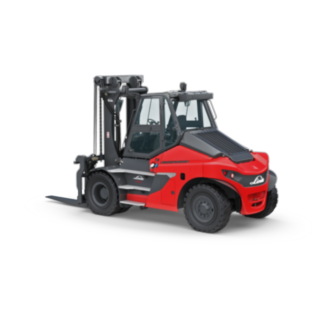 HT100 – HT180 Ds