Double load for higher productivity
The electro pallet stackers L14 – L16 AS AP/AS comes in two standard versions, so the user has a custom fitted and effective solution available for their area of operation: the SP version with a fixed platform for optimum comfort for longer distances or the AP version with a foldable platform for more flexibility during operation. This version of the truck is more compact. Both platform versions can be combined with the various vehicle versions such as the double stacker. The maintenance-free 3 kW three-phase motor achieves a maximum speed of 10 km/h regardless of load weight. The easy to use servo supported power steering creates more productivity.
Characteristics
Safety
Whether foldable (AP) or fixed (SP) platform, the operator is totally protected with the electro pallet stackers L14 – L16 AS AP/AS. The electro-hydraulic load-dependent braking system is a significant component: It reacts immediately when the operator leaves the platform, hits the emergency stop button or releases the drive switch. The truck automatically reduces its speed when cornering. The good visibility through the mast adds additional safety, because the operator always has the load in sight.
Effortless folding up and down of the platform (AP)
Outstanding visibility through the mast
Electro-hydraulic, load-dependent brake
Automatic speed reduction when cornering
Solid all-around protection for the operator
Integrated side protection
Ergonomics
These trucks maneuver effortlessly with the servo supported power steering. The operator controls all drive and lifting functions intuitively and without strain using the tiller head. The generous storage compartments can hold many different work materials. In the SP versions, padded side surfaces and a rubberized platform ensure that the operator does not tire, even during long operations.
Driver platform suspension
Electrical steering unit
Adjustable steering resistance
Hydraulically cushioned active side stabilizers
Handling
The electro pallet stacker L14 – L16 AS AP/AS lift and lower their loads with great sensitivity. Transport weights of up to 1400 kg can be quickly processed. The powerful 3kW three-phase motor propels at a maximum speed of 10 km/h. This truck series is suitable even for heavy operations.
Sensitive lifting and lowering
Proportional lift mast control
3kW three-phase motor for speeds of up to 10 km/h with and without loads
Service
The digital multi-function display informs the user about all of the most important truck parameters. The service technicians profit from the CAN bus connection: They can read out and quickly check all system data via notebook. Then they are able to reach all of the important components without effort. The overall availability of the truck is very high with the maintenance-free 3kW three phase motor.
Maintenance-free 3 kW three-phase motor
High-performance lifting unit with low energy consumption
CAN bus system for quick and easy diagnosis
Easy access to all components
Technical Data
| Model | Load capacity/Load | Lift | Travel speed, with/without load | Turning radius | Battery voltage/rated capacity (5h) |
| --- | --- | --- | --- | --- | --- |
| L14 AS | 1.4 (t) | 2924 (mm) | 6 / 6 km/h | 1669 (mm) | 24 / 345/375 (V)/(Ah) o. kWh |
| L14AS AP | 1.4 (t) | 2924 (mm) | 10 / 10 km/h | 2054 (mm) | 24 / 345/375 (V)/(Ah) o. kWh |
| L14AS SP | 1.4 (t) | 2924 (mm) | 10 / 10 km/h | 2174 (mm) | 24 / 345/375 (V)/(Ah) o. kWh |
| L16 AS | 1.6 (t) | 2844 (mm) | 6 / 6 km/h | 1669 (mm) | 24 / 345/375 (V)/(Ah) o. kWh |
| L16AS AP | 1.6 (t) | 2844 (mm) | 10 / 10 km/h | 2054 (mm) | 24 / 345/375 (V)/(Ah) o. kWh |
| L16AS SP | 1.6 (t) | 2844 (mm) | 10 / 10 km/h | 2174 (mm) | 24 / 345/375 (V)/(Ah) o. kWh |
Optional Equipment
Drive wheel
The customer can select various drive wheels depending on the operating environment. Wheels of profiled polyurethane, non-marking polyurethane and of so-called Wet Grip material are available.
Lateral battery replacement
A mobile or fixed battery stand is necessary for the optional lateral battery replacement using a roller conveyor in the battery compartment.
Operator Protection Cover
The operator protection cover with Plexiglas cover offers additional protection without affecting the view above.
Cold store protections up to temperatures of -35°
The cold store protection guarantees full availability and performance of the forklift up to minus 35 degrees Celsius.
Load backrest
The load backrest ensures that loads cannot slide backward when the load carrier is raised.
Soft Landing function for the fork carriage
The Soft Landing function prevents a jerking motion when depositing the load and any resulting damage. It automatically reduces the lift speed before reaching the floor and sets the load down softly.
Tandem load wheels
The tandem load wheel is available in polyurethane and also in a polyurethane version which can be lubricated.
Get a Quote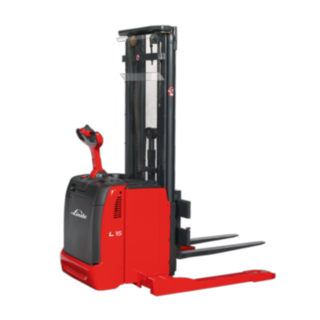 L14 – L16 AS/AS SP