Ergonomic Platform Solution for Fast Processes
The T16 P and T20 P pallet trucks from Linde Material Handling guarantee fast transport processes over shorter and medium distances. The highly responsive 1.2 kW engine very quickly reaches its maximum speed of six kilometers per hour – with and without load. In addition, the tandem load wheels ensure a good drive even on uneven ground. Service technicians can configure important operating parameters such as maximum acceleration to make the truck even more suitable for individual requirements. As a result, processes run more efficiently and safely. If necessary, the driver can fold up the stand-on platform. This turns the low-platform truck into a pedestrian model. The T16 P model has a load capacity of 1,600 kilograms, while the T20 P transports a maximum of 2000 kilograms.
Characteristics
Safety
The T16 P and T20 P pallet trucks have four independent braking systems which guarantee the safety of the driver and load in different situations. The truck brakes automatically when the driver releases the butterfly switch or alternatively moves the tiller all the way up or down. In addition, the electromechanical brake is triggered when the reversing switch or emergency stop button is actuated – in the second case, all circuits are also interrupted. The large tiller head encloses the hands and protects them from injury. If the tilted at an angle, on a ramp for example, it does not roll back when starting off.
Four independent braking systems
Reverse switch
Emergency stop button
Hand protection
Ergonomics
The low pallet truck's one-piece platform and special tiller structure absorbs all shocks and vibrations which may put a strain on the driver. The controls are ergonomically located on the tiller head and are easy to operate with both hands. In addition, handling is carried out effortlessly using the fingertips. The stand-on platform can be folded up and down as required. An easily accessible storage compartment is available for work materials.
Dampening via platform and tiller
Easily accessible control elements
Foldable platform
Storage compartment
Handling
The T16 P and T20 P pallet trucks have a powerful 1.2 kW engine and can reach speeds of up to six kilometers per hour. In combination with Linde LAC digital control and the mechanical controls, this drive ensures very fast and precise processes. A service technician can adapt central performance values such as acceleration to the individual application. The operator has a good view of the fork tips. This facilitates direct entry into pallets, for example.
Powerful 1.2 kW engine
Linde LAC digital control
Configurable performance values
Good visibility of fork tips
Service
During the development of the vehicle, Linde attached great importance to low-cost maintenance routines: Many elements are maintenance-free, service technicians can easily reach all central components and fast computer-aided diagnostics are carried out via CAN bus. The stable engine and battery cover, robust chassis and durable fork tips ensure long operating times without the need for maintenance.
Easily accessible components
CAN bus structure
Sturdy engine and battery cover
Robust chassis
Durable fork tips
Technical Data
| Model | Load capacity/Load | Lift | Travel speed, with/without load | Turning radius | Battery voltage/rated capacity (5h) |
| --- | --- | --- | --- | --- | --- |
| T16P | 1.6 (t) | 125 (mm) | 6 / 6 km/h | 1670 / 1734 (2010 / 2075) (mm) | 24 / 250 (V)/(Ah) o. kWh |
| T20P | 2.0 (t) | 125 (mm) | 6 / 6 km/h | 1670 / 1734 (2010 / 2075) (mm) | 24 / 250 (V)/(Ah) o. kWh |
Optional Equipment
Alternative Forks
Users can configure the vehicle for their application with a wide range of fork lengths and widths.
Polyurethane Wheels
Polyurethane drive wheels and load wheels are available for the T16 P and T20 P pallet trucks. The material is quiet, very durable and has good running properties. It does not leave tracks on light-colored floors.
Side Stirrups
The brackets are easy to fold out and give the driver additional stability when cornering or on uneven ground.
Get a Quote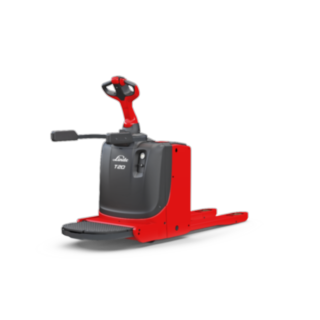 T16 – T20 P