Oil Filters
Keep moving parts lubricated!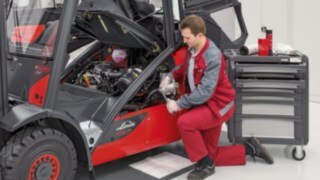 Clean oil is a basic requirement for the flawless operation of forklift hydraulic systems and combustion engines. Oil filters in Linde Material Handling original manufacturer quality are precisely aligned with the requirements of the engine and the hydraulics of Linde forklifts. Deviations in quality not only have a negative impact on performance, they can even damage the engine or the hydraulics, or lead to a total failure. Linde oil filters are optimized that they are particularly efficient and durable, and ensure full performance within the recommended filter service life.
Benefits of Oil Filters in Linde Quality
Finest Filter Media
Linde oil filters are able to collect an extraordinary amount of dirt before they become blocked. This means that no unfiltered oil reaches the diesel engine via the bypass. The filter media also have an extremely high separation efficiency, ensuring that no abrasive particles enter the lubrication system or the sensitive hydraulic components. The filters also operate reliably and efficiently in damp conditions thanks to high-quality impregnation.
Durable Housing
The housing of Linde oil filters is designed for a long filter service life – it can withstand high pressure and is extremely corrosion-resistant. This ensures the full function of the filters over the recommended service life.
Perfectly Fitting Seals
The oil filter seals are manufactured with millimeter precision. The material used is also particularly resistant to chemical influences, which effectively prevents leaks.
Precise Valves
The filter opening pressure is precisely aligned with the system pressures. This perfect interaction ensures an optimum filter result.
Original Filters: Effective and Durable
Linde original filters effectively protect both combustion engines and all hydraulic components against premature wear. In particular, components such as the hydraulic pump, hydraulic motor, steering, control valve and hydraulic cylinder benefit from the use of precisely aligned filters.
Linde filters increase the service life of the combustion engine and the hydraulic components. You also benefit from a longer lifespan of the oil and the associated extended intervals between oil changes. For example, the hydraulic oil only has to be replaced after every 6000 operating hours. This means that Linde oil filters contribute to cost-effectiveness.