C-MATIC and C-MATIC HP
Automatically lifted up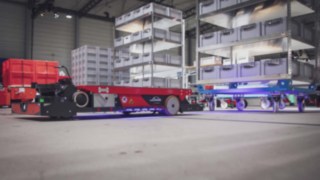 The autonomous mobile robots (AMR) C-MATIC and C-MATIC HP are compact, highly efficient building blocks for automated material flow. Suited to the individual requirements of the users, both vehicles have their very own strengths. Philipp Stephan, Product Manager Automation and Intralogistic Solutions, explains what they are and what they should be used for.
Philipp, when should companies start thinking about purchasing a C-MATIC or C-MATIC HP?
In today's intralogistics, we increasingly see standardized processes in which goods are transported again and again to precisely defined positions. Autonomous transport solutions simplify such processes and relieve employees of monotonous, repetitive tasks. AMRs such as the C-MATIC and the C-MATIC HP offer numerous benefits in this regard.
What are these benefits?
The load can be picked up together with under-ride transport tables and set down in defined areas. Transport between static transfer stations or conveyor belts is also possible. Unlike forklifts or automatic vehicles with forks, the tugs themselves take up very little space and require comparatively little energy. They can be used flexibly, are process-stable and cost-efficient.
What are the special advantages of the normal C-MATIC?
The C-MATIC shows its strengths above all on short or medium-length transport routes where no additional manual vehicles are used. It is very compact and requires no more space for picking up, transporting and setting down the load than the load carrier itself. This means that the transfer stations and storage positions can be positioned very close to each other. For its routes, the mobile robot is guided by QR codes that were previously glued to the floor. Depending on the model, it can handle loads of 600, 1,000 or 1,500 kilograms.
For which applications is the C-MATIC particularly effective?
The C-MATIC is used particularly frequently in the retail and logistics sectors, as the load carriers and individual process steps can be standardized here. Great synergy effects can result from the interaction with other autonomous Linde vehicles. For example, when C-MATICs are used as narrow-aisle transport solutions and work together with the K-MATIC narrow-aisle truck.
When should customers rather choose the C-MATIC HP?
The HP is the better solution when it comes to mixed operations. That is, when autonomous industrial trucks work together with manual vehicles in the same process chain. The C-MATIC HP can orient itself freely in space and independently avoid obstacles, such as other vehicles. The customer does not need any additional infrastructure for the HP, apart from a station for automatic charging. It transports loads up to a maximum of 1000 kilos and is capable of carrying trolleys. Overall, the HP is better suited for medium to long distances.
Which industries would you recommend the C-MATIC HP to?
HPs are often found in production environments and at 3PL providers, as many different goods are usually transported here with different vehicles. In such complex environments, there is basically always a mixed operation of autonomous and manual vehicles. Since the HP can react to other vehicles, it is the ideal choice for this.
Dear Philipp, thank you very much for this interview.