Driverless transport in the tightest spaces
The C-MATIC automated mobile platform from Linde Material Handling is ideal for transporting material over short and medium distances in confined spaces. The load can be picked up and set down together with trolleys that the C-MATIC can drive underneath. Transport between static reloading stations or conveyor belts is also possible. Depending on the model, the automated platform can handle maximum loads of 600, 1000, or 1500 kilograms. Routes and transport orders are controlled via software. The mobile platforms navigate within the space using the QR codes affixed to the floor, stop automatically in front of obstacles, or drive round them. The safety technology and extremely compact external dimensions mean that C-MATIC trucks can also be used in places where pedestrians and other trucks are moving around. The applications of the C-MATIC trucks can be changed flexibly or expanded by combining them with additional trucks.
Characteristics
Safety
The C-MATIC reliably detects its surroundings using a laser scanner and reacts instantly when people, trucks, or other obstacles are blocking its path. It doesn't make any difference whether these are moving or stationary obstacles. Real-time information processing enables the C-MATIC to adjust its speed to the situation or to remain stationary until any people or trucks have left its monitoring zone. It therefore delivers the ideal combination of maximum productivity and the highest possible levels of safety. The C-MATIC is also equipped with a robust all-round collision protection system for additional protection, especially when turning on the spot and reversing. In addition, it has separate emergency stop switches on all four sides.
Laser scanner for monitoring the surroundings
Real-time data processing
Reliable protection of people and trucks
Emergency stop switches on all four sides
Robust collision protection all round the truck
Handling
The C-MATIC navigates using QR codes that are affixed to the hall floor along the transport routes at roughly one meter intervals. The QR codes have a unique ID and are saved as reference points on a digital map. The software calculates the optimal route for each transport order. The trolleys that are optionally available are also equipped with QR codes. This makes it possible to identify the goods to be transported, assign storage locations and set-down locations, and position the load carrier, for example in order to set down material at machines according to the demand. The software provided with an autonomous charging station can also optionally monitor and control automated charging of the batteries. Once the charge falls below a certain level or if the truck is not currently being used, the C-MATIC drives to the charging station and is available again for use once it is fully charged or if it is urgently needed.
Navigation via QR codes
Load tracking using QR codes on the trolleys
Optimal route planning and assignment of transport orders
Optional fully automated battery charging
Service
The C-MATIC's robust technology allows for long maintenance intervals and ensures reduced service and lifecycle costs. The main electronic and mechanical components are easily accessible, enabling any maintenance work to be carried out efficiently. This design-to-service principle also contributes to the truck's high operational availability. All the truck data can be read out via a cable connection.
Robust truck construction
Long maintenance intervals
Easily accessible main components
Fault analysis via cable connection to a laptop
Technical Data
| Model | Load capacity/Load | Load dimension b12 x l6 | Height, lowered | Travel speed, with/without load |
| --- | --- | --- | --- | --- |
| C-MATIC 06 | 0.6 (t) | 900x900 // (780 x 780) (mm) | 240 (mm) | 5.4 / 7.2 km/h |
| C-MATIC 10 | 1.0 (t) | 1200x1200 // (1080 x 1080) (mm) | 260 (mm) | 4.3 / 5.4 km/h |
| C-MATIC 15 | 1.5 (t) | 1200x1200 // (1080 x 1080) (mm) | 260 (mm) | 4.3 / 5.4 km/h |
Optional Equipment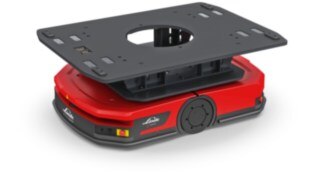 Adapter plate
The adapter plate for direct transportation of pallets is available for the C-MATIC models with a load capacity of 1,000 kilograms and 1,500 kilograms. It is ideally suited for transfer heights between 320 and 730 millimeters.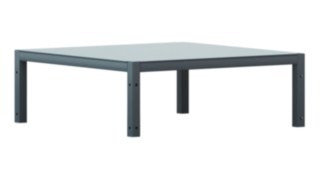 Tables
The tables that can be driven under with the C-MATIC enable standardized and flexible load handling. The transported load can be tracked precisely and managed efficiently via the QR code on the bottom of the tables. Goods can be transported on the tables either using pallets or without pallets.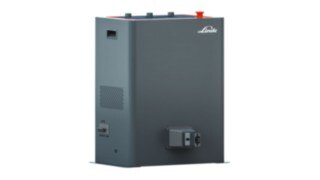 Automatic charging station
When the battery is low, the C-MATIC finds the charging station autonomously and carries out charging completely automatically. The charging time for a full charge is 1.5 hours. Several C-MATIC trucks of the same type can be charged with one charging station.
Get a Quote
C-MATIC