Lithium-ion technology wins Emons over
System: changed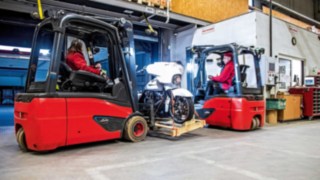 How do you make your intralogistics more economical, cleaner, and more sustainable? For Emons Spedition GmbH, the answer was crystal clear – by switching from LPG forklifts tolithium-ion units in the general cargo warehouse in Großbeeren.
At 6 o'clock in the morning, between Berlin and Potsdam, Emons is already getting busy here at this early hour. One truck after another turns onto the haulage company's premises, where goods from all over Germany are delivered and prepared for onward transport to the capital and the surrounding region of Brandenburg. "We work 24 hours a day, five and a half days a week, so that everything comes together as it should," explains haulage manager Nätsch.
For this tightly scheduled haulage business to run smoothly, it goes without saying that a high-performance fleet of forklifts is absolutely essential. "The employees use them to unload the trailers, organize the goods in the hall and later load them onto the delivery trucks. In short, our equipment is in use practically around the clock."
Employees in focus
For this challenging task, the medium-sized company recently turned to Linde forklift trucks with a payload of 1.6 to 2.0 tonnes, which were traditionally operated with LPG. When some of these trucks were due to be replaced, a lithium-ion unit from a manufacturer in the Far East was also tested. Forklift truck driver, Peter Weiss, explains that they realized it wasn't going to work within a few days, "the vehicles were extremely imprecise in load handling. We have to work with centimeter precision to move goods from A to B in the tight spaces here, so that we don't damage them." His haulage manager adds, "the feedback from our people plays a big role for us. After all, they can only do a top job with top equipment." It was this consistent focus on the needs of the workforce that ultimately lead Emons to lithium-ion units from Linde Material Handling.
"We had already got on very well with the dual-pedal control and the Linde Load Control, and we really wanted to make use of that again with the electric forklift trucks." No wonder, then, that the test truck provided by the Linde contract partner, a LindeE18 Li-ION, met with approval right from the start.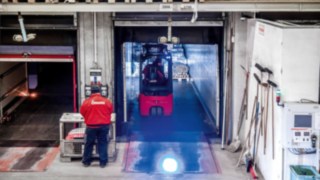 Incidentally, replacing the LPG units with lead-acid trucks was out of the question for Emons. The logistics professionals justify this as, "on the one hand, due to the space required for the comparatively complex replacement of batteries, and on the other hand, due to the charging cycles of these energy storage systems, which would not have suited our usage profile at all, not to mention their relatively high temperature sensitivity."
Successful model(s)
For almost three years now, the LindeE16 to E20 with lithium-ion batteries have been whirring reliably and, thanks to the three-wheeled version, particularly agilely through the logistics hub at the Emons site in Brandenburg. Another combustion engine is to be replaced soon, leaving only one LPG unit on site as a back-up. "In the meantime, other Emons sites have followed our example and also converted to lithium-ion," explains Michael Nätsch. The modern trucks each draw their drive power from a single 16.3 kWh lithium-ion battery. According to the haulage manager, "this medium-sized battery facilitates a basic operating time of eight hours and is optimally suited for our purposes." The vehicles simply receive interim charging during breaks, so that the drivers have enough driving and lifting power at their disposal at all times.
In terms of performance, the lithium-ion units are also in no way inferior to their combustion engine counterparts. Nätsch explains that "with 2,500 operating hours per year for each vehicle, we really place a high demand on the trucks. However, the units never complain."
Three chargers are easily enough for our fleet, so there are always enough trucks ready for use. The switchover from changing gas cylinders to regular interim charging did not present a problem.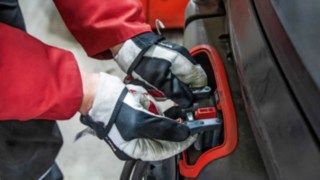 The changeover has proven to be a real success story for everyone involved, both in terms of operating efficiency and because at the end of the day – or rather, at the end of the busy working week at Emons – the cost of electricity is significantly less than for LPG. "Everything still runs like clockwork here with the Linde trucks. Only now, thanks to lithium-ion, it's quieter, cleaner, and more economical," says the logistics expert with satisfaction. Sometimes it's worth taking a chance on a "system change" – especially when you're sure that everything will run even better afterwards!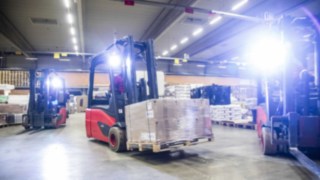 Emons Spedition
Emons Spedition GmbH Germany is a transport and logistics company founded in Cologne in 1928 that now boasts more than 100 sites worldwide. 24 branches are managed in Germany alone, one of them located in Großbeeren, Brandenburg. At the Großbeeren logistics hub, some 125 employees work on organizing the loading of general cargo for the city of Berlin and the federal state of Brandenburg before the goods are then transported to customers by the Emons distribution fleet. The company is gradually converting its Linde forklift fleet from LPG to lithium-ion. Today, the fleet is made up of nine Linde trucks: seven E16 to E20 trucks with lithium-ion batteries and two LPG trucks in the same payload range, one of which is also to be replaced by a modern lithium-ion counterpart in the medium term. All Linde trucks are fitted with the tried-and-testedLinde BlueSpot™ and highly ergonomic Super Comfort active seat including seat heating and air suspension. The Linde MH network partner TRAFÖ GmbH handles support and maintenance as part of the full-service leasing contracts.