The Linde X50 takes on heavy-duty tasks at the company Westfälische Drahtindustrie
An Combustion Engine Stronghold Converts to Electric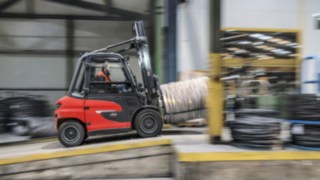 It started with E and continues with X: The company Westfälische Drahtindustrie (WDI) is pushing for a switch from internal combustion to electric forklift trucks at its central plant in Hamm. After a successful field test of the Linde E30 in its indoor areas, the company moved on to pilot testing a Linde X50 pre-series truck for larger transport tasks.
Every year, WDI converts enormous quantities of steel into enormous quantities of wire products, from tiny screws for the electronics and car industries to huge screw connections and products for the automotive, wind energy, offshore, and maritime industries.
Diesel – the Obvious Choice?
Heavy-duty work involving heavy loads and heavy machinery. Sounds like the perfect job for an internal combustion forklift truck, doesn't it? "In the past I would have agreed without hesitation. However, we are currently in the midst of a push on decarbonization," explains Dirk Vormann, Sales Director Cold Heading Wire & Low Carbon Wire at WDI. "We want our production process to be as climate neutral as possible in future. And that affects not only our manufacturing processes, but also our fleet of forklift trucks."
Agile E-trucks Make an Impressive Debut
First, a bit of background: Not that long ago, the demanding task of moving goods around at WDI's site was exclusively taken care of by internal combustion forklift trucks. A total of around 40 counterbalanced trucks were in operation, ranging from small and agile to big and strapping. Then in April 2021, this seemingly immutable mixed warehouse saw the arrival of a forklift truck called the Linde E30, which was entrusted with the task of supplying the closely packed production machines with wire. This new addition, which is as agile as it is sturdy, was met with such great praise from management and drivers that the company decided to give electric trucks a chance at other stages in its process chain too.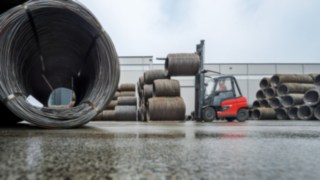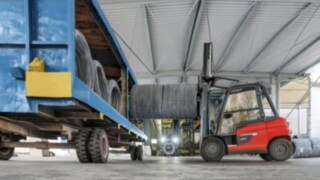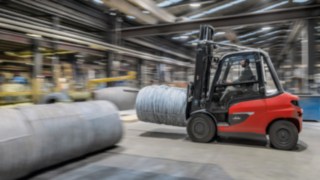 Time for the Heavy Loads
Specifically, this job involved transporting surface-treated wire coils between the pickling line and central operation machines. "Each coil weighs three tons, and is picked up and transported on a carrying mandrel," explains Head of Logistics Maximilian Müller. "It's a hard slog, both for our people and for the equipment," he says with a smile. When it came to deciding whether an electric forklift truck could be used for this extreme job, those in charge agreed that this could only happen if no compromises were made.
If they were looking for proof that it is possible to substitute an IC truck in the envisaged performance segment directly with an electric alternative, then they were in the right place at Linde MH; so the goods flow specialist from Aschaffenburg joined forces with the responsible Linde MH network partner Rhein-Ruhr GmbH to provide a prototype of a Linde X50 for a four-week field test.
X-Cellent in Every Way
"We were of course aware of the particular requirements for trucks used in industries like this, and we knew that if we wanted to convince the customer of the benefits of an electric forklift truck for transporting coils weighing multiple tons, we would have to present them with a very special model indeed," explains Frank Bergmann, Product Manager for Counterbalanced Trucks at Linde MH. And the Linde X50 is special in many ways. Bergmann goes on to say: "To start with, you've got the combination of a long wheelbase, low center of gravity, and top-connected steering axle, the benefits of which are manifold when you've got a specification like this."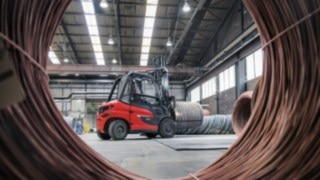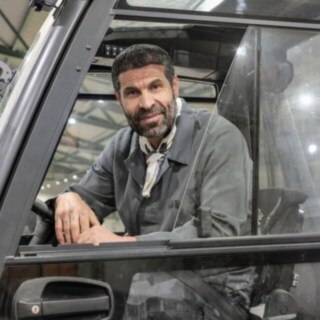 The forklift truck is extremely powerful, but at the same time very quiet; we drivers don't finish our eight-hour shift with ringing in our ears.
Turin Sengül, Truck Driver at WDI
Electric Trucks on the Rise
In practice, the logistics experts at WDI are not only looking for stability, but also performance. These expectations are met by the high-performance synchronous reluctance motors of the Linde X50, which use their energy extremely efficiently thanks to integrated permanent magnets: "The driving performance is really fantastic; during the test we noticed no differences at all compared to the internal combustion equivalent, even with all the ramps and slopes on our site," reports Head of Logistics Müller. Truck Driver Turin Sengül can only confirm this based on his own experience: "It immediately gives you full power – until now, I'd only ever seen that in the Linde internal combustion trucks with hydrostatic transmission." In fact, Müller adds, they actually noticed over the course of the shifts that the Linde X50 slightly exceeded its internal combustion equivalent in terms of performance: "Even though this is only over a short period, it quickly makes a difference in terms of our time management."
Multiple Charging Points Instead of One Fueling Station
It's all about timing: When you've got up to 50 lorries driving onto the site every single day, ensuring the greatest possible number of industrial trucks are available at all times is key. In the case of diesel forklift trucks, this is ensured by way of an in-house fueling station. "As you can imagine, a truck can be refueled within only a few minutes," Maximilian Müller explains. So what will happen when fossil fuels are replaced by electricity? Even then, WDI still wouldn't need to go "right down to the wire". "We actually see this as an advantage. At the moment, our staff sometimes have to drive the internal combustion trucks long distances to get to the one fueling station. If we switch to electric trucks, we can simply install multiple decentralized charging points. Our initial experience with the Linde X50 has shown us that it will easily hold out over our three shifts with just interim charging during driver breaks. If we operate in two shifts there's no need for charging stops at all," adds the visibly pleased Head of Logistics.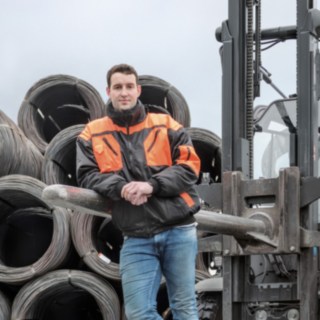 Despite our initial skepticism, the Linde X50 has truly outdone itself and has shown us that these days it really is possible to replace a diesel forklift truck 1:1 with an electric forklift truck without having to make any compromises.
Maximilian Müller, Head of Logistics at WDI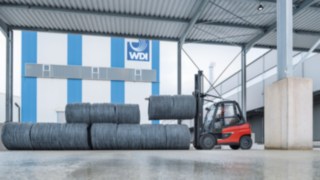 Westfälische Drahtindustrie GmbH
The company Westfälische Drahtindustrie GmbH (WDI) has its headquarters in Hamm, North Rhine-Westphalia, and is Europe's largest non-incorporated producer of high-quality wire. The other core products of this traditional company include bright steel, structural steel, high performance wire ropes, welding wire, prestressing steel, and many others. Worldwide, these products are used in more than 16,000 different applications, from mechanical engineering to the automotive industry and the energy sector. When it comes to its intralogistics, WDI has long relied on the know-how and technology of Linde Material Handling; the industrial truck fleet in Hamm consists of 36 Linde forklift trucks and a warehouse truck. The Linde MH network partner Rhein-Ruhr in Essen/Holzwickede is responsible for maintenance and service.