Fleet Optimization at Grass GmbH
Analyzed Efficiently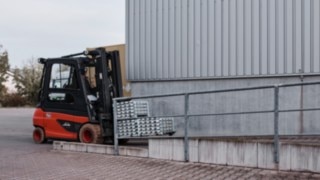 For years, the hinge specialists at Reinheim-basedGrass GmbH have been carrying out their warehouse and production logistics tasks using a forklift truck fleet that has grown gradually over time. Using afleet optimization analysis, experts from Linde Material Handling identified an incredible amount of potential within this established structure. They standardized and reduced the fleet and, in the process, made it much more powerful, cost-efficient, and energy-saving.
"If passion is a place, then you've just arrived there." This is the sign in the foyer at Grass GmbH that welcomes visitors to the Reinheim site. This genuine passion helps to accelerate the bustling activity of people and machines that you encounter at every corner of the site. At Grass, forklifts, pallet trucks and order pickers drive continuously up and down the narrow aisles of the production halls and warehouses. "It is always busy here. We supply furniture manufacturers around the world with our hinge systems," explains General Manager Helmut Kainrad. "So that means our processes must interlock perfectly and our intralogistics must be as efficient as possible."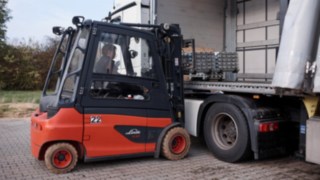 A Growing Fleet
In order to perfect this efficiency, Grass took a decisive step together with Linde Material Handling. Up to that point, the Reinheim branch had been using a fleet of forklift trucks and warehouse trucks that had grown organically over the decades. While older models were replaced from time to time with new ones, these older models were still often in use elsewhere on the site.
This resulted in a situation where 36 industrial trucks from three different manufacturers were traveling about the site, including three LPG trucks, one electric forklift truck, and 24 pallet stackers. At 15.4 years, the average age of the trucks was relatively high; the difference in ages between individual trucks was considerable in some cases. The utilization of individual trucks was extremely low in some cases, just 362 operating hours per year on average.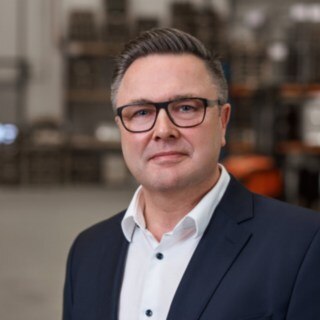 Insufficient utilization, frequent breakdowns, and high costs for servicing and repairs made our fleet inefficient and too expensive to maintain.
Andreas Wacker, Head of Production
The Fleet Optimization Analysis
Help came here from an unexpected source. Although Grass didn't have a single Linde Material Handling truck in its fleet, it had a loose association with the Linde dealer Suffel Fördertechnik GmbH & Co. KG through rental trucks. When the Linde experts offered to carry out a fleet optimization analysis on Grass's fleet and see where they could find potential for more efficient truck use and cost savings, the managers were quick to agree.
The fleet experts from Linde spent two days examining Grass's fleet. They cataloged the fleet, assessed the company's site, and formed a detailed picture of the tasks that each piece of equipment had to perform. They searched systematically for ways to reduce costs and boost the fleet's productivity. "The people from Linde not only looked at our forklift trucks but also at utilization, work processes, and their routes," remembers Wacker.
Changing over to a purely electric fleet enabled Grass to run its fleet in an energy-efficient way and also ensured that the warehouse was no longer polluted by exhaust emissions and the noise of the propellant gas trucks.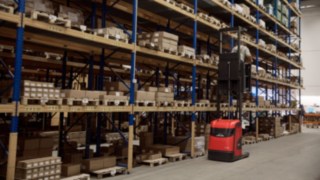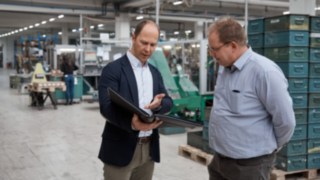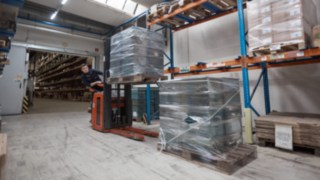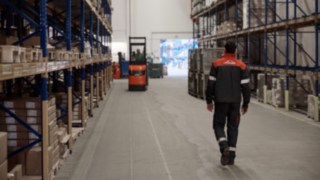 Smaller, More Efficient, and Lower Maintenance
In order to optimize the fleet, the experts from Linde developed a new fleet, tailored to Grass's current requirements. With just a few exceptions, all the forklift trucks were changed and replaced with standardized equipment from Linde Material Handling. Prong adapters and other intelligent equipment helped to ensure that the majority of the equipment could be used for multiple purposes. At the same time, the adjusted processes rendered little-used trucks superfluous. As a result, the fleet shrank to an efficient size. "This new smaller fleet suits all our requirements perfectly. At the same time, it is less maintenance-intensive and causes lower ongoing costs," says Wacker.
A common drive system helped to make additional efficiency gains possible. All the forklift trucks are now fitted with electric motors and many of them with modernlithium-ion batteries. "Previously our fleet was a mix of different drive systems," says Wacker. "Some trucks were electric while others ran on propellant gas." Changing over to a purely electric fleet enabled Grass to run its fleet in an energy-efficient way and also ensured that the warehouse was no longer polluted by exhaust emissions and the noise of the LPG trucks. The lithium-ion technology proved particularly popular with drivers. It makes the handling of the trucks much easier as interim charging removes the need for the complicated and time-intensive process of changing the battery.
New Forklift Truck Features met with Enthusiasm among Drivers
Grass's drivers played an important role when it came to replacing the fleet. "We were involved from the start and were given the opportunity to test drive all the forklift trucks," says warehouse logistics employee Cristofaro Cammilleri. He was particularly impressed by the comfortable driver's work station and theLinde Safety Pilotthat warns drivers about hazards during loading. He was also impressed by the fact that in many of the trucks, the driver's platform is decoupled from the chassis, saving him suffering painful impacts. He also considered it an advantage that all the new equipment can be operated in the same way: "The forklift trucks are now similar across all our departments. That means that anyone can find their way around the equipment in a neighboring department straight away. This is convenient for employees and makes work safer."
To make the process of changing the fleet a smooth one for Grass, the forklift trucks were delivered in stages. All the equipment of the same type always arrived together and could be put into normal operation as a group. "Our Linde contact partner Suffel Fördertechnik bought and collected all our old forklift trucks, so we didn't have to worry about a thing," remembers Wacker.
Full Service for Full Satisfaction
Grass and Suffel Fördertechnik, the dealer looking after them, concluded a rental agreement for the supply of the fleet. Grass pays a monthly fee in order to have all the forklift trucks in its fleet available for a predefined period. The full-service package included in the contract guarantees on-site support for the fleet for the entire term and covers all standard and wear-and-tear repairs and the annual inspections due including tests in accordance with current regulations on accident prevention (UVV).
An analysis discussion also takes place once a year in order to look at current developments within the company and discuss specific incidents. The Linde fleet experts then use the operating data to check whether the fleet still matches Grass's tasks perfectly or whether it needs to be adjusted.
"The full-service contract means that we hand over full responsibility for the efficiency and operational readiness of our fleet to our Linde dealer Suffel-Fördertechnik," explains General Manager Helmut Kainrad. "The collaboration works seamlessly. All breakdowns are dealt with quickly and easily. We are extremely pleased with the fact that 98 percent of our forklift truck fleet is now managed from one source. The Linde concept has standardized our fleet and reduced its size, while making it more powerful and more energy-efficient. The fleet optimization analysis has therefore been worthwhile in every respect."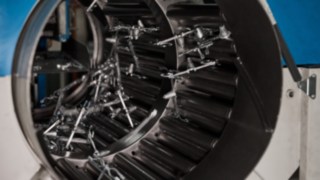 Reinheim-Based Company Grass GmbH
The company Grass GmbH is part of the Grass Group, which, with 2,000 employees at 18 locations and more than 200 distributors in 60 countries, ranks among the world's leading specialists in movement systems. Headquartered in Höchst, Austria, the group achieved sales revenues of 378 million euros in the financial year 2017. The group's competence center for hinges, which supplies furniture manufacturers around the world with its high-quality products, is located in Reinheim in the German federal state of Hessen.