Flexible, powerful, double-deck
The D12 HP AP double-deck pallet stackers are high-performance vehicles for the simultaneous transport of up to two load carriers. They show their strengths in the loading and unloading of multi-level lorries, the rapid storage and retrieval of goods, and in order picking. Thanks to their folding stand-on platform, they can be used flexibly as a pedestrian or stand-on model. With the platform folded up, they are particularly maneuverable and ideally suited for use in confined spaces. With the platform folded down, they are ideal for efficient transport over short and medium distances. The stand-on platform is decoupled from the chassis and fully suspended to increase the comfort and ergonomics for the operator. An innovative castor wheel system ensures maximum stability at all times during all handling tasks. As high-performance models, the D12 HP AP boost handling performance through high travel and lifting speeds. The Linde OptiLift assistance system ensures very precise load handling and additionally increases the working speed.
Characteristics
Safety
During transport, the D12 HP AP's fold-up side bars protect the operator from injury. Additional safety is provided by the special design of the stand-on platform and steering system, which keeps the operator's body within the vehicle contours at all times. When cornering, the Linde Curve Assist system automatically adjusts the speed to the steering angle to prevent risky maneuvers. As soon as the driver stops using the butterfly lever (dead man's switch), the vehicle stops automatically. A soft landing function allows the vehicle's forks to touch down gently on the ground. This ensures that the load is not damaged in any way. Optional load backrests are available at different heights to protect the driver from loads sliding back.
Fold up side bars
Speed adjustment in curves
Sensitive dead man´s switch
Soft landing function to protect the load
Load backrests in different heights
Ergonomics
For the D12 HP AP, both the foldable driver's platform and the tiller are decoupled from the chassis and fully suspended. This protects the operator from shocks and vibrations in both drive and pedestrian modes. The electric power steering enables effortless vehicle maneuvers even in narrow, difficult-to-navigate areas. To this end, travel speed and steering resistance are automatically and continuously adjusted to the steering angle. The D12 HP AP also features the Linde OptiLift assistance system. With its help, the driver executes all lifting movements precisely and intuitively, which allows fast and at the same time maximally ergonomic load handling. A multifunction display shows all relevant information on the vehicle status. The design of the battery cover provides sufficient space for work utensils such as wrapping paper, gloves and writing materials.
Fully decoupled driver platform
Electric power steering
Linde OptiLift assistance system
Vehicle speed adjustment
Multifunction display
Handling
Thanks to the foldable operator platform, the D12 HP AP can be used in either drive or pedestrian mode. With the platform folded in, they are particularly maneuverable and ideally suited for confined environments. As high-performance vehicles, they feature a powerful 3 kW three-phase AC motor that enables rapid acceleration and a top speed of up to 14 km/h (without load). Up to 7.5 km/h is possible with a double load. A powerful lift motor ensures faster lifting movements. More power when handling two pallets is provided by the optional Linde Speed Management assistance system. A 5-point configuration with optional electrically controlled and hydraulically operated castor wheels on both sides, as well as a center-mounted drive wheel, provides consistent traction and stability, especially when traversing ramps or uneven ground. The ergonomic double handle on the tiller includes all important vehicle functions. The D12 HP AP are available with a new generation of Li-ION batteries, which can be complemented with an on-board charger for more efficient charging management. Three independent braking systems ensure driver and load safety. A start-up assistant prevents unintentional rolling backwards on sloping ground.
Pedestrian and travel operation possible
High travel and lifting speeds
Linde Speed Management for double-deck loading
5-point configuration for increased stability
New generation of Li-ION batteries
Service
The D12 HP AP are permanently available thanks to their maintenance-free 3kW three-phase motors. This enables long service intervals and constantly low maintenance costs. Robust cladding parts and a stable chassis ensure durability even under tough operating conditions. The vehicle was developed according to the "design to service" principle. This means service technicians have fast access to all relevant components. Thanks to the innovative CAN bus structure, they can access all vehicle data via a plug-in diagnostic unit. The electric-electronic architecture allows software updates and new functions to be remotely installed on the vehicle at any time when it is equipped with an optional data transmission unit.
Maintenance-free motor
Robust construction
CAN bus architecture
Easily accessible components
Modern E/E architecture
Technical Data
| Model | Load capacity/Load | Lift | Travel speed, with/without load | Turning radius | Battery voltage/rated capacity (5h) |
| --- | --- | --- | --- | --- | --- |
| D12 HP AP | 1.2 / 1.0/1.0 / 2.0 (t) | 2424 (mm) | 11 / 14 km/h | 2194 / 2264 (mm) | 24 / 375 (V)/(Ah) o. kWh |
Optional Equipment
Speed Management
In double-deck operation, Linde Speed Management adjusts the vehicle speed depending on the load weight and lifting height, thus guaranteeing maximum performance and safety.
Different mast heights
Various mast types and heights are available. The vehicle can thus be precisely adapted to the desired area of application.
Li-ION technology
In addition to the classic lead-acid batteries, the new generation of Li-ION batteries is also available.
Mechanically sprung castor wheels with hydraulic damper
They provide constant ground contact for an optimal balance of stability and traction in all applications.
Load backrest
Load backrests in various heights ensure that loads do not slide backwards and fall onto the driver when the load carrier is raised.
Cold store design
The cold store version guarantees full availability and performance of the truck up to minus 35° Celsius.
Get a Quote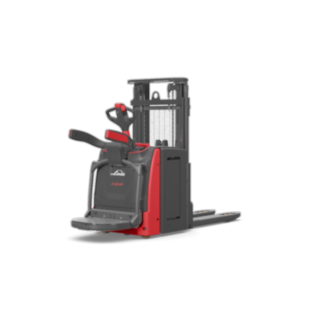 D12 HP AP