Sika Germany
New Intralogistics Concept for Better Processes
Exact material flow processes for a highly standardized forklift truck and warehouse truck fleet: Sika Deutschland GmbH, a subsidiary company of the globally active Swiss group and one of the world's leading providers of construction chemical product systems as well as industrial adhesives and sealants, achieves this with an overall logistics concept which, despite customer-specific solutions, relies on standardization, focuses on a forklift brand, and leases devices on the basis of full-service leases.
Sika Deutschland ranks among those companies for whom efficient and sustainable management is a priority. Yet the optimization of intralogistics is also firmly anchored in the company philosophy. One example is the production location Bad Urach on the edge of the Swabian Alb. Here raw materials that are largely obtained from natural sources are supplied in huge containers or casks and are processed as quickly as possible due to their high space requirements. Whatever comes out of production is brought directly to our joint warehouse in Stuttgart-Weilimsdorf and commissioned there, explains Michael Rath, plant manager at the Bad Urach site. Bad Urach does not have a warehouse for finished goods. On average seven trucks per day dock at the loading ramps, further forklift trucks are loaded in the yard.
In Bad Urach it is above all the cramped premises which consistently make life hard for the logistics managers. Narrow streets and little space for turning maneuvers are a persistent problem. Other factors include limited load capacities as well as low ceiling heights and vertical clearance. The manufacturing process inside this historic building from the 19th century is split into two large product areas: One- and two-component adhesives and sealants for diverse industrial applications such as track systems, wind turbines, window sealing or refrigerated containers on the one hand and high-performance resin, panels and pastes for model and mold making of automobiles, yachts or airplanes on the other hand. One further particularity of the Bad Urach site is its location in the heart of the spa town. "Owing to our proximity to the town center we completely avoid using internal combustion forklift trucks," reports Rath. "We meet the high environmental demands with secure processes and seamless monitoring.
"To cover its electricity demands, the company is already harnessing the water power of the river flowing through the plant. "In the future we want to expand this share to around 40 to 45 percent," explains the plant manager. The large product range presents a further challenge. "We have to react to this and to fluctuating production quantities with appropriate flexibility in our processes," says Rath. Furthermore, certain production areas are subject to the ex-protection zone 1/21. In these areas, there is the risk that mixtures of air and combustible gases, vapors or mists, or combustible dust present in the air may form occasionally in the course of normal operation. Industrial trucks which are used there therefore require an EC type examination certificate for all safety-relevant components.
New Purchasing Strategy
Around four years ago the company, headquartered in Stuttgart, decided to develop an overall concept for intralogistics. "In doing so we wanted to ensure that capital expenditures on industrial trucks and fleet software had a greater impact on the efficiency of our manufacturing processes," says Attila Böhm, fleet manager of Sika Deutschland GmbH. In close collaboration with plant managers and material flow managers from the total of seven production lines in Germany, the fleet manager defined three essential requirements for the new purchasing strategy at the end of the concept phase. The first decision was to move away from ownership and toward full-service leasing. As Böhm explains,
a rental contract establishes clear responsibilities and we will always be using the latest technology.
Closely associated with that was the second decision to specify a forklift brand, ideally across all sites. "For all issues relating to our industrial trucks there should ideally be a single contact person. Firstly, this has the advantage that it is always the same service technicians who are on site and they therefore know their way around. Secondly, all equipment is based on the same operating concept, so there is no need to adjust to a different concept. This increases both productivity and safety during operation. And thirdly we intend to secure the best possible conditions through the conclusion of a framework contract," says Böhm. Although he concedes that this strategy would certainly not be an option for other companies, for instance those in the automobile industry. The reason being that they have until now opted for the set-up previously in place at Sika Deutschland of providing a broad foundation for collaboration and working together with multiple industrial truck manufacturers. "We very deliberately opted for the other set-up however in order to optimize our processes," explains Böhm. The third element of the new purchasing strategy is the reduction of model diversity. "Instead of equipment with differing load capacities we now, for instance, only use the larger model and are flexible."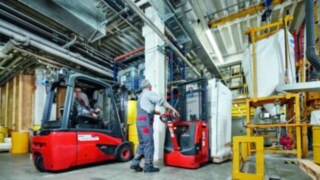 High Logistics Requirements
According to plant manager Michael Rath, the fact that Sika opted for Linde Material Handling as its general outfitter is down to both the close-knit service network of the Linde sales partners with Schöler Fördertechnik as the main dealer, as well as the easy handling of Linde equipment.
"For us it was clear that we should involve our employees in the selection process. Decisions had to be based on technical criteria and facts though, rather than on gut feelings or cherished habits. That's why we asked our forklift drivers to fill out evaluation forms, for example, and why we subjected equipment from various manufacturers to intensive comparison tests," says Rath of their approach.
The end result was clear: at each plant the majority decided in favor of Linde.

The fleet was then renewed step by step. The last device for now is an explosion protected pallet stacker with a shortened wheel base and special accessory equipment for grabbing and tipping open or closed casks. When this drum cradle for explosion protected areas is delivered in a couple of weeks, the project will have reached its provisional conclusion.
"Despite saving six devices, we have achieved numerous improvements in our plant logistics processes," summarizes plant manager Rath. This was ensured not least by the now significantly enlarged range of equipment and mounting variants as well as customer-specific solutions. Around two-thirds of the total of 30 forklift trucks and warehouse trucks used in the plant are adapted to the particular conditions.
In order to transport the numerous oversized goods carriers and containers, some forklift trucks and pallet trucks, for example, have been equipped with extended prongs. A further material flow planning innovation, which has become established since 2013 with the replacement of the industrial truck fleet, is that casks, containers, and pallets are weighed in the same work step and transported to the respective destination.
Continually improving our processes is very important to us.
Michael Rath, plant manager at Sika at the Bad Urach site
Anticipatory Servicing Takes Center Stage
When the Linde fleet management solution 'connect:' goes live, this will present a great deal of potential. "We have already met the technical system requirements in the plant," says plant manager Rath. The material flow managers anticipate further optimization of processes and increased safety during operation through features such as access control, shock sensors, and usage analysis in particular.
Data is transmitted from the forklift trucks to the company network via Wi-Fi. "In the future we would also like to use this data networking for anticipatory servicing," says fleet manager Böhm of their plans. "In an ideal scenario, the equipment will send error messages directly to our service partner. When the service technician from Schöler arrives at the plant he will already have the right spare part in his equipment bag." This means that the plant in Bad Urach will once again be the pilot site for an innovative solution for process improvement.
About Sika Deutschland GmbH
As a subsidiary company of the globally active Sika AG, Baar/Switzerland, Sika Deutschland GmbH ranks among the leading providers worldwide of construction chemical product systems and industrial sealants and adhesives with more than 1,100 employees and an annual turnover of some 545 million euros. Sika received the Premier Automotive Suppliers' Contribution to Excellence (PACE) Award 2015 for the adhesive Sikaflex Ultra-High Modulus, which was manufactured at the Bad Urach site. The fast-curing adhesive is used, among other things, for the BMW i3 and i8 for gluing the Life module, the passenger compartment made of carbon-fiber-reinforced plastic, and the Drive module, the aluminum chassis.