Linde K trucks with Active Stability Control in action for Wagner eCommerce
Stable yet flexible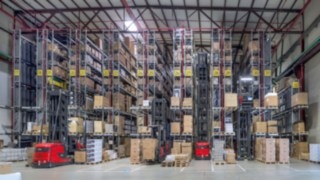 The e-commerce professionals in the Wagner eCommerce Group are proving how you can literally keep your feet on the ground despite rapid growth. The company is now using Linde K trucks in its new narrow aisle warehouse, equipped with Active Stability Control, which saves them from having to lay expensive special flooring.
Many great stories start with the right flash of inspiration at the right time. And it was Tobias Wagner who was inspired to bring electrical equipment suppliers together with potential customers via an online platform. An audacious idea in 2000 when the white goods market was still predominantly analog and millions in Germany were still surfing the Net with a modem and ISDN. But Wagner saw the fundamental change coming, so he started his first online mail order business from his basement at home. Soon it expanded to the garage, the first logistics center in 2004, another shop for camping equipment in 2007—and now in 2022? The Wagner eCommerce Group is now one of the leading e-commerce SMEs in Germany, with more than 400 employees, various special shops including for camping, electrical equipment, installation materials, re-commerce, food supplements, and pool supplies, supported by high-performance logistics that form the foundation for huge growth.
Flexibility is a must
The floor is key: As Michael Kertels, authorized representative and Head of Logistics at the headquarters in Nidda in the German federal state of Hessen, says: "We've experienced huge growth here in recent years and are now managing a logistics area of around 30,000 square meters. 6,000 of that comes from a warehouse that we took over from another company, rather than building it ourselves. It needed to be a narrow aisle warehouse which forced us to look at the right floor for the job." A question that always comes up for narrow aisles. Kertels: "Of course we know that there are particularly strict rules for ground conditions when it comes to narrow aisle trucks. But we were keen to avoid having to lay expensive flooring in line with VDMA guidelines." So: lay industrial flooring and sand the racking aisles for narrow aisles? One possible option—but it would have cost the e-commerce professionals in terms of flexibility. "It can have a major effect on us, given the highly dynamic nature of the business, which is sometimes subject to extreme seasonal demands. Stock adjustments have to remain as simple as possible," says the logistics expert. So instead of adapting the floor to the trucks, the question was: how about the other way round?
Linde provides the solution
The short answer: yes, that works! How? That's what the logistics experts from Wagner eCommerce found out at a Linde Material Handling event. "We watched a Linde K truck live in operation, equipped with an assistance system to compensate for mast oscillations. It was exactly what we were looking for," remembers Michael Kertels. The name of the patented Linde technology: Active Stability Control (ASC). It uses redundant sensors that permanently scan the floor and record possible uneven surfaces. The load wheels compensate directly for these uneven areas on the basis of this information. This means the mast remains stable even when working at height and the usual rocking is significantly reduced.
More details about the Active Stability Control assistance system for K trucks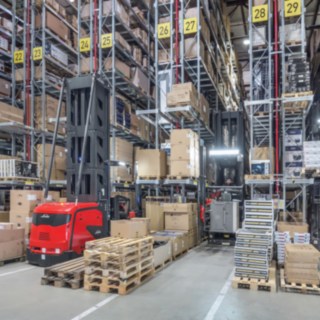 "Our system was and is state of the art and won over those in charge at Wagner," says Hans-Joachim Mast, intralogistics, warehouse and system consultant at Richter Fördertechnik. The Linde MH network partner from Herborn handled all the logistics planning and the construction of the rack system in the newly acquired warehouse as part of the project. Naturally, adds Wagner logistics expert Kertels, there were certain initial costs for such an assistance system. "But for us, it was far more important that the operational processes ran smoothly and that we could remain adaptable in the long term."
Working safely means working efficiently
When you watch Wagner employees at work in the narrow aisle warehouse, it quickly becomes clear: what was once just a promising possibility at a customer event has been fully realized as part of the tightly synchronized everyday logistics at Wagner. The induction-led Linde K trucks move constantly to and fro along the 1.60-meter-wide rack aisles, and what matters most: they stand firm.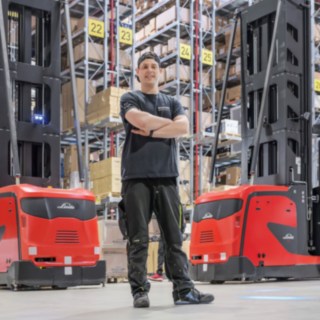 We store and retrieve pallets at heights of up to eleven meters. Even right at the top, there's pretty much no rocking with the Linde trucks. Thanks to Active Stability Control, we can not only work safely, but also quickly. We can make great progress at up to 8 km/h.
Thomas Niemann, logistics team leader at Wagner
Dynamic Reach Control stops the mast oscillating when storing and retrieving items. Active counter-pressure provides lateral stabilization for the truck when the load moves, reducing oscillations. Another win in terms of time and safety. Further practical features from Linde complete this positive overall impression: integrated tilting barriers, Aisle safety assistant and the Warehouse Navigation.
Linde technology supports the processes
This convincing performance means that the Linde K trucks play a decisive role in the fulfillment of the Wagner customer promise. Head of Logistics Michael Kertels explains: "Goods that our customers order in our shops by 16:30 leave the warehouse the same day. At peak times, for example, when the camping business really gets going in May, we're handling up to 10,000 packages and 700 pallets a day." Warehousing runs on the chaos principle in all warehouse formats meaning the logistics experts look for free spaces for storage and "marry" the ordered goods with the system by scanning.
The pickers then get their orders electronically with optimized routes; in narrow aisles, they use the vertical order picker Linde V modular and further Linde technology is used in many other process stations in the sophisticated Wagner logistics. Michael Kertels: "We unload palletless goods from the shelves using Linde E14 to E18 (with clamp),in wide aisles we work with Linde V10 and L16 —and in the narrow aisle warehouse we use the reach trucks R14."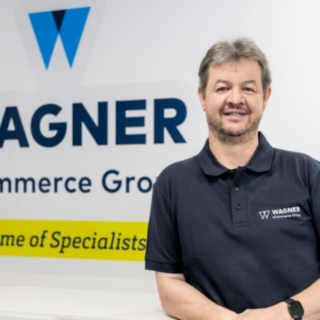 We are already planning a new warehouse to extend our storage capacities further. This will also have a passage to our current narrow aisle warehouse. And again, we don't have to worry about expensive VDMA flooring
Michael Kertels, Head of Logistics at Wagner eCommerce
The narrow aisle fleet is growing again
Stable trucks, stable processes, and flexible framework conditions for further growth: what a great logistical set-up at Wagner eCommerce in Nidda. So good that the company has already ordered 14 new Linde K trucks, all equipped with ASC and cutting-edge Li-ION technology.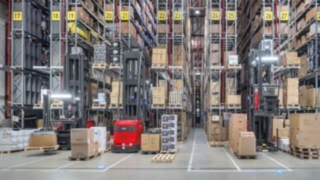 Wagner eCommerce Group
The Wagner eCommerce Group is one of the leading medium-sized e-commerce companies in Germany, with five established brands and 400 employees. The family-run company has long relied on the technology and know-how of Linde Material Handling for its high-performance logistics. Various Linde trucks are used at its headquarters in Nidda in the German federal state of Hessen, including Linde E14 – E18 counterbalanced forklift trucks, Linde L12 electrical pallet stackers, Linde V10 and V-modular vertical order pickers, and Linde N20 low-lift order pickers, as well as a total of 6 Linde K trucks for storage and retrieval in narrow aisles.