Reliable logistics in narrow aisle warehouses
The Linde K-MATIC autonomously driven turret truck is suitable for loads of up to 1,450 kg and lift heights of up to 14 meters (16 meters on request). The intelligent natural feature navigation system guides the K-MATIC safely without additional infrastructure, such as laser reflectors, and is compatible with all common narrow aisle applications. Whether as an individual forklift carrying out defined process steps, or as part of a centrally controlled fleet of automated trucks, the superior functionality of the K-MATIC provides high handling performance, even for complex operating requirements. When doing so, the truck interacts seamlessly with the customer's infrastructure, such as conveyors or transfer stations. As an automated logistics truck, it causes less damage to loads and pallets compared to manual use and is particularly well-suited to the handling of high-value goods. Quick and easy to maintain, the automated truck can be relied upon to be ready for use round-the-clock and can also be operated manually by a driver.
Characteristics
Safety
Using its own on-board safety system, the self-controlling K-MATIC forklift reacts sensitively to its surroundings: Independently of the navigation technology, laser-based safety equipment steers the K-MATIC safely through its surroundings, reliably detecting people or other obstacles as it does so. The self driving very narrow aisle truck is also equipped with emergency stop buttons and acoustic warning signals and flashing lights.
All round observation of the working environment
Laser-based safety technology
Detects people and obstacles
Acoustic and visual warning signals
Handling
The K-MATIC automated very narrow aisle trucks are controlled by the supervisor software that effectively coordinates the tasks and routing of all MATIC trucks in use. The system is compatible with all major warehouse management and ERP systems and converts the necessary materials flow into movement tasks. 3D pallet recognition with integrated distance monitoring means that different load carriers can be loaded and unloaded effortlessly at lifting heights of up to 14 meters (16 meters on request). Changes to the work environment can be remapped in a short time thanks to the laser measurement and stored within the system. There is the option available for loads to be identified via a barcode scanner. If necessary, the K-MATIC can import the data read into companies' ERP and warehouse systems.
Intelligent routing and task control
Interface to warehouse management and ERP systems
3D camera for precise load handling
Storage and retrieval in narrow aisles at lifting heights of up to 14 meters (16 meters on request)
Servicing
All significant truck and task data can be called up on a 7" LCD touch-screen display on the truck itself and read out via a USB port. By entering a PIN, the technician activates the service mode and can safely carry out the required servicing tasks on the easily accessible components. Truck data that is relevant for maintenance is transmitted via wireless link and evaluated by diagnostics software. This enables forward-looking servicing – wear and minor damage are recognized early, and the required inspection intervals and parts replacement are calculated and planned. This ensures the maximum availability of the automated truck.
7" LCD touch display gives an overview of the task data
Digital diagnostics tool
Wireless transmission of truck data
Preventative maintenance for maximum availability
Technical Data
| Model | Load capacity/Load | Lift | Battery voltage/rated capacity (5h) | Travel speed, with/without load |
| --- | --- | --- | --- | --- |
| K-MATIC low lift | 1.45 (t) | 7200 (6800) (mm) | 80 / 700 (V)/(Ah) o. kWh | 2 / 2 km/h |
| K-MATIC medium lift | 1.45 (t) | 11550 (11150) (mm) | 80 / 840 (V)/(Ah) o. kWh | 2 / 2 km/h |
| K-MATIC high lift | 1.45 (t) | 14350 (13950) (mm) | 80 / 840 (V)/(Ah) o. kWh | 2 / 2 km/h |
Optional Equipment
Scanner for 1D and 2D barcodes
The truck can be fitted with a barcode scanner, allowing goods to be identified and data to be imported directly into a warehouse system, if required.
Duplex and triplex masts
Various duplex and triplex masts are available for the K-MATIC for lifting heights of up to 16 meters.
Modular Truck Design
The automated very narrow aisle trucks can be adapted in various ways. There is a variety of guiding systems, load-wheel axles, batteries, and lift masts available.
Battery Replacement
Linde provides a battery trolley with robust rollers for lateral battery changing.
Get a Quote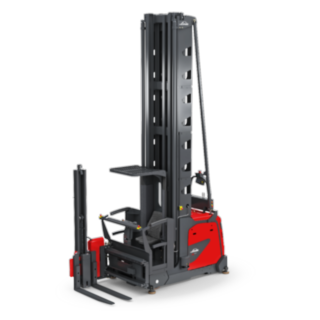 K-MATIC