Flexible and Reliable thanks to SLAM Navigation
The autonomous mobile transport robot Linde C-MATIC HP is the ideal solution for automated processes in mixed operating conditions, where it can easily operate in the same environment as people, manual forklift trucks, and other automated industrial trucks. It independently transports pallets and rolling racks, moves loads of up to 1000 kilograms over medium and long distances, and has a top speed of 8 km/h. Thanks to the innovative natural feature navigation (SLAM) system, the truck maps its own route and is therefore able to avoid obstacles as required. There is no need for any permanent infrastructure to be installed. The C-MATIC HP is optimized for flexible load pick-up. As a result, it is also capable of picking up load carriers, such as trolleys, that are not in an ideal position. The cloud-based software control enables the transport robot to integrate effortlessly into the overarching intralogistics processes.
Characteristics
Safety
The C-MATIC HP detects anything in its immediate vicinity using a laser scanner and reacts instantly when people, trucks, or static obstacles are blocking its path. Thanks to real-time data processing, the truck can avoid any obstacles it detects and automatically find an alternative route. The precise movements of the C-MATIC HP ensure a stable load pick-up when transporting pallets or rolling racks. It is equipped with a customized adapter plate to provide additional stability when handling pallets. Emergency stop switches are located on both sides of the truck and can be easily reached in the event of an incident. With all these features, the C-MATIC HP offers an optimum combination of flexibility, productivity, and the highest possible levels of safety.
Monitoring surroundings using a laser scanner
Real-time data processing
Reliable protection of people and trucks
Stable load pick-up
Emergency stop switches on both sides
Handling
The C-MATIC HP orientates itself by means of a laser-supported natural feature navigation system. There is no need for any permanent infrastructure, such as magnetic strips or QR codes, to be installed. If the operational area changes, the truck responds by updating its previous map of the environment. The C-MATIC HP actively avoids obstacles and automatically finds alternative routes, which guarantees a steady material flow. The transport robots are also suitable for part-automated processes, where they work in conjunction with manually operated industrial trucks. The cloud-based software control enables them to easily integrate into existing processes. The low height of the C-MATIC HP makes it easier for it to pass under rolling racks and pick up pallets at transfer stations. It can therefore also pick up loads that are not in an optimum position for collection. Optional adapter plates are available for direct transportation of pallets. A lithium-ion battery that automatically charges when it is running low makes these trucks the perfect solution for 24/7 operation.
Infrastructure-free SLAM navigation
Active avoidance of obstacles
Optimized for use in mixed operating conditions
Flexible load pick-up
Effortless implementation
Lithium-ion battery and self-charging function
Servicing
The C-MATIC HP's reliable technology and robust components guarantee reduced servicing requirements, thereby keeping servicing and repair costs low. All relevant electrical and mechanical components are easily accessible, which enables fast servicing and also improves the operational availability of the truck. All the truck data can be exported to a service laptop via a diagnostic cable connection and analyzed through diagnostic software. Alternatively, the truck can be monitored and configured remotely via a computer-controlled remote diagnostic function. Linde's worldwide service network is available for servicing and repairing forklifts at all times.
Robust truck construction
Long intervals between service
Easily accessible components
Fault analysis via laptop
Remote diagnostic monitoring
Technical Data
| Model | Load capacity/Load | Load dimension b12 x l6 | Height, lowered | Travel speed, with/without load |
| --- | --- | --- | --- | --- |
| C-MATIC HP 10 | 1.0 (t) | 1260 x 860 (mm) | 222 (mm) | 8 km/h |
Optional Equipment
Automatic Charging Station
If the truck battery charge is low, the C-MATIC HP automatically locates the charging station and begins charging with no need for assistance. A full charge takes approximately 1.5 hours. Several C-MATIC HP trucks of the same type can be charged with one charging station.
Multi-Colored Signal Light
The C-MATIC HP can be fitted with a multi-colored signal light at the rear. This makes the truck more visible to pedestrians and forklift drivers, meaning collisions and damage can be avoided.
Trolleys
Additional rolling racks (trolleys) are available for transporting goods with the C-MATIC HP. The trucks pass under the transport racks and automatically carry them to the required area.
Direct Transportation of Pallets
The C-MATIC HP can be fitted with an optional adapter plate, which enables it to reliably and efficiently transport pallets directly between transfer stations in mixed operating conditions.
Control Software
The cloud-based control software AnyFleet ensures fast and cost-effective implementation of the C-MATIC HP. Operators receive an operating license as well as an annual truck support license.
Get a Quote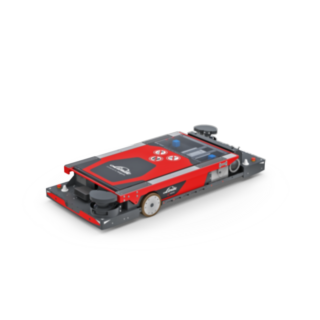 C-MATIC HP