Safe and quick in tight spaces
The E20 – E35 electric forklift trucks are ideally suited to indoor use. Their compact design and agility ensure high handling capacities even in tight spaces. In particular, the twin-motor front-wheel drive together with the Linde combined steering axle facilitates exceptional maneuverability. Thanks to a common platform for both electric and combustion engine trucks, the electric forklifts further impresses with improved ergonomics and by a generous driver workspace. The synergies of this platform means the electric forklift truck gives the driver significantly more space and an especially comfortable operating experience.
Characteristics
Safety
One of the most important safety characteristics is the good visibility afforded to the driver by the slimline mast design, the narrow A-pillar, and the lowered front plate. The roof design also allows a largely unrestricted view upwards which is helpful for loading and unloading. The truck's low center of gravity and high steering axle ensure good stability when cornering. In addition, Linde Curve Assist, fitted as standard, reduces the speed according to the cornering angle. Linde Load Assist, which is also integrated as standard, helps prevent accidents caused by falling loads. If the load tips too far forwards when lifting, the assistance system reduces the forward tilt and lifting speed according to the lifting height.
Optimum visibility of the load and surroundings
Tilt protection on bends with Linde Curve Assist
Linde Load Assist prevents tipping over caused by loads that are too heavy
Ergonomics
The driver's cabin is spacious and its ergonomic seat provides a comfortable workstation to combat tension and exhaustion. The wide field of vision allows good visibility in all directions including both the load and the surrounding area. All of the important control elements are positioned within easy reach of the driver to reduce physical strain. The fact that the chassis is separated from the steering axle and mast improves the driving experience even on uneven floors, as well as an additional elastomer ring bearing to absorb shocks to the front axle. As a result, fewer vibrations and jolts are felt by the driver. In addition, the noise level, such as the noise caused by rattling fork carriages or lift chains, is also reduced. Both aspects reduce the level of physical strain on the driver and improve work performance.
Spacious cab with optimum visibility of the load and the surrounding area
Ergonomic seats with control elements within easy reach
Separation of the workstation, drive and mast make for a more comfortable drive
Handling
The E20 – E35 electric forklift trucks are exceptionally agile, due to the combination of twin-motor front-wheel drive and the patented combined steering axle. In addition, the overhead tilt cylinder, in combination with the torsion-resistant mast design, offers a high residual load capacity and safe load handling at lifting heights of up to 6.5 meters. The new synchronous reluctance motor improves the performance characteristics of the forklift truck and measurably increases energy efficiency. Thanks to a standardized design, customers have a free choice of lead-acid, lithium-ion battery or fuel cell energy-storage systems. This means that batteries already available, for example, can continue in use. Wireless access to truck data and controls means the trucks can easily be integrated into logistic, safety, and fleet management systems, and analyze information on the usage and condition of the trucks.
High maneuverability from twin-motor front-wheel drive plus combination steering axle
Mast design ensures safe handling up to a height of 6.5 meters
Free choice of energy-storage systems
Wireless connectivity facilitates data analysis and integration into digital processes
Service
On the standard 3.5-inch display, the driver can view all of the important information—such as battery level, warning lights and operating hours—at a glance. The ability to install firmware updates and diagnose faults remotely means that no visits from service technicians are required for these tasks. Service intervals are calculated on the basis of constantly updated operating hours. Remote diagnosis allows wear and any damage that occurs to be identified at an early stage. Timely servicing or repair can avoid serious consequential damage. Modular assemblies such as the mast or driver's workstation can be replaced quickly and easily, reducing the downtime required for repairs.
Simple servicing
Remote diagnosis and maintenance reduce servicing costs
Replacement of modular assemblies shortens repair downtime
Technical Data
| Model | Load capacity/Load | Lift | Travel speed, with/without load | Battery voltage/rated capacity (5h) | Aisle width with pallet 800 x 1200 along forks |
| --- | --- | --- | --- | --- | --- |
| E20 | 2.0 (t) | 3030 (mm) | 20 / 20 km/h | 80 / 460/500 (V)/(Ah) o. kWh | 3769 (mm) |
| E20/600H | 2.0 (t) | 3330 (mm) | 20 / 20 km/h | 80 / 560/620 (V)/(Ah) o. kWh | 3803 (mm) |
| E25 | 2.5 (t) | 3030 (mm) | 20 / 20 km/h | 80 / 460/500 (V)/(Ah) o. kWh | 3769 (mm) |
| E25/600H | 2.5 (t) | 3295 (mm) | 20 / 20 km/h | 80 / 560/620 (V)/(Ah) o. kWh | 3837 (mm) |
| E25/600HL | 2.5 (t) | 3295 (mm) | 20 / 20 km/h | 80 / 700/775 (V)/(Ah) o. kWh | 3982 (mm) |
| E25L | 2.5 (t) | 3030 (mm) | 20 / 20 km/h | 80 / 575/625 (V)/(Ah) o. kWh | 3910 (mm) |
| E30 | 3.0 (t) | 2995 (mm) | 20 / 20 km/h | 80 / 460/500 (V)/(Ah) o. kWh | 3888 (mm) |
| E30/600H | 3.0 (t) | 3295 (mm) | 20 / 20 km/h | 80 / 560/620 (V)/(Ah) o. kWh | 3835 (mm) |
| E30/600HL | 3.0 (t) | 3295 (mm) | 20 / 20 km/h | 80 / 700/775 (V)/(Ah) o. kWh | 3980 (mm) |
| E30/600HL Beverage | 3.0 (t) | 4095 (mm) | 20 / 20 km/h | 80 / 700/775 (V)/(Ah) o. kWh | 3980 (mm) |
| E30L | 3.0 (t) | 2995 (mm) | 20 / 20 km/h | 80 / 575/625 (V)/(Ah) o. kWh | 3983 (mm) |
| E35HL | 3.5 (t) | 3295 (mm) | 20 / 20 km/h | 80 / 700/775 (V)/(Ah) o. kWh | 3980 (mm) |
| E35L | 3.5 (t) | 2995 (mm) | 20 / 20 km/h | 80 / 575/625 (V)/(Ah) o. kWh | 4038 (mm) |
Optional Equipment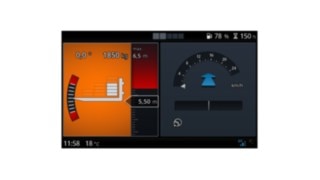 Linde Safety Pilot
Using the Safety Pilot from Linde Material Handling when operating counterbalance forklift trucks largely prevents tipping accidents.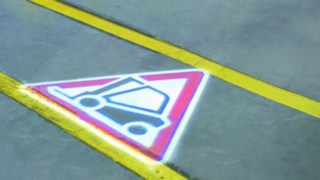 Visual Warning Systems
Warning light systems such as Linde BlueSpot™ and Linde TruckSpot project colored spots of light or warning signs onto the floor to warn pedestrians and other trucks.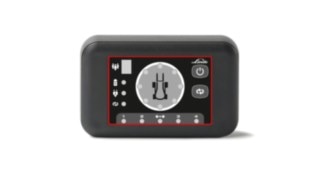 Linde Safety Guard
The innovative Safety Guard assistance system from Linde warns truck drivers and pedestrians of acute danger in the immediate vicinity of the trucks, using acoustic and light signals.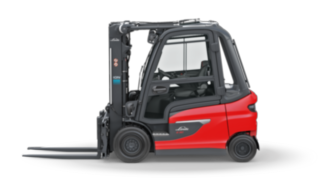 Full Cabin
The comfort cabin protects the driver when working outdoors and provides outstanding all-round visibility of the load and the working environment thanks to its armored glass roof and large-scale glass doors.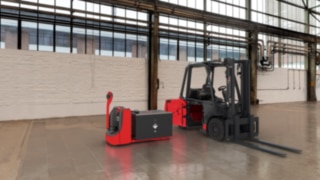 Battery Replacement
The battery is very easy to replace; on a pallet truck, for example, simply open the door on the right-hand side.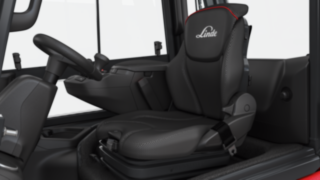 Seat Variants
A large selection of seats ensures additional comfort and active protection against postural injuries with functions like air suspension, lumbar support, seat heating, and seat ventilation.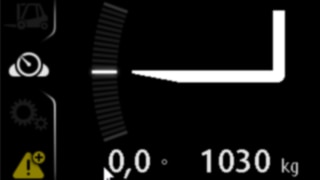 Load Weight Indicator
On the display, this optional function shows the driver the current load weight.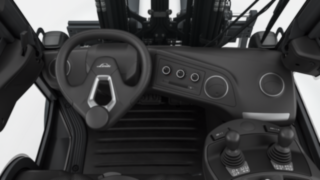 Air-Conditioning with Integrated Heating
The powerful air-conditioning system with integrated heating and pollen filter guarantees a comfortable working environment in the cab all year round, while also preventing windows from fogging up.
Container Version
Despite the truck being just 2225 mm high, it still allows for an ergonomic workstation with ample headroom. These dimensions are vital for many container terminals and other indoor areas with low clearance heights.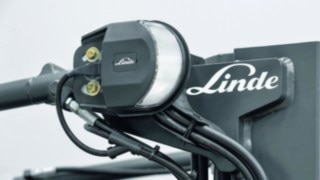 Light Solutions
With its semi-circular design, the Linde VertiLight evenly illuminates the working area. The Linde LED Stripes two-color light strips use white light to illuminate the truck's direction of travel.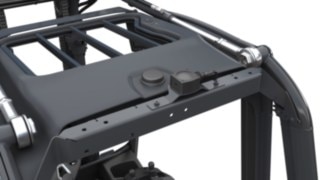 Linde Speed Assist
The Linde Speed Assist driver assistance system automatically adjusts the truck's top speed to the environment and the driving situation.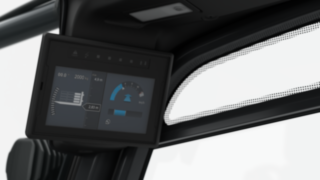 Multifunctional Display
In addition to truck information, the 7-inch screen can also show such things as the Linde Safety Pilot display, or images from the mast or reverse cameras. The screen layout and displays can be individually customized.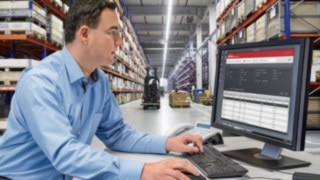 Linde Fleet Management
The Linde connect fleet management system can be used to manage your truck fleet. From maintenance scheduling to documentation of the maintenance and repair history through to access control.
Get a Quote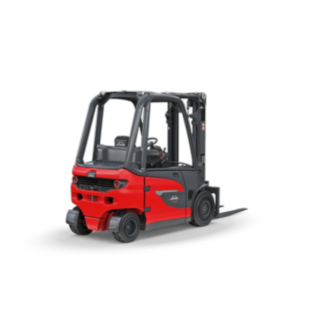 E 20-35 HL