Universal Application with High Handling Performance
The Linde E20–E35 range of electric forklifts follows a design principle which ensures high throughput during stacking, transport, loading and unloading. This is made possible by the compact axle technology with two three-phase traction motors integrated in the front axle and maintenance-free brakes. The forklift series for loads between 2,000 and 3,500 kilograms is tailored to almost every requirement. For example, there is a compact model for confined spaces, but there is also a high truck with a long wheelbase for bulky loads. The Linde energy management system ensures intelligent and transparent energy consumption.
Characteristics
Safety
The E20–E35 electric forklift models are equipped with a variety of standard safety systems to protect drivers, loads and the environment. Key safety features include a robust overhead guard, redundant controls, effective traction control, visibility-optimized components and high residual capacities. For example, the Linde Protector Frame combines the roof of the driver's cell and its frame to form a closed and resistant shelter. In addition, the forklift's overhead tilt cylinders allow slim and nested mast profiles to be installed. This improves visibility and safety when handling loads. In addition, numerous optional safety systems are available ex works and as retrofit solutions.
Safety Systems as Standard
Robust overhead guard and visibility-optimized components
Protection for drivers, loads and environment
Effective traction control
Numerous optional safety systems ex works and as retrofit solutions
Ergonomics
Precise work at a high performance level is only possible for an extended period if the operator is comfortable. That's why all the controls in the spacious driver's cab are ergonomically laid out. The adjustable armrest and seat unit, Linde Load Control and dual pedal control, which allows for swift reversing without the driver even having to shift their foot to another pedal, all provide the best possible conditions for fatigue-free work at a high level of performance. Plus, the lift mast and drive axle are decoupled from the chassis and driver's cab, minimizing the vibrations felt by the driver.
Ergonomic layout of control elements
Sensitive control via Linde Load Control
Efficient dual pedal control requires no foot repositioning
Individually adjustable unit consisting of armrest and seat
Handling
A special feature of the E20–E35 series models is the two-engine front-wheel drive mounted on a compact axle, which, when combined with Linde Load Control, ensures perfect interaction. Maintenance-free brakes an performance parts are also intelligently integrated into the drive. The motors allow the electric forklift trucks to achieve high acceleration, top speeds, and climbing power – all with low levels of noise. What's more, they also ensure precision in load handling: The Linde dual pedal control allows for millimeter-precise movement of the truck in both directions as well as the level of maneuverability required in narrow aisles. Precise and reliable load handling is also made possible through the fingertip-control of all lift mast functions. In addition, the power can be adjusted according to the requirements of each application situation via individually adjustable driving dynamics.
Compact axle with two motors
High acceleration and top speed
Precise dual pedal control and load handling with fingertips
Individually adjustable driving dynamics
Service
Important maintenance aspects were taken into consideration when the trucks were designed, which is why all important components are easily accessible via service panels. Maintenance intervals are considerably longer than industry standards, and central parts such as the electric motors and brakes operate maintenance-free. What's more, the new Linde energy management system ensures smart, transparent energy consumption. Electricity can be quickly and variably transmitted via an integrated charger or by any one of five different convenient battery changing methods, guaranteeing low downtimes and high forklift availability.
Maintenance-friendly design
All components easily accessible
Energy management system for flexible energy supply
Maintenance-free electric motors and brakes
Technical Data
| Model | Load capacity/Load | Load centre distance | Battery voltage/rated capacity (5h) | Aisle width with pallet 800 x 1200 along forks |
| --- | --- | --- | --- | --- |
| E20 | 2.0 (t) | 500 (mm) | 80 / 460/500 (V)/(Ah) o. kWh | 3766 (mm) |
| E20/600H | 2.0 (t) | 600 (mm) | 80 / 560/620 (V)/(Ah) o. kWh | 3800 (mm) |
| E25 | 2.5 (t) | 500 (mm) | 80 / 460/500 (V)/(Ah) o. kWh | 3766 (mm) |
| E25/600H | 2.5 (t) | 600 (mm) | 80 / 560/620 (V)/(Ah) o. kWh | 3822 (mm) |
| E25/600HL | 2.5 (t) | 600 (mm) | 80 / 700/775 (V)/(Ah) o. kWh | 3967 (mm) |
| E25/600HL_'5Pz/625Ah' | 2.3 (t) | 600 (mm) | 80 / 575/625 (V)/(Ah) o. kWh | 3967 (mm) |
| E25L | 2.5 (t) | 500 (mm) | 80 / 575/625 (V)/(Ah) o. kWh | 3911 (mm) |
| E30 | 3.0 (t) | 500 (mm) | 80 / 460/500 (V)/(Ah) o. kWh | 3891 (mm) |
| E30/600H | 3.0 (t) | 600 (mm) | 80 / 560/620 (V)/(Ah) o. kWh | 3830 (mm) |
| E30/600HL | 3.0 (t) | 600 (mm) | 80 / 700/775 (V)/(Ah) o. kWh | 3975 (mm) |
| E30/600HL_'5Pz/625Ah' | 2.8 (t) | 600 (mm) | 80 / 575/625 (V)/(Ah) o. kWh | 3975 (mm) |
| E30/600HL Beverage | 3.0 (t) | 600 (mm) | 80 / 700/775 (V)/(Ah) o. kWh | 3990 (mm) |
| E30L | 3.0 (t) | 500 (mm) | 80 / 575/625 (V)/(Ah) o. kWh | 3986 (mm) |
| E35HL | 3.5 (t) | 500 (mm) | 80 / 700/775 (V)/(Ah) o. kWh | 3975 (mm) |
| E35HL_'5Pz/625Ah' | 3.3 (t) | 500 (mm) | 80 / 575/625 (V)/(Ah) o. kWh | 3975 (mm) |
| E35L | 3.5 (t) | 500 (mm) | 80 / 575/625 (V)/(Ah) o. kWh | 4041 (mm) |
Optional Equipment
Active Battery Vent
Fast, Convenient, Safe: The automatic air vent makes the charging process very user-friendly, as it is based on a plug-and-play interface on the tailgate of the truck. Neither the battery compartment nor the door need to be opened in order to charge the battery.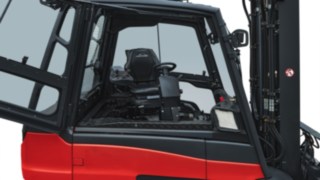 Rotating Driver's Workstation
The truck can be equipped with a mechanism that allows the driver's seat, steering column, and pedals to be turned up to 70 degrees as a single unit. This gives the driver a good view while reversing and also protects their health and increases safety.
High Frequency On-Board Charger
The optional high frequency on-board charger allows for flexible and fast battery charging without the need for dedicated battery storage or a charging room. Its high efficiency, temperature-controlled charging and automatic charge conservation and equalizing guarantee an energy-efficient charging process. A separate charging room is no longer required.
Lift Mast Variants
Linde's range of lift mast variants find the perfect balance between lifting height and overall height for any application. The range covers standard masts with a lift of up to 5,650 mm, duplex masts (fully free lift) with a lift of up to 4,145 mm and triplex masts (fully free lift) with a lift of up to 6,075 mm.
Hydraulic Battery Replacement System
Fast and convenient battery replacement: At the touch of a button, the Linde hydraulic battery replacement system lifts the battery until it is 60 percent free of the truck, where it can be collected by a ceiling crane or a second truck. This option is available for E12–E50 forklifts.
Get a Quote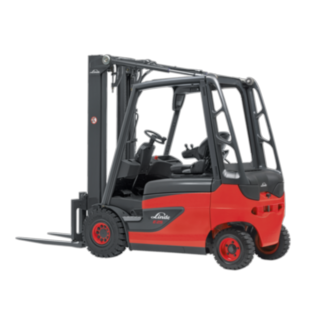 E20 – E35