X35 Electric Forklift Truck in Use at EOT
The X Factor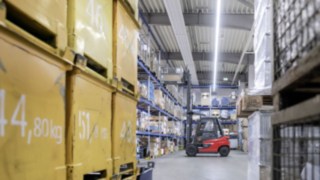 What are the three most important properties of a counterbalanced forklift truck? For the logistics experts at Eibach Oberflächentechnik GmbH (EOT) in Lüdenscheid, Germany, there is only one answer: performance, performance, performance. In a recent field test, the new Linde X35 gave a convincing demonstration of just how well an electric forklift can perform in the tough loading business.
There are certain qualities that we must try to hold onto over the course of our (working) lives – one of which is our ability to be surprised. We do something one way or another simply because that's how we've always done it – until one day someone comes along with a different idea. And after trying it out for the first, second, and third time, in the best-case scenario we are not only surprised, but convinced. But what does that have to do with logistics? Let's ask Tobias Pietschmann. As the Dispatch Manager, he's in charge of the logistics for surface coating systems at EOT: "To be honest, we would never have expected an electric forklift to be as powerful as an internal combustion truck. But the new X35 from Linde has made us do a 180." A fitting statement that sparks our curiosity about the story behind it.
Every Truck is a Lucky Dip
Lüdenscheid is a city in the Sauerland region of Germany. Some refer to it as the "City of Mountains", while others call it the "City of Light" – a nod to the thriving lighting industry that exists there. However, for those more at home in the automotive industry, the maritime sector or the wind power industry, Lüdenscheid is associated with a different specialism: reliable and long-lasting corrosion protection. And that's down to EOT. The surface experts at EOT have been coating products for the industries named above, as well as countless others, since 1981. "Screws, washers, door hinges, springs, brackets, bolts – we process pretty much everything, according to our customers' requirements," says Steffen Roll, Technical Director and authorized representative. And the company's customers require a lot.
At peak times, the company processes a total of 60 trucks per day, turning over at least 300 metric tons of goods within a 24-hour period. Because EOT's excellent market reputation is largely down to its rapid processing and delivery times, the company's success starts and finishes, of course, with its high-performance logistics. Dispatch Manager, Tobias Pietschmann, explains: "Our customers deliver their components to us; we unload, document, coat and test them, and then the finished parts are dispatched again. Our forklift drivers often have no idea what type of goods the incoming trucks are carrying. A pallet can weigh 200 kilos, while a container might weigh 1.5 metric tons. And of course, this 'lucky dip' can make handling really quite tricky. However, no matter what, it's crucial that we do not lose any time."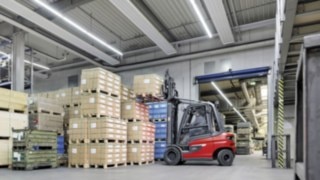 Pure Power
Time = money = customer satisfaction: When you look at this simple equation, it is hardly surprising that EOT's logistics managers are reluctant to make any compromises when it comes to the performance of the forklifts used for loading. Pietschmann: "Internal combustion trucks have always been the first choice for us – in our case, propellant gas. With the tonnages we work with and double-shift operation to boot, we simply couldn't imagine using electric forklifts for this job. Having to wait ages while the trucks are charging or the battery is changed? No chance." Then the new Linde X35 rolled into the yard, which EOT tried out in a field test ahead of its market launch. "What can I say? We weren't exactly thrilled," Pietschmann recalls. But after just a few uses, the initial skepticism as to whether an electric forklift could ever be as powerful as the usual internal combustion trucks was long gone.
Find out more about the new X20 – X35 electric forklift trucks from Linde
Pietschmann's colleague and Deputy Dispatch Manager Frank Wille shares his experiences: "The first thing you notice about the forklift is that it never lags when lifting – not even when it's at its limit. The commands are accepted and implemented at lightning speed – there is no delay whatsoever. Everyone here finds it a pleasure to work with." Thanks to the powerful acceleration, the trucks are processed just as quickly as with the forklifts that run on propellant gas – but without the time-consuming process of changing the gas cylinders after every shift. "The equipment saves us a lot of time and of course operating costs", says authorized representative Steffen Roll, adding: "Especially as we operate two of our own combined heat and power plants here, which generate electricity using exhaust air from our production. We can then use this to charge the X35 with no additional costs. It doesn't really get any better than that." That said, the X35 is so efficient in terms of energy use that it can easily be driven for two shifts, and it only needs short intervals for charging, which the employee can do while completing their documentation, for example.
The Overall Package Works
Traction, efficiency, sustainability, optimized servicing costs thanks to low maintenance requirements – what else could the new performance class for electric forklift trucks possibly deliver? Apart from the outstanding safety and ergonomics that Linde is famous for. Pietschmann's colleague, Frank Wille: "Our employees have a direct comparison with the existing equipment and switch from one to the other on a daily basis. And the results are in, with employees reporting that the cabin is bigger, they have more freedom of movement and the large glass surfaces provide better visibility." The improved visibility is a crucial safety factor for EOT, because employees working in the 2,000 square meters of logistics space sometimes have to navigate very narrow aisles. "That works great with the new Linde truck. It also feels noticeably more maneuverable thanks to the shorter wheelbase." So, will EOT be making the X35 a permanent fixture? "If our team has any say in it, then definitely," laughs Tobias Pietschmann, Dispatch Manager. "They certainly don't want to give it up. But in all seriousness: We put a lot of emphasis on performance here and we have never even considered switching to electric forklifts in our logistics. With the X35, we can definitely envisage ourselves relying entirely on electric and lithium-ion trucks." How about that for a turnaround?!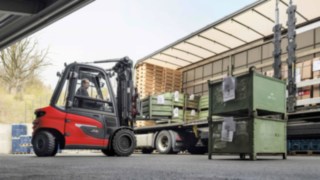 Eibach Oberflächentechnik GmbH (EOT)
Reliable corrosion protection, maximum flexibility: The trademarks behind the successful market positioning of Eibach Oberflächentechnik GmbH from Lüdenscheid, North Rhine-Westphalia since 1981. The specialist service provider applies high-quality surface coatings to a wide variety of components from the automotive, construction and maritime industries – a service that has even made it a market-leader in the European wind power sector. The logistics team at EOT rely on a total of eight Linde forklift trucks, which have so far primarily been powered with propellant gas and – due to the high variety of goods – are equipped with a series of additional features such as the Linde Safety Pilot safety system.