Maximum Performance for a Wide Range of Applications
The E35–E50 series offers powerful electric forklifts with a load capacity of 3.5 to 5 tons and a comprehensive range of construction and equipment variants in order to best meet a wide variety of application requirements. These include compact models for confined spaces as well as trucks with long wheelbases for bulky loads. Two powerful three-phase AC motors built into the compact front axle, together with control elements designed for precision and intuitive operation, ensure high handling performance. The driver is able to control the driving direction and acceleration with dual pedals, and the lifting functions with the Linde Load Control joysticks integrated into the armrest – without unnecessary physical strain. Top-mounted tilt cylinders and electronic traction control ensure safe load handling. The optional on-board charger offers additional flexibility and cost-effectiveness.
Characteristics
Safety
The electric trucks of this series are already equipped as standard with a range of safety components and functions that protect the operator, the load and the infrastructure from damage. The Linde Protector Frame connects the overhead guard with the cabin frame to form a closed, robust protective cell. Safe load handling is supported by redundant control circuits, electronic traction control and overhead tilt cylinders which stabilize the mast and ensure high residual capacity. Slim, nested mast profiles improve visibility on the load and working environment. In addition, numerous optional safety systems are available ex works and as retrofit solutions.
Comprehensive safety features as standard
Traction control and components offering optimal visibility
Protection for drivers, loads and environment
Numerous optional safety systems ex works and as retrofit solutions
Ergonomics
High operating comfort is a prerequisite for working safely and efficiently with a forklift truck. Thus, all control elements of the E35–E50 models are arranged ergonomically and intuitively around the driver. The operator controls all vehicle functions without unnecessary, straining movements. The Linde Load Control operating levers for controlling the mast functions are integrated into the multi-adjustable seat and armrest unit, while the direction of travel and speed are controlled via dual pedals. In addition, rubber mounts decouple the mast and drive axle from the chassis and the operator's compartment so that vibrations and shocks are not transmitted to the driver.
Ergonomic layout of control elements
Adjustable armrest and seat unit
Linde Load Control for sensitive operation of mast functions
Efficient dual pedal drive control
Handling
The perfect interplay between powerful drive components and a precise control system ensure high productivity for the E35–E50 series. The two dust and splash-proof three-phase motors with maintenance-free brakes are integrated into the Linde compact axle, while the power units are mounted directly onto the axle. In conjunction with the operating concept consisting of Linde dual pedal control for travel direction and acceleration, and Linde Load Control for the lift mast functions, the electric forklifts can be moved with pinpoint accuracy and maneuverability in the tightest of spaces and loads can be handled precisely and safely. In addition, driving dynamics, which can be adjusted in three stages, enable performance to be adapted to the operating situation.
Linde compact axle with two motors
Precision dual pedal control
Fingertip-controlled load handling
Individually adjustable driving dynamics
Service
Forklifts in the E35–E50 series benefit from robust, tried-and-tested components. Central truck parts, such as the entire drive axle and the three-phase motor for the lifting hydraulics, are maintenance-free, while the service-friendly design means that the parts which do require maintenance are easily accessible and replaceable. Thanks to long service intervals, the first service is only necessary after 1,000 operating hours – and the first hydraulic oil change only after 6,000. Using a special diagnostics system, the truck can be quickly adapted to the individual requirements of various handling characteristics.
Important truck parts maintenance-free
Long maintenance intervals
All components easily accessible
Adjustment to individual requirements
Technical Data
| Model | Load capacity/Load | Load centre distance | Battery voltage/rated capacity (5h) |
| --- | --- | --- | --- |
| E35/600H | 3.5 (t) | 600 (mm) | 80 / 700/775 (V)/(Ah) o. kWh |
| E35/600H_'5Pz/625Ah' | 3.2 (t) | 600 (mm) | 80 / 575/625 (V)/(Ah) o. kWh |
| E40/600H | 4.0 (t) | 600 (mm) | 80 / 700/775 (V)/(Ah) o. kWh |
| E40/600HL | 4.0 (t) | 600 (mm) | 80 / 840 (V)/(Ah) o. kWh |
| E40/600HL_'6Pz/750Ah' | 3.8 (t) | 600 (mm) | 80 / 750 (V)/(Ah) o. kWh |
| E40/600H_'5Pz/625Ah' | 3.8 (t) | 600 (mm) | 80 / 575/625 (V)/(Ah) o. kWh |
| E40/600H Beverage | 4.0 (t) | 600 (mm) | 80 / 700/775 (V)/(Ah) o. kWh |
| E40/600L-Container | 4.0 (t) | 600 (mm) | 80 / 840 (V)/(Ah) o. kWh |
| E45/600H | 4.5 (t) | 600 (mm) | 80 / 700/775 (V)/(Ah) o. kWh |
| E45/600HL | 4.5 (t) | 600 (mm) | 80 / 840 (V)/(Ah) o. kWh |
| E45/600HL_'6Pz/750Ah' | 4.3 (t) | 600 (mm) | 80 / 750 (V)/(Ah) o. kWh |
| E45/600HL Beverage | 4.5 (t) | 600 (mm) | 80 / 840 (V)/(Ah) o. kWh |
| E45/600H_'5Pz/625Ah' | 4.3 (t) | 600 (mm) | 80 / 575/625 (V)/(Ah) o. kWh |
| E45/600L-Container | 4.5 (t) | 600 (mm) | 80 / 840 (V)/(Ah) o. kWh |
| E50/500HL | 4.99 (t) | 500 (mm) | 80 / 840 (V)/(Ah) o. kWh |
| E50/500HL_'6Pz/750Ah' | 4.8 (t) | 500 (mm) | 80 / 750 (V)/(Ah) o. kWh |
| E50/500L-Container | 4.99 (t) | 500 (mm) | 80 / 840 (V)/(Ah) o. kWh |
| E50/600HL | 4.99 (t) | 600 (mm) | 80 / 840 (V)/(Ah) o. kWh |
| E50/600HL_'6Pz/750Ah' | 4.8 (t) | 600 (mm) | 80 / 750 (V)/(Ah) o. kWh |
| E50/600L-Container | 4.99 (t) | 600 (mm) | 80 / 840 (V)/(Ah) o. kWh |
Optional Equipment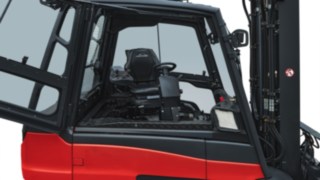 Rotating Driver's Workstation
The truck can be equipped with a mechanism that allows the driver's seat, steering column, and pedals to be turned up to 70 degrees as a single unit. This gives the driver a good view while reversing and also protects their health and increases safety.
High Frequency On-Board Charger
The optional high frequency on-board charger allows for fast and flexible battery charging without the need for dedicated battery storage or a charging room. Its high efficiency, temperature-controlled charging and automatic charge conservation and equalizing guarantee an energy-efficient charging process. A separate charging room is no longer required.
Hydraulic Cylinder Protection
The trucks' hydraulic cylinders can be fitted with appropriate safety devices, ensuring they are not damaged by falling loads.
Cold Storage Facilities
Linde offers special additional equipment for use in cold storage and freezers. This includes anti-misting, heated driver's cabs, cold-resistant materials, and operating consoles and pedals which can be operated while wearing cold protection clothing.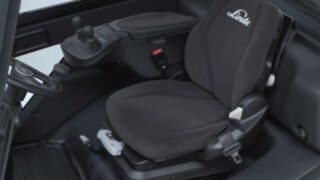 Swivel Seat
The swiveling driver's seat ensures good visibility even when reversing. With Linde Load Control, the seat can be turned through 17 degrees and is ergonomically designed with an adjustable back.
Sun Visors
Specially designed for outdoor use, the driver's cab can be fitted with special visors to the front and roof to ensure that sunlight does not impede visibility.
Get a Quote
E35 – E50