The first truly emission-free alternative
The X20 – X35 counterbalance forklift trucks from Linde Material Handling are the first electric forklifts whose high performance and robustness means they can be used as a genuine alternative to internal combustion (IC) trucks. Customers therefore enjoy absolute freedom of choice and are able to choose a quiet, emission-free alternative for even the most challenging applications, without having to allow for any loss of performance. The basis for all of this is the common platform developed by Linde for counterbalance forklift trucks, whether powered by internal combustion engines or electricity. This means that the X20 – X35 forklifts combine the best of two worlds: the characteristic output and power development of IC trucks and the dynamics, flexibility, and freedom from emissions offered by electric trucks.
Characteristics
Safety
The comprehensive safety concept of the X20 – X35 electric forklift trucks protects not only the driver but also pedestrians and the goods being transported. The slimline mast design, narrow A-pillar, and lowered front plate afford the driver an unimpeded view of the load and surrounding area. Even when loading and unloading at higher levels, the roof design continues to give the driver a perfect view of the load. The truck's low center of gravity and high steering axle ensure a high degree of protection from the risk of overturning. In addition, Linde Curve Assist, fitted as standard, reduces truck speed on bends and prevents it from tipping over. If the load is tilted too far forward when lifting, the Linde Load Assist, which is integrated as standard, automatically intervenes to reduce the forward tilt and lifting speed according to the lifting height. This function minimizes the risk of accidents caused by falling loads.
All-round view from the driver's cabin
Linde Curve Assist prevents tipping while turning
Linde Load Assist protects from tipping accidents
Ergonomics
The spacious and comfortable workspace for the driver and the ergonomic seat versions ensure an optimal operating experience and combat tension and exhaustion. Thanks to the wide field of view, the driver can easily keep both the load and the surrounding area in sight at all times. The truck functions can be operated with little physical effort since all of the central control elements are close at hand around the driver. Even on uneven floors, the ride is comfortable and even. The chassis is separate from the drive axle through an elastomer ring bearing and from the mast and steering axle by additional bearings, so the driver feels significantly less vibration and jolting. This also reduces noise, causing less overall physical strain on the driver and contributing to higher handling capacities.
Spacious driver workspace with convenient all-round view
Ergonomic seat versions for personalized comfort
Control elements can all be reached without physical strain
Separation of chassis, drive, and mast to ensure the comfort of the driver, even on uneven floors
Handling
As the new electric high performers, the X20 – X35 forklifts can be used for the most demanding applications, even on uneven floor surfaces. This is made possible by the wheelbase, which is long for an electric forklift, and the large tires, together with the vibration-free drive axle. Neither dust and dirt nor steep ramps, long distances or regular heavy loads and high lifting will push these new electric forklift trucks to their limits. The key to all of this is the new synchronous reluctance motor with permanent magnets (SRM+), together with an innovative water cooling system that keeps the power modules within the ideal temperature range. This ensures a consistently high performance even in extremely demanding multi-shift operation. In addition, the top-mounted tilt cylinder, in combination with the torsion-resistant mast design, offers a high residual load capacity and safe handling of loads of between 2–3.5 tonnes, even at considerable lifting heights.
A longer wheelbase, large tires, and vibration-free drive axle enable use in challenging environments
New synchronous reluctance motor with water-cooled power modules ensures consistently high performance, even in extreme conditions
The mast design and overhead tilt cylinder also ensure safe load handling when working high up
Service
The driver can view all of the important information—such as remaining battery levels, warning lights, and operating hours—at a glance from the 3.5-inch display, fitted as standard. Text information on the display guides the driver through simple maintenance processes. Firmware updates and fault diagnosis can be carried out remotely. This reduces the number of service operations and hence reduces servicing costs. Service and repair intervals are calculated on the basis of constantly updated operating hours. Wear and any damage that occurs are identified at an early stage by remote diagnosis. The temperature sensor integrated as standard, which continuously analyses measurements such as oil temperature in relation to ambient temperature, is one of the elements that makes this possible. Serious consequential damage is thus avoided. The mast and driver's workspace are modular assemblies that can be replaced quickly and easily, reducing the downtime required for repairs.
Low servicing costs by means of remote diagnosis and maintenance
High truck availability
Rapid replacement of modular assemblies
Technical Data
| Model | Load capacity/Load | Lift | Travel speed, with/without load | Battery voltage/rated capacity (5h) | Aisle width with pallet 800 x 1200 along forks |
| --- | --- | --- | --- | --- | --- |
| X20/600 | 2.0 (t) | 3095 (mm) | 22 / 22 km/h | 90 / 600 (V)/(Ah) o. kWh | 4208 (mm) |
| X20/600 Beverage | 2.0 (t) | 4095 (mm) | 22 / 22 km/h | 90 / 600 (V)/(Ah) o. kWh | 4208 (mm) |
| X25 | 2.5 (t) | 3095 (mm) | 22 / 22 km/h | 90 / 600 (V)/(Ah) o. kWh | 4208 (mm) |
| X25 Beverage | 2.5 (t) | 4095 (mm) | 22 / 22 km/h | 90 / 600 (V)/(Ah) o. kWh | 4208 (mm) |
| X30 | 3.0 (t) | 3095 (mm) | 22 / 22 km/h | 90 / 600 (V)/(Ah) o. kWh | 4243 (mm) |
| X30 Beverage | 3.0 (t) | 4095 (mm) | 22 / 22 km/h | 90 / 600 (V)/(Ah) o. kWh | 4243 (mm) |
| X35 | 3.5 (t) | 3095 (mm) | 22 / 22 km/h | 90 / 600 (V)/(Ah) o. kWh | 4248 (mm) |
| X35 Beverage | 3.5 (t) | 4095 (mm) | 22 / 22 km/h | 90 / 600 (V)/(Ah) o. kWh | 4248 (mm) |
Optional Equipment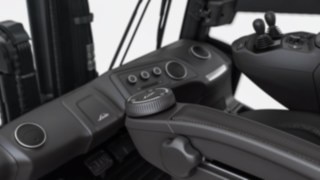 Linde Steer Control
The innovative Linde Steer Control concept from Linde Material Handling replaces the classic steering wheel with a mini steering wheel or joystick, increasing the truck's ergonomics, precision and safety.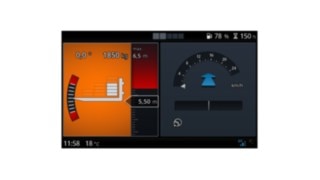 Linde Safety Pilot
Using the Safety Pilot from Linde Material Handling when operating counterbalance forklift trucks largely prevents tipping accidents.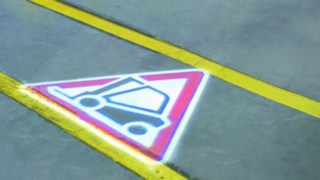 Visual Warning Systems
Warning light systems such as Linde BlueSpot™ and Linde TruckSpot project colored spots of light or warning signs onto the floor to warn pedestrians and other trucks.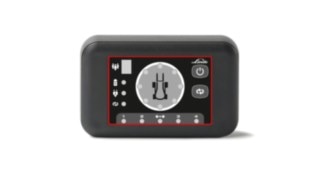 Linde Safety Guard
The innovative Safety Guard assistance system from Linde warns truck drivers and pedestrians of acute danger in the immediate vicinity of the trucks, using acoustic and light signals.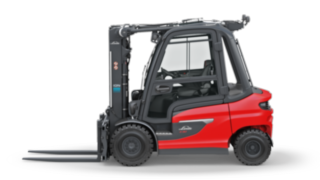 Full Cabin
The comfort cabin protects the driver when working outdoors and provides outstanding all-round visibility of the load and the working environment thanks to its armored glass roof and large-scale glass doors.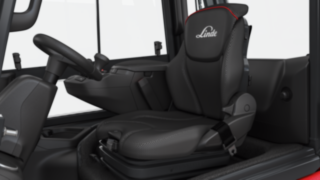 Seat Variants
A large selection of seats ensures additional comfort and active protection against postural injuries with functions like air suspension, lumbar support, seat heating, and seat ventilation.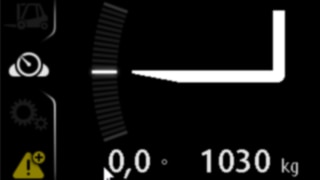 Load Weight Indicator
On the display, this optional function shows the driver the current load weight.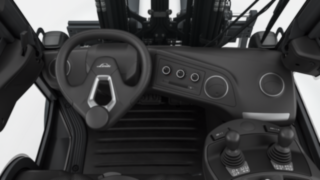 Air-Conditioning* with Integrated Heating
The powerful air-conditioning system with integrated heating and pollen filter guarantees a comfortable working environment in the cab all year round, while also preventing windows from fogging up.
* contains fluorinated hydrocarbons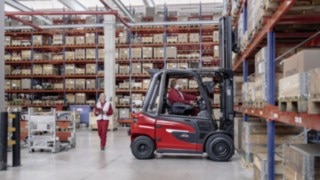 Linde Motion Detection
The Motion Detection assistance system detects movements in the area behind the forklift truck when reversing. If pedestrians or other trucks pass through this area, the system stops the forklift truck from moving backwards.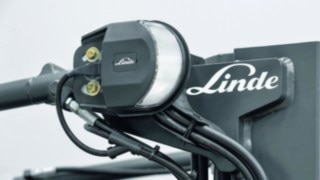 Light Solutions
With its semi-circular design, the Linde VertiLight evenly illuminates the working area. The Linde LED Stripes two-color light strips use white light to illuminate the truck's direction of travel.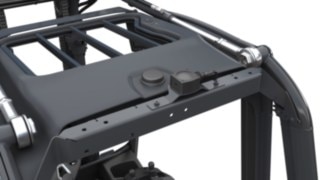 Linde Speed Assist
The Linde Speed Assist driver assistance system automatically adjusts the truck's top speed to the environment and the driving situation.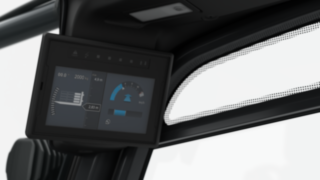 Multifunctional Display
In addition to truck information, the 7-inch screen can also show such things as the Linde Safety Pilot display, or images from the mast or reverse cameras. The screen layout and displays can be individually customized.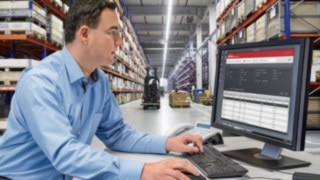 Linde Fleet Management
The Linde connect fleet management system can be used to manage your truck fleet. From maintenance scheduling to documentation of the maintenance and repair history through to access control.
Get a Quote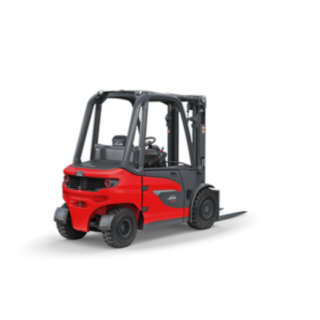 X20 – X35