Easy load transport in confined spaces
Whether in retail trade or in production areas, wherever hand pallet trucks have been used up to now, the MT15 C electric low-lift pallet truck can offer higher handling capacities with less use of force. In pedestrian mode, the pallet truck effortlessly transports loads of up to 1.5 tonnes. Thanks to its compact design, the truck is easy to maneuver even in narrow aisles and tight curves. When loading and transporting pallets at ground level over short distances, the compact truck is a cost-effective, powerful alternative to the manual hand pallet truck. The truck relieves employees of physically demanding transport tasks and contributes to higher productivity in the warehouse and quicker city deliveries.
Characteristics
Safety
The long, low-mounted tiller arm ensures that the driver is at a safe distance from the truck. The low chassis prevents their feet from getting caught under the trolley and prevents accidents. If the driver takes their hands off the butterfly switch, the electromagnetic brake stops the truck automatically. In addition, there is a belly switch on the tiller head that can be used to stop the MT15 C in an emergency. The truck is always held securely in position by an efficient parking brake, even on inclined loading ramps or slopes.
Safety distance due to long tiller arm
Automatic electromagnetic brake
Efficient parking brake for slopes
Ergonomics
The 1550-millimeter short chassis and the small turning circle of only 1390 millimeters ensure optimum maneuverability even in confined spaces. The operator can maneuver the vertical tiller with particular precision when using creep speed. This allows the pallet truck to be steered effortlessly even in confined spaces, such as in a truck. All operating elements are located in the ergonomically shaped tiller head and are easy to reach, including the dual butterfly lever for convenient control of the truck with both hands. The Curtis control system enables particularly sensitive load handling. It allows service technicians to adjust speed and acceleration precisely to customer requirements.
Compact design facilitates maneuverability
Creep speed enables precise steering
Ergonomically shaped tiller head with all controls
Individual adaptations with Curtis steering
Handling
Load handling with the MT15 C pallet truck is effortless thanks to the electric drive and its compact design. The electric drive powerfully supports the employees in their work and overcomes gradients of up to 6 percent when loaded or 16 percent without load. Thanks to the robust chassis and reinforced forks, the truck can easily transport goods weighing up to 1.5 tonnes. Suitable for short distances, the truck reaches a top speed of 4.5 km/h when loaded and noticeably accelerates handling processes. The fork can be raised to a height of 115 millimeters, enabling easy load transfer, e.g. onto the tail lift of a truck. The manual continuous fork lowering allows the operator to unload pallets quickly and precisely.
Electric drive can overcome gradients of 6 percent with load
Top speed of 4.5 km/h accelerates transportation
Reinforced forks carry loads up to 1.5 tonnes
Continuous fork lowering for precise load handling
Service
Thanks to the metal covers, the electric pallet truck is a robust, reliable truck. The lithium-ion battery guarantees non-stop operation for approximately 1.7 hours. It takes roughly 2.5 hours to charge. Shorter charging cycles do not affect its service life. A lamp indicates charge, remaining power and error status. When the charge status is only 10 percent, an acoustic and visual warning signal indicates that the battery needs to be charged. For this purpose, the battery, which weighs only 3.7 kilos, can be effortlessly replaced via plug-and-play. Without battery power, the operator can simply switch to manual operation. The robust DC motor enables long operating times before maintenance is due. This reduces service costs.
Maintenance- and emission-free lithium-ion battery system
Lithium-ion battery enables nonstop operation for up to 1.7 hours
Short charge cycle of around 2.5 hours
Technical Data
| Model | Load capacity/Load | Lift | Travel speed, with/without load | Turning radius | Battery voltage/rated capacity (5h) |
| --- | --- | --- | --- | --- | --- |
| MT15C | 1.5 (t) | 115 (mm) | 4 / 4.5 km/h | 1390 (mm) | 24 / 20 (V)/(Ah) o. kWh |
Optional Equipment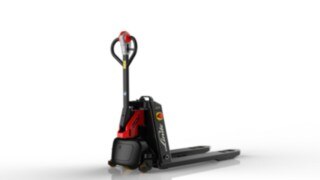 Castor wheels
Castor wheels ensure an optimum balance between stability and traction for constant ground contact.
Single or Tandem Rollers
Single or tandem rollers made from polyurethane are available. The material is quiet, very durable, and has good rolling properties. It leaves no marks on light floors.
Alternative Forks
Forks of different lengths and widths are available for the pallet truck. This allows the truck to be configured precisely for the specific handling task.
Get a Quote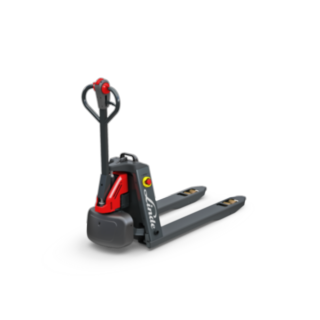 MT15 C