Maximum maneuverability in the tightest of spaces
The T14 – T20 pallet trucks can be maneuvered easily and quickly, even in the tightest spaces, thanks to their particularly compact design. Thanks to their robust chassis and reinforced forks, the trucks can transport loads of up to two metric tons – depending on the model. The central and low-set tiller improves the maneuverability of the truck whilst an optionally available proportional speed control reduces travel speed automatically in relation to the tiller angle. The electric pallet trucks can also be equipped with Li-ION batteries as an option. These particularly compact Li-ION batteries are also available for the T14 and T16 models, making them ideal helpers in retail and when delivering goods by truck in cities. The ergonomic controls mounted on the tiller head enable comfortable and safe operation, even in the most confined spaces. Numerous optional extras, such as triple load wheels for exceptionally quiet driving, a load backrest, storage space and an A4 clipboard, enable tailor-made truck configurations for every application.
Characteristics
Safety
The design of the T14 – T20 pallet trucks improve driver safety; the low chassis protects feet, while the long, low-set tiller ensures that the driver always keeps sufficient distance from the pallet truck during operation. In addition, a bar above the controls protects the hands. If the driver releases the butterfly control or changes the direction of travel, the truck brakes automatically and an automatic parking brake prevents unintentional rolling away on gradients. If the tiller is in danger of trapping the driver whilst maneuvering, a belly switch on the tiller head stops the truck.
Deep set chassis as foot guard
Low mounted tiller with hand guard
Automatic parking brake
Belly switch on tiller head
Ergonomics
The pallet trucks of the T14 – T20 series are designed for comfort and user-friendliness. All controls on the ergonomic tiller head can be driven easily with either hand and allow handling that is as precise as it is comfortable. To keep noise levels as low as possible for the driver, the pallet trucks are optimized for low-noise operation. A multifunction display with operating hours counter, maintenance schedule, error code and battery level display provide an overview of all important information at all times without distracting the driver. Depending on the battery size, the cover offers storage areas for work utensils such as a clipboard, foil roll or goods scanner as standard.
Easy to handle tiller
Quiet operation
Multifunction display
Many storage areas
Handling
The powerful electric motor provides precise and strong power delivery in every working situation. As an optional feature, the proportional speed control reduces the travel speed automatically in relation to the tiller angle. This allows the truck to be driven safely and slowly in tight spaces with a vertical tiller. A booster effect automatically increases engine power on uneven and steep terrain, whilst the low chassis and rounded battery cover also ensure good visibility of the forks. Users have a wide choice of fork lengths and additional load wheels. The Li-ION battery version allows for interim charging, meaning trucks can be charged during breaks and downtime.
Powerful electric motor
Proportional speed option
Booster function
Li-ION battery as option
Service
The robust AC motor enables long maintenance intervals. In addition, automatically adjustable castor wheels as well as low-wear, maintenance-free components, and the robust covering ensure a long service life, high availability, and low service costs. For fast, uncomplicated maintenance, service technicians have access to all relevant components via the front service panel. A central interface links all the truck's electronic components via the CAN bus system. This means that all truck data can be read out on site via a laptop. Remote fault diagnoses and software updates are also possible when equipped with an optional data transmission unit.
Low maintenance AC motor
Robust truck construction
Easily accessible service components
CAN bus system
Optionally available data transmission unit
Videos & Images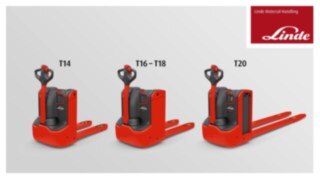 Technical Data
| Model | Load capacity/Load | Lift | Travel speed, with/without load | Turning radius | Battery voltage/rated capacity (5h) |
| --- | --- | --- | --- | --- | --- |
| T14 | 1.4 (t) | 125 (mm) | 6 / 6 km/h | 1365 / 1437 (mm) | 24 / 62 (125) (V)/(Ah) o. kWh |
| T16 | 1.6 (t) | 125 (mm) | 6 / 6 km/h | 1438 / 1510 (mm) | 24 / 150 (V)/(Ah) o. kWh |
| T18 | 1.8 (t) | 125 (mm) | 6 / 6 km/h | 1438 / 1510 (mm) | 24 / 150 (V)/(Ah) o. kWh |
| T20 | 2.0 (t) | 125 (mm) | 6 / 6 km/h | 1510 / 1582 (mm) | 24 / 250 (V)/(Ah) o. kWh |
Optional Equipment
Single, Tandem, or Triple Load Wheels
The load wheels can be selected to suit the application. The more wheels, the quieter the truck.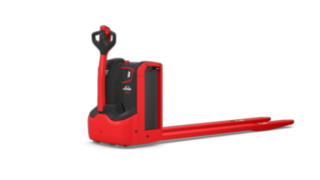 Alternative Forks
The length and width of the forks can be configured according to the application. A marking for easy handling of pallets in transverse direction is available on request.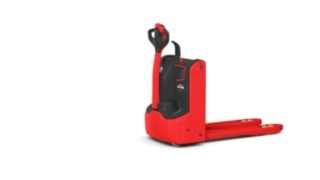 Integrated Charger
An integrated charger is available for both Li-ION and lead-acid batteries.
Intelligent bumper
An intelligent bumper that registers even light foot contact with the truck protects the driver, even in confined spaces.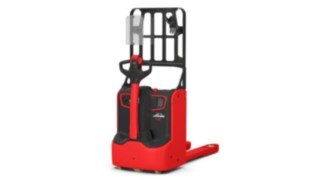 Load backrest
The load backrest offers the driver additional protection by preventing high loads from sliding back.
Battery covers
Battery covers are available in either plastic or steel and provide additional storage space, e.g., for clipboards and scanners.
Get a Quote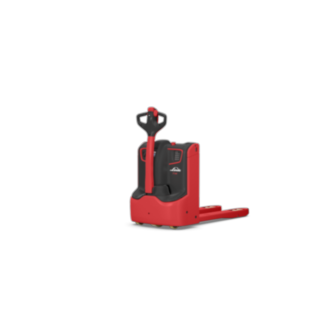 T 14 – T20