Automated trucks from Linde
Excellent solution at Fagerhult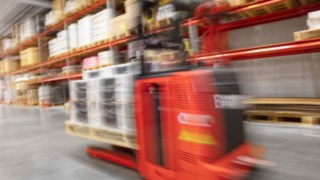 Quiet as mice, 'Gofar' and 'Fargo' transport fittings from assembly to the finished goods store at Fagerhults Belysning. The investment in automated trucks at the well-known lighting company has been a success and proof that people and automated trucks can work together without problems. The next steps in the company's investment in automation will now follow.
Fagerhults Belysning
Fagerhults Belysning develops and produces lighting for public environments. The company was founded by Bertil Svensson. One evening he was at home on his farm and saw his mother struggling with her needlework in a darkly lit room. He decided to design a lamp for his mother, and when he saw how happy she was, he decided to improve people's lives with light fittings. The company, located in the Västergötland countryside, has now grown into a lighting group, Fagerhult Group, with a total of 13 companies and 4,900 employees in 30 countries. The head office is still in Fagerhult.
Source: www.fagerhult.com
Pontus Segmark, production engineer and project manager for automation at Fagerhults Belysning, smiles when the names of the trucks are mentioned.
"The staff thought the trucks would be less impersonal if they had names. So we had a competition and the winners were 'Gofar' and 'Fargo'. The names enhance the idea that the automated trucks are seen as colleagues. Albeit slightly taciturn and not very sociable, but they do their job efficiently and reliably hour after hour with one hundred percent reliability."
Since February 2019, they have been a natural part of the materials handling process at Fagerhult.
"A few years ago, we started to discuss automation to meet the challenges we had, with a lot of materials on the floor and being transported through the premises all the time."
Fagerhult makes 700,000 fittings a year, many in relatively short series.
"As we have a wide range, we use a huge number of components, which have to be stored in a limited space. And the right materials have to be in the right place to ensure efficient flow in the production process."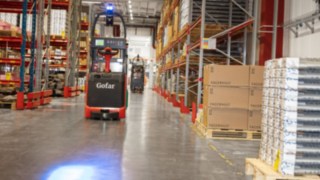 The investment in automated trucks was preceded by solid research.
"Navigation and the technology were decisive for us. They formed the basis of the requirement specifications we sent to various suppliers. We then asked them to come here and present their products," explains Pontus.
They do their job efficiently and reliably hour after hour with one hundred percent reliability.
What made them go for Linde?
"Linde presented a solution that felt both modern and future-proof. One major advantage is that the trucks are controlled via laser and require no permanent installations. As we will be investing in stages, it is important to be able to grow with a solution, and not risk getting stuck with old, traditional technology." Before deciding on the purchase, Pontus and other members of the project group visited one of Renault's plants in France where Linde's automated trucks are used.
"We were worried about whether our industrial floors were suitable for automated trucks and whether the working environment as a whole was well suited to Linde's technical solution. It turned out that the technology worked fantastically at Renault, and we also discovered that we had better conditions for automation than they did."
Emma Hallman, head of industrialization at Fagerhult, says:
"Renault uses Linde's technical solution in all its plants worldwide. Their trucks navigate very precisely, although the quality of the floors is not always perfect."
She continues:
"Linde's automated trucks give us a solution that allows us to expand our use of automation step by step. Linde delivers an overall solution that is based on precision and reliability."
"Our plant was in operation when the trucks were installed, and we were worried about whether this might cause disruption. But everything went smoothly and this investment has been very positively received, partly because our employees can see the benefit of the trucks and partly because they have been involved in the project from the start," says Emma.
Fagerhult's main argument for automating part of its internal logistics was to be able to operate more efficiently and easily.
"We succeeded. The trucks delivered from the start. For example, we no longer have any logistical bottlenecks. Everything flows well, and our employees have encountered no problems working with the trucks," says Pontus, who thinks it is important to keep an eye on costs when you are manufacturing in a high-cost country like Sweden.
"The automated trucks are helping us refine our operations cost-efficiently." Emma says that integration with the automated trucks has had a positive impact on operations.
"The trucks work well and our employees are not afraid of the technology. In fact, they see it as an advantage. We have passed the threshold that such an investment always entails. It has become natural to work with an automated solution. There is nothing strange about it for us."
Pontus interjects:
"The automated trucks are not seen as an enemy, more as a supplement. And in operations like ours, with very repetitive transport processes, automated trucks are an excellent solution."
In terms of safety, the trucks are fitted with BlueSpot and sensors that detect the proximity of obstacles. They brake automatically and produce an alarm if something is in the way. Fagerhult's vision is to introduce automation in four stages with Linde. The preparations for stage two have begun.
"We have started a feasibility study in which we are looking at whether we should continue as before with a simple logistics flow or the trucks should be integrated in our business and stock management system, which probably requires different applications from those we have now. In general, we are reviewing our internal logistics to ensure that it is optimized," says Pontus.
"This is about creating a functioning overall solution that is adapted to our operations. Which parts do we have, and which parts do we need to achieve our objectives. It's a bit like doing a jigsaw puzzle," says Emma as 'Gofar' and 'Fargo' sweep past in different directions to collect and deliver packages of fittings.
Linde Robotics
Linde Robotics is the most advanced automation solution on the market. The automated trucks perform simple, repetitive tasks reliably and independently. Linde-MATIC automated trucks have functions that permit them to think and work independently with people and other vehicles without the need for any supplementary infrastructure. The trucks are based on Linde's standard trucks, which guarantees high quality and tried and tested operational reliability. The technology offers a complete logistics solution that is integrated with the customer's own logistics management program. This means that Linde Robotics can be quickly and easily installed in existing premises.