Linde supports the Renault Sport Formula 1 team with short term rental trucks
Almost As Fast As Formula 1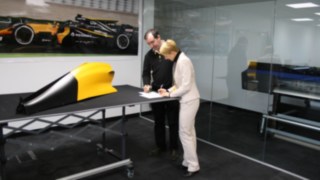 8:30 on March 16, 2017 Renault Sport Formula 1 team headquarters in Enstone, Oxfordshire: Thirty-two tons of freight need to be loaded as quickly as possible in order to make the start of the Formula 1 season in Australia. Geoff Simmonds, Race Team Coordinator at Renault Sport, emphasizes that:
The team only have one day to pack for the first race. So there's no room for breakdowns or other problems.
For four years now, the Renault Sport Formula 1 team has been using Linde forklift trucks to load all of its equipment, and to assist with construction at the racetrack, right across Europe. For Zuzana Golisova, STR Manager at Linde Material Handling UK, it is important that everything runs smoothly and that the customer is satisfied: "Before the season starts, I provide an overview of what the relevant requirements are. We talk everything through. Then, at the end of the season, I check whether everything we agreed upon has gone as planned and discuss how we possibly could improve things."
So far, the partnership with the rental truck team - Short Term Rental (STR) - at Linde UK has proved to be both reliable and flexible for Renault. Golisova is particularly pleased that Linde could also help out at the road tests in Barcelona on a short notice: "We called our colleagues in Barcelona and Linde promptly delivered a suitable truck to the racetrack," says Zuzana Golisova describing the efficient collaboration within the Linde network. The Renault team values this support greatly. Geoff Simmonds enthuses:
Thanks to our collaboration with Linde, we can concentrate on what is really important to us, and don't have to worry about things outside of our core business.