Linde Rental Solutions at Formula Student Germany 2016
In use on the race track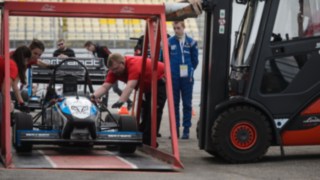 Linde Rental Solutions at the Formula Student international design competition on the Hockenheimring
It is a competition without equal: 115 teams from 28 nations with a total of 3,600 participants compete to design the best race car at the annual Formula Student Germany event. Students spend a year building prototypes, preparing presentations and training for the test runs. The teams tackle their work with a correspondingly high degree of excitement and enthusiasm. This makes the seamless organization and performance of the events on the Hockenheimring absolutely essential. Linde Rental Solutions has been ensuring fast and professional setup and dismantling as well as fulfilling all logistics tasks during the event for many years. This requires a number of challenges to be overcome.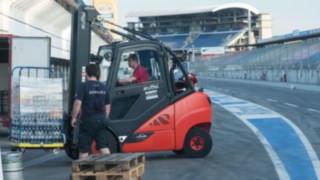 Mastering logistical challenges fast
Tension is in the air. Teams are bustling around everywhere, moving race cars into position, working on the car body, practicing the presentation of their business plans and resolving last-minute technical issues on the engines. At this point in time, a team of volunteers has already completed much of its work: "The Formula Student Germany is a top-drawer event. Together with around 6,000 visitors, we host around 10,000
people who are expecting a seamless event. But, when we arrive on Sunday evening, we are essentially only met with an empty field. We then have to set up everything for the five days of competition in the shortest possible time – and numerous logistical challenges also arise during the event. Rental Solutions ensures that we are flexibly equipped for the task," says Tim Hannig, Chairman of Formula Student Germany.
Forklift delivery at the crack of dawn
Formula Student Germany is an extremely expensive and time-consuming event that could not be held without the help of numerous volunteers. All the circuit barriers, the service and spectator areas and all safety precautions must be set up and removed – and, above all, over 100 race cars have to be safely unloaded. The team only has 36 hours to set up, so extreme efficiency and speed is necessary in order to meet this type of tight schedule.
"Rental Solutions enables us to be extremely flexible. We can freely determine when the equipment is delivered – whether early morning or late evening," says Johannes Kratzel, Head of Event Support, who is responsible for the entire setup and dismantling process. Once again, this year the semitrailer arrives on time at seven o'clock in the morning. "A brief handover report and off we go," says Kratzel of the unbureaucratic delivery.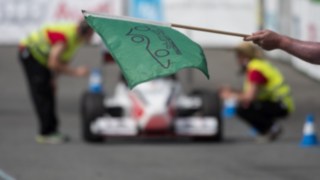 Short-term rental an ideal logistics solution for events
Linde short-term rental is ideal whenever there is a transport requirement for events or short-term projects. Short-term rental means a rental period of between one day and one year. "For Linde, this is much more than simply delivering a few forklift trucks and then collecting them again in a couple of days' time. If required, we can deliver entire fleets of trucks for a wide range of tasks and respond to requirements, changes and unforeseen events with complete flexibility," says Theresa Fischer, contact person for the Linde international rental business. Linde employees have the relevant industry know-how to be able to precisely assess which equipment meets the requirements and how much is needed. A network of over 45,000 rental trucks in Europe means that the right industrial trucks are generally available, even at short notice.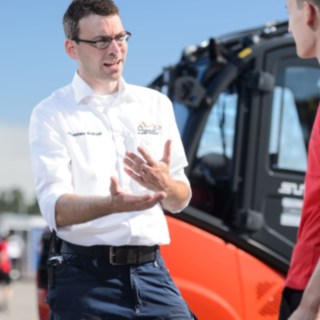 500 meters of site fencing and countless tires
Kratzel requires two forklift trucks, order pickers and tow tractors to set up the infrastructure. "Sponsors arrive with countless pallets of material that have to be distributed in addition to our own extensive equipment. We then use the agile small order pickers to unload the delivery vehicles. These are also particularly easy to handle. This is important as, ultimately, our volunteers have to be able to get started after receiving a brief instruction. There is no time for practice," says Kratzel as he describes the start of set up activities in the morning. "The tow tractors help us cover the long distances here on the Hockenheimring. This makes things much easier and speeds up the set up activities," continues Kratzel. When complete, around 500 meters of site fencing will have been distributed across the site and countless stacks of tires set up as safety buffers.
Millions in the strawberry basket
The special feature of the Formula Student: it is not a race, but rather a design competition. Students draft, design and build a prototype of a single-seat race car to demonstrate their knowledge and creativity. As a fictional production company, a business plan, including budgeting and marketing planning, must also be prepared. In what are called the static events, students first present their concepts, while in the dynamic events, a driver must demonstrate the properties of the race car on the race track: acceleration, braking force and handling.
The presentation involves mastering a special logistical task. The race cars must be raised onto the pit roof, which is over six meters high. This requires a forklift truck with the necessary lift height as well as a special transport platform, the so-called strawberry basket, which derives its name from its red color. "I obviously don't work with a forklift truck every day, only during Formula Student," says Christian Klein, volunteer and responsible for the strawberry basket. "I also only have a small amount of space to maneuver and have to lift race cars valued at up to EUR 100,000 onto the pit roof. Simple operation, good ergonomics and responsive control are therefore extremely important," continues Klein. "With a total material value of around two and a half million euro and a year's work on each race car, you start to sweat a bit. We need to be able to completely rely on the technology," says Johannes Kratzel, underscoring the high level of responsibility placed on himself and his team.
Simple, practical and flexible
For Johannes Kratzel, the key feature of the rental service is that everything is so straightforward and flexible. "For me as a renter, this is a very simple and practical all-round solution. A single call or email in advance is sufficient, and even if the requirements change at short notice, this is always resolved quickly." For example, a few years ago, an incorrect lift height was provided for the particular forklift truck that lifts the strawberry basket. "We called the 24-hour hotline and a replacement truck was provided within half an afternoon. I very much appreciate the ability to respond to changes at short notice," says Kratzel on dealing with the unknowns of this kind of event. At the end of the day, the eleventh Formula Student Germany at the Hockenheimring was another unforgettable experience for all involved. "We are already looking forward to next year and to working together with Linde once again," comments Johannes Kratzel, who is looking forward to Formula Student Germany 2017 with great anticipation and excitement.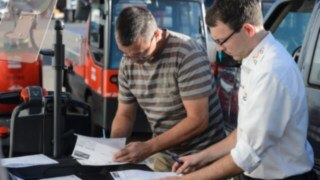 Video:
Available subtitles (CC): English, Spanish, Portuguese, German