The Linde H120 in application in the wood industry.
High-precision machine at Norrlands trä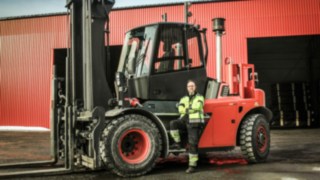 For the past five years, a Linde H120 D has been hard at work at Norrlands trä in Älandsbro, about 400 kilometers north of Stockholm. The fleet has recently been expanded by the addition of another similar workhorse, which despite its size and weight, performs at a high level of precision.
The roof, wall and floor components from Norrlands trä have their origins in the vast forests of northern Sweden. It was Tage Frycklund, father of the current CEO, Jan, who founded the company and developed it into a supplier of high-quality products. Under Jan Frycklund's leadership, it has developed further in terms of quality and design, with products sold through retailers throughout the country. Before they are shipped out to become sustainable environments in Swedish homes, they are handled by a forklift truck that is every bit as strong and robust as the products themselves – the Linde H120 D.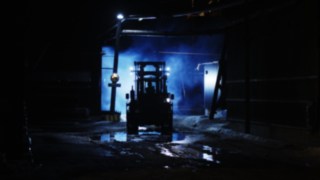 Production at Norrlands trä stops for four and a half hours a day, after the night shift stops at half past one and before the morning shift starts at six. In between, it is full speed ahead with the machining of fir and pine, and especially loading. "We have to be sure that the forklift trucks are always working", says David Hellberg, production manager at Norrlands trä. Jan Frycklund, CEO, adds:
The main challenge is availability of forklift trucks and other machinery, as well as the mechanical damage that the forklifts can cause.
The Linde H120 D more than satisfies these requirements, which is down to both service and technology. Norrlands trä has a service agreement with Linde, which means that if something does happen, a service technician is soon on site. "We can always rely on Linde to do their best to help us", says Frycklund.
Frycklund points out the main difference between Linde and competing forklift trucks: "It's the hydrostatic drive, without any doubt. It means that the forklifts are always running at minimum revs and which ensures better fuel economy. The ergonomic seat also means a better working environment for our drivers. They are forced to sit up straight in the machine, which reduces strain on the back, neck and knees", says the CEO od Norrlands trä.
Thanks to the hydrostatic drive, the Linde H120 D runs smoothly, ensuring that the load is handled carefully. And Hellberg adds: "Soft braking and acceleration also means less wear on the machine. All in all, the hydrostatic drive makes the H120 D a high-precision machine."