Demanding mission for forklift trucks at Bohemia Rings
Massive irons in the fire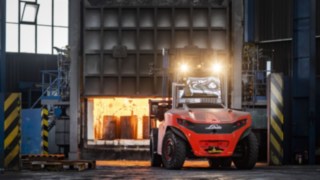 To turn iron cylinders into perfect rings for wind turbines, you need heat and pressure - and robust Linde forklifts that can work in such a demanding environment.
In Hall 10, at the heart of Bohemia Rings, based in Zámrsk in the Czech Republic, five industrial furnaces operate at a temperature of up to 1,250°C. It's an impressive sight when the oven doors open and you catch a glimpse of the red-hot, glowing cylinders being prepared for further processing.
They can weigh up to seven tonnes and measure up to one metre in length. Once hot enough, a Linde forklift takes them to a huge press machine in the middle of the hall. It is there that they are stamped and pressed into rough parts before being transported to a radial-axial ring-roller. This is where they are formed into their basic shapes which will then be refined during the final finishing processes.


The pivotal point of the rotor gearboxes
Our products are used across a huge range of industries, in turbines and generators, but also in construction machinery and computer tomography," says Pavel Straszak, CEO of Bohemia Rings s.r.o.
Straszak is particularly proud to be a main supplier for the wind power industry. The seamless rolled rings are literally the turning point and crux of rotor transmission. "Around 80 percent of our rings contribute to regenerative energy recovery in Europe."
To ensure Bohemia Rings' high-gloss products are ready to leave the plant, they must pass through several different production stages. But handling the early-stage materials when they are still glowing hot is extremely demanding. "In their hot state, our products are very hot and they are also very heavy," explains Jiří Trunec, manager of the forge workshop.
This is why we require high performance, robust trucks that can still be driven precisely.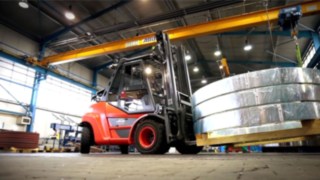 Why Linde Material Handling?
In the selection process, only Linde was able to supply foundry heavy lift trucks with the precise and economical hydrostatic drive. In total, there are three H160 trucks in operation. Over the past decade, both of the older trucks have been in operation for an impressive 10,000 hours. Thanks to special protective equipment for tyres, hydraulics hoses and rear-view mirrors, the heavy trucks show no noteworthy signs of damage proving that they are perfectly equipped for the extreme heat of the furnaces.
Somewhat less dangerous but just as demanding, the forklift trucks are used to transport the rolled rings that can weigh up to seven tonnes to their next processing point or to take the finished products to the lorries for dispatch. This proves not to be a problem for the driver, as the Linde forklift can be controlled easily yet precisely, using both pedals. And for Pavel Straszak it is clear: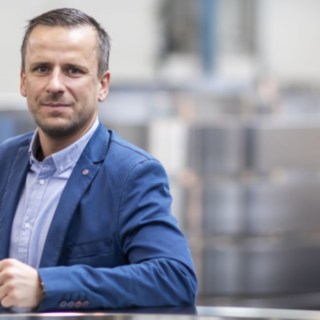 To produce our rings, Linde forklift trucks are essential. Without them, we wouldn't have as many irons in the fire!
Pavel Strazak, CEO Bohemia Rings s.r.o.
Material handling equipment from Linde
24 forklifts for transporting the iron cylinders between the furnaces, presses, rollers and processing centres, as well as for loading them onto lorries.
3 technical warehousing forklifts L10, L12 and T18 for light loading work in the workshop and warehouse
1 electric E14 forklift truck
20 Linde counterbalanced forklift trucks with hydrostatic drive, three of which are H160s for use in the forges. Drive: Diesel, CNG, LPG. The partial switch from diesel to CNG means that emissions can be reduced by 40 percent
Safety solutions: cameras for a better view when handling and connect:ac for access control
Service: on-site workshop with Linde service technicians on call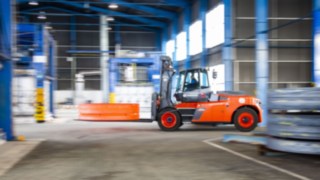 Bohemia Rings s.r.o.
The Czech company was founded in 1993 by siblings Matthias and Anne Brück. Since then, they have been able to include JMO, Liebherr and SKF as some of their most important customers. In 2018, Bohemia Rings s.r.o. was taken over by the biggest steel supplier in the Czech Republic, the Třinecké železárny Group – Moravia Steel. The company specialises as a forge services provider. These services include sawing, forging, rolling, heat treating, mechanical processing and quality control, all from its plant in Zámrsk in the west of the Czech Republic, close to the Polish border. The company has 272 employees and the plant produces around 20,000 rings every year, the diameters ranging from 500 millimetres to four metres in size. The largest rings weigh seven tonnes.