Li-ion equipment from Linde impresses at packaging specialist LINHARDT
Rack and roll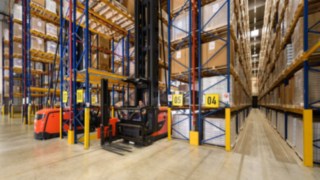 The LINHARDT Group is a leading specialist in packaging, and at its headquarters in the German town of Viechtach, it's all action in the high rack warehouse. Thanks to Linde technology, efficiency and ergonomics are on the up now too.
A genuine "hidden champion" can usually be identified, as the name suggests, when you go in for a closer look: not because of oversized banners or prime-time adverts, but rather in the form of everyday products that have become an indispensable part of our lives. And the packaging for a great many of these products is LINHARDT's own, from plastic tubes to spray cans through to the rigid aluminum tubes used by a leading brand of felt-tip marker.
Reliability and performance are essential—but so is ergonomics
In this high rack warehouse alone, finished goods tower 16 meters high in nine racking aisles, coming and going endlessly from the racks on two very narrow aisle trucks. "Our two trucks have to move around 1,000 pallets a day here—that's a lot of packaging to tackle," smiles Volker Rankl, Head of Logistics at LINHARDT. This hard-working duo is essential to the overall workflow at the site. "If the trucks stopped, we'd only be able to continue production at our usual output for another ten hours before we would run out of space," says the logistics expert.
Absolute reliability and maximum performance are two of the obvious criteria when it comes to choosing an industrial truck. But ergonomics is another factor that's high on LINHARDT's list of requirements: "Our staff cover huge amounts of ground here in our three-shift system—and even the most powerful trucks would be useless if their operators were uncomfortable and found the work too hard-going."
The motto is: Li-ion in, lead-acid out
Speaking of hard work: Up until now, LINHARDT has been using trucks powered by lead-acid batteries in its narrow aisles—these weigh in at a whopping 2.3 metric tons. "We had to change these beasts two to three times a day – it was real back-breaking work," recalls warehouse technician Michael Eiser. "We wanted to save our team this job in the future, not least because every exchange
took up valuable working time," adds Rankl. So in July 2020, the management team started the hunt for new solutions. They ultimately opted for two Linde K trucks, which went into operation in December 2020, replacing the previously used trucks from a different manufacturer. And best of all, the new trucks are heavy on performance but light on weight, thanks to the switch from lead-acid to cutting-edge Li-ion technology from Linde Material Handling.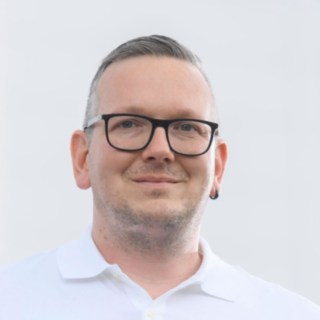 We found it easy to use the interfaces in the new Linde K truck for networking with our warehouse management system.
Volker Rankl, Head of Logistics at LINHARDT
Excellent efficiency
No laborious battery changing or maintenance work, no need for exchange stations, simple interim charging, and up to 30 percent more energy efficiency: From the start, the team at LINHARDT were won over by the high-performance Linde energy system . "We had no trouble using the forklifts across three shifts, since we could carry out interim charging while processing delivery trucks in the early and late shift. The forklifts could then charge up fully over the weekend," explains driver Michael Eiser. When it comes to practicality, the red Li-ion trucks pass with flying colors.
Intelligent integration
As for the logistics managers in Volker Rankl's team, they were particularly impressed by how simple it was to integrate the new trucks into the warehouse management system. Despite switching to Linde Material Handling, all the previous logistics processes could still be used and the trucks were quickly and easily connected to the existing system. Even the three different pallet sizes that are used at LINHARDT didn't cause any problems. "During the changeover to the Linde trucks, we didn't have to make any systemic changes or customize anything—the process couldn't have been smoother," says Rankl.
Outstanding outcome
Reflecting on the experience, Rankl is pleased: "All in all, it really paid off for us to tackle this project." And the packaging pros aren't packing it in any time soon: LINHARDT has set itself the goal of increasing overall warehouse efficiency by 70 percent in the medium term. And with two new team members that really "pack" a punch, they couldn't be better placed to achieve this...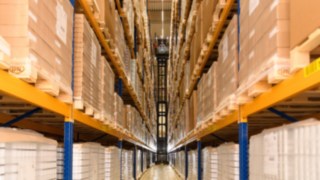 LINHARDT Group
The LINHARDT Group is a packaging specialist based in Germany. At its headquarters in Viechtach as well as at two other German sites and one international location, it produces a wide array of packaging solutions from aluminum and plastic, which go on to be used in the healthcare, beauty, and home sectors. Established in 1943, the company has a long history—one which includes a years-long partnership with Linde for logistics solutions at all its sites. At its Viechtach headquarters, a total of eleven industrial trucks from Aschaffenburg can be found hard at work—from pallet trucks and pallet stackers to counterbalanced forklift trucks and very narrow aisle trucks .