Versatile load transport in all areas of operation
The autonomous Linde P-MATIC electric tow tractor with operator platform is designed for load transfers in work areas with restricted space. It can move towing loads of between 3000 and 5000 kilograms. Typical uses in warehouses and industrial businesses include the delivery of production materials, disposal of waste products, and hauling of larger loads. The tow tractors, whether as individual vehicles or part of an autonomous fleet, thereby form an integral link in the supply chain – from production to the delivery area. The versatile and robust vehicles have powerful, maintenance-free drive motors with high torque.
Characteristics
Safety
Thanks to its intelligent safety system, the Linde P-MATIC tow tractor collects data about its working environment optically and reacts adaptively. Using laser detectors and a 3D camera, the system reliably recognizes moving and stationary obstacles. It then adjusts its speed accordingly, or remains stationary, until the person, truck or other obstacle is removed or leaves its monitoring zone. This enables the technology to combine the best possible productivity with the best possible safety. Two emergency buttons, warning sounds and flashing lights round out the safety features of the P-MATIC.
Optical environment recognition
Combined laser and camera technology
Optimal speed regulation
Acoustic and visual warning systems
Handling
The navigational system used does not require any additional laser reflectors or tracks in the floor, and is therefore flexible and scalable. Whether as a single vehicle or as part of a fleet, the P-MATIC can be easily adapted to on-site operating conditions. It is easy to achieve communication with automated facilities, such as doors and roller conveyors, as well as to integrate the vehicle with warehouse management or ERP systems via the control software. Furthermore, with the P-MATIC it is possible to quickly switch between automatic and manual operation.
Centrally-aligned steering
Navigation without infrastructure
Can be easily switched to manual
Communication with automated facilities
Service
With the Linde P-MATIC tow tractor, all vehicle data can be read on a service laptop and analyzed there with software tools. Alternatively, the vehicle can be monitored and regulated remotely via a computer-controlled diagnostic function. The P-MATIC is designed with high operational availability in mind. That means that all electronic service components are easily accessible. In addition, the tow tractor is powered by Linde's own maintenance-free three-phase technology, which ensures minimal maintenance downtime.
Digital diagnostic tool
Remote-controlled inspection
Maintenance-free three-phase drive
Technical Data
| Model | Load capacity/Load | Battery voltage/rated capacity (5h) | Turning radius | Travel speed, with/without load |
| --- | --- | --- | --- | --- |
| P-MATIC | 5.0 (t) | 24 / 460/500 (V)/(Ah) o. kWh | 1485 (mm) | 8/8 (max. 7.2/-) km/h |
Optional Equipment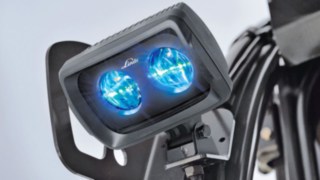 Linde BlueSpot™
Lane warning device Linde BlueSpot™ Enhances safety during operation as the LED spot makes the forklift noiselessly visible.
Gel battery
The P-MATIC can also be delivered with a gel battery. It hardly leaks at all, does not need to be vented, and can be charged in a closed state.
Cord extension
By request, the autonomous P-MATIC tow tractor can also be delivered with a three-meter extension cord for the charging unit, increasing spatial flexibility when it comes to charging the battery.
Curtain laser
As part of its safety features, the P-MATIC can optionally be fitted with side-facing 2D curtain lasers, in order to improve its operational safety when in use in areas frequented by other trucks and people.
Ancillary horn
The P-MATIC tow tractor can optionally be fitted with an additional, louder horn. This ensures safety in operational areas with high levels of noise.
Get a Quote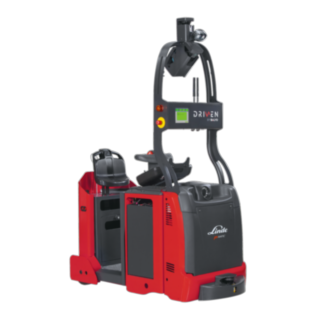 P-MATIC