Precision handling for high loads
The L14 – L20 pedestrian pallet stackers enable increasing handling performance with the powerful 2.3 kW three-phase motors and high load capacities. They are ideal for handling in narrow aisles or service lifts. There is an optional initial lift version for more ground clearance. The truck can transport loads up to 2000 kg safely over ramps and uneven ground. The delicate OptiLift lift mast control makes handling easy, because all lifting motions run very precisely.
Characteristics
Safety
The lift mast can only be operated when the tiller is in the working position. This is provided by the Linde SafetyLift function. In addition, the truck automatically adjusts its speed to the distance between the operator and the truck. The angle of the tiller is the basis for this. Primarily, the trucks activates an electromagnetic braking system if the operator moves the tiller to the top or bottom end position. Slight resistance before the end-of-stroke prevents unintended braking. The optional load scale not only displays the weight of the load, but also warns of overloads.
Automatic speed adjustment
End-of-stroke resistance prevents unintended braking
Optional scale system with warning if nominal load capacity is exceeded
Ergonomics
All control elements are ergonomically arranged in the tiller head and can be reached intuitively. This makes the working day easier. The same applies to the electrical power steering. Using this, the operator can maneuver without great effort. Generously designed storage compartments offer space for work devices such as scanners.
Linde Load Control for sensitive and precise load handling
Electrical steering unit ensures effortless driving
Soft landing of the forks with the Soft Landing function
Generously designed storage compartments
Handling
Load capacity of 1400 to 2000 kg, and a powerful 2.3 kW three-phase motor. Both factors ensure efficient handling processes. At the same time, the robust chassis gives the pedestrian pallet stacker a high residual load capacity. The loads can be moved very precisely using the OptiLift operating concept. The forks land softly using the Soft Landing function. The optional load weight display is helpful in many handling processes. It displays the weight with an accuracy of +/- 50 kg up to a lift height of 1500 mm.
Powerful 2.3 kW three-phase motor
Creep speed button for safe maneuvering in constricted spaces
Load weight measurement and display SafetySpeed automatically adjusts the speed
Adjustment of speed when cornering
Service
Robust components, a stable chassis and a maintenance-free three-phase motor ensure long service intervals and low operating costs. The motor is constructed in such a way that it is completely moisture and dust resistant. These trucks will be in use for a long time, even under intensive use. The large color display gives service technicians and operators a quick overview of operating hours, battery capacity and service status.
Multi-function display with load weight display, operating hour counter, service display, battery charge display and internal error code display Maintenance-free 2.3 kW three-phase drive motor
CAN bus technology
Robust chassis for high residual load capacity
Technical Data
| Model | Load capacity/Load | Lift | Travel speed, with/without load | Turning radius | Battery voltage/rated capacity (5h) |
| --- | --- | --- | --- | --- | --- |
| L14 | 1.4 (t) | 2844 (mm) | 6 / 6 km/h | 1527 (mm) | 24 / 250 (V)/(Ah) o. kWh |
| L16 | 1.6 (t) | 2844 (mm) | 6 / 6 km/h | 1527 (mm) | 24 / 250 (V)/(Ah) o. kWh |
| L20 | 2.0 (t) | 2684 (mm) | 6 / 6 km/h | 1642 (mm) | 24 / 375 (V)/(Ah) o. kWh |
Optional Equipment
Initial lift
The initial lift enables greater ground clearance, so that the truck itself is easier to maneuver on gradients and uneven floors. Only the support arms of the forklift are raised by the initial lift.
Cold store protection up to -35C°
The cold store protection guarantees full availability and performance of the pallet stacker up to minus 35 degrees Celsius.
Load backrest
The load backrest ensures that loads cannot slide backward when the load carrier is raised and fall on the operator.
Lift Speed Booster
For applications with a great deal of lifting, there is the optional Lift Speed Booster. The lift speed without a load is increased by 40 percent.
Lateral battery replacement
The lateral battery replacement with roller bearings enables quick changes for use in multiple shifts.
Flexible lift mast height
To manage multi-faceted operational requirements, the customer can choose from standard, duplex and triplex masts. A duplex mast is used for greater lift heights. This mast also has an inner mast profile which nearly doubles the lift height of the forklift. A triplex mast is equipped with two telescoping interior mast profiles and can reach a lift height which is nearly triple the exterior mast.
Tandem support wheel
The rugged tandem support wheels provide additional stability, such as on uneven ground, over long distances or in extreme heat.
Get a Quote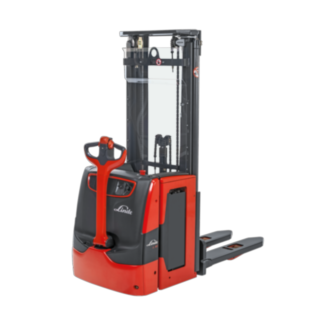 L14 – L20