Heavy goods moved easily
The robust and powerful P120 – P350 electric tow tractors transport loads of up to 35 tons at top speeds of up to 25 kilometers per hour. Six models with different towing capacities ensure a perfect fit for each application. The models with short wheelbase are easy to maneuver in tight spaces, the models with long wheelbase feature especially high directional stability. Their powerful electric motors enable consistently high towing performance, also when driving on a gradient. That makes them ideal for wholesale markets or airports as well as for production supply. A cabin decoupled from the chassis as well as a drive axle equipped with coil springs instead of leaf springs prevents shocks from being transmitted to the driver when driving on uneven ground. This significantly reduces the physical strain on the driver. In addition, the construction of the chassis allows changing the battery from above or from the side. The P120 – P350 tow tractors can be powered by lead-acid or lithium-ion batteries.
Characteristics
Safety
The P120 – P350 tractors have three independent braking systems to ensure the safe transport of heavy loads. The driver activates the multi-disc brake via the foot pedal. The reverse current brake is slowing the truck down as soon as the driver releases the accelerator pedal. This braking system enables extremely sensitive, yet very powerful deceleration at the same time in order to protect the load being carried and to stop the tractor immediately in dangerous situations. In addition, an automatic parking brake prevents the truck from rolling unintentionally on slopes and is released when the tractor is accelerated again. When driving downhill, the P120 – P350 automatically maintain their speed and are not accelerated by the weight of the transported goods. In curves, the speed is automatically adjusted. The robust cabin with optional protective windshield bars and an optional seat belt protects the driver from being harmed in case of an accident. Additionally, the cabin doors are electrically monitored and prevent the driver from driving faster than creep speed when the doors are not properly shut. A lateral battery change allows for easy and safe handling of heavy traction batteries.
Automatic parking brake
Constant speed when driving down on ramps
Speed control in curves
Robust cabin with protective bars for windshield
Electrically monitored cabin doors
Ergonomics
The spacious driver's compartment with a roof hatch which can be opened provides a comfortable working environment. The decoupling of cabin and chassis and the coil springs on the drive axle prevent vibrations and shocks from being transmitted to the driver and thus minimize physical strain and fatigue in everyday work. The large curved front windshield of the P120 – P350 as well as the additional side windows on the lower half of the cabin doors provide excellent visibility in all directions. This simplifies driving maneuvers, especially in confined areas. Moreover, optional double rear mirrors ensure a better view of the rear area of the truck as well as on the front wheel. Optional sliding doors enable easy accessing and exiting and prevent damage.
Driver's cabin decoupled from chassis
Shock absorbers instead of leaf springs
Optimum all-round visibility
Optional double rear view mirrors
Optional sliding doors
Handling
The powerful electric motors of the P120 – P350 enable continuously high towing performance with maximum speeds of 22 (P120), 23 (P180), and 25 (P250 and P350) kilometers per hour. Despite heavy loads of up to 35 tons, the trucks are very agile and can be maneuvered precisely and easily. In connection with a drive axle allowing a larger steering angle the models with a very short wheelbase ensure a small turning circle (P120 – P180). For intensive applications with long driving distances, customers can also opt for a long wheelbase, which in turn improves directional stability. In difficult driving maneuvers that require a lot of precision, the optional double mirrors are a great help. They provide optimum visibility to the rear and the front wheel and help prevent collisions. Alternatively, a rearview camera is available if frequent reversing is required.
Powerful electric motors
Small turning circle
Smooth and precise steering
Models with short or long wheelbase
Optional rearview camera
Service
The electric tow tractors offer service technicians easy access to all relevant components. For smooth and fast battery replacement, access to the battery compartment is possible from either the top or the side. But also with the lateral change variant, the top cover of the battery compartment can be opened for maintenance work. The bolted front screen can also be replaced in a few simple steps. The multi-disc brake is maintenance-free, as it forms a closed system with the control hydraulics into which neither dust nor dirt can penetrate.
Easily accessible service components
Maintenance-free multi-disc brake
Easily replaceable front windshield
Lateral or vertical battery change (only lateral on P350)
Technical Data
| Model | Load capacity/Load | Overall width | Travel speed, with/without load | Turning radius | Battery voltage/rated capacity (5h) |
| --- | --- | --- | --- | --- | --- |
| P120 | 0.3 (t) | 1310 (mm) | 15 / 22 km/h | 2737 / 1563 (mm) | 80 / 420/465 (V)/(Ah) o. kWh |
| P180 | 0.3 (t) | 1310 (mm) | 17 / 23 km/h | 2737 / 1563 (mm) | 80 / 420/465 (V)/(Ah) o. kWh |
| P250 (LWB) | 0.3 (t) | 1310 (mm) | 20 / 25 km/h | 3280 / 1750 (mm) | 80 / 700 (V)/(Ah) o. kWh |
| P250 (SWB) | 0.3 (t) | 1310 (mm) | 18 / 25 km/h | 2884 / 1612 (mm) | 80 / 500 (V)/(Ah) o. kWh |
| P300 (LWB) | 0.3 (t) | 1310 (mm) | 20 / 25 km/h | 3280 / 1750 (mm) | 80 / 700 (V)/(Ah) o. kWh |
| P350 | 0.3 (t) | 1310 (mm) | 20 / 25 km/h | 3539 / 1864 (mm) | 80 / 1240 (V)/(Ah) o. kWh |
Optional Equipment
Camera
The camera at the rear of the tow tractor provides the driver with a better view during difficult driving maneuvers via a display.
Cab Variants
The cabin is available with many different door variants, including sliding, hinged, PVC, and bailed doors.
Air conditioning and heating
The combined heating and air conditioning system guarantees a comfortable working environment in the cab all year round.
Seat Variants
Seats with different fabric covers and an air-suspended driver's seat are available.
Side Mirrors
Multiple exterior mirrors improve driver visibility in heavy traffic and tight spaces.
Roadworthy Lighting
In this variant, the truck has a complete lighting system with headlights, turn signals, brake, and reversing lights. The lamps are protected from accidents by the chassis.
Bumper
The tow tractors can be equipped with a particularly strong bumper at the front.
Get a Quote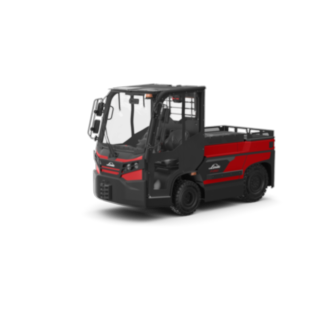 P120 – P350