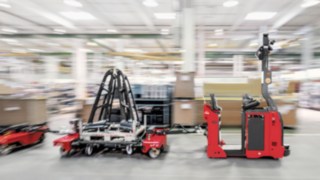 Automatically Better

The challenges of intralogistics have been unwaveringly tough for years: Growing competition, increasingly fragmented goods flows, fluctuating capacity utilization, and a growing shortage of skilled staff increase the need for efficiency and flexibility. The automation of individual process steps or the entire material flow is an opportunity for companies to overcome this challenge.
A close look at the internal material flow helps to identify the individual automation potentials. To begin with, the focus is on one central question: Which processes are actually suitable for automation? These include material movements with low value creation, repetitive processes, the use of standardized goods carriers or multi-shift operation as seen primarily in long-distance transportation for storing finished products and production supply.
In these cases, automation can help reduce injuries to staff, damage to goods and infrastructure, and improve transport quality, reliability, productivity, and capacity utilization. At the same time, it also saves employees from carrying out tiring transport work.
Automation from Linde

At Linde, a whole team of experts focuses solely on automation in intralogistics and offers companies tailored solutions for individual process steps or the entire material flow.
Through a sophisticated, modular approach, companies can implement and use automation in a particularly simple, safe, and efficient manner—with no additional infrastructure, integrated into existing systems and scalable as required.
Linde has extensive project experience in this area and a comprehensive sales and service network. This means that companies receive optimal solutions and the associated service support. Linde also provides automated solutions at its usual high quality and safety standards.
Benefits at a Glance
Flexibility
Linde offers flexible and scalable automation solutions based on a wide range of trucks and navigational technology that does not require any fixed installation of infrastructure.
Linde's automation technology can blend seamlessly into existing standard IT systems and the company's logistics infrastructure. The technology enables direct communication with applications such as Enterprise Resource Planning (ERP) or Warehouse Management Systems (WMS) in the process.
If necessary, the system also coordinates interaction with roller shutters, packing machines, conveyor belts and production machinery for a safe and efficient overall process. There is also the option of adding or connecting applications to the technology.
The range of solutions with automated devices ranges from the supply of production lines or packing stations with simple tugger trains and pallet trucks to storage by pallet stackers through to handling in high shelving and narrow aisle warehouses, including the tracking of load carriers using barcodes or RFID tags.


Maximum Flexibility with Geonavigation

Five Advantages of Geonavigation
Networked: The spectrum ranges from implementation without any system connection, to networking with operational systems, machines, and facilities.
Safe:The comprehensive equipment such as scanners and cameras guarantees traffic safety, even in mixed working conditions.
Simple:The innovative geonavigation does not require any expensive infrastructure.
Flexible:Routes and reference points can be adapted to changing operational conditions at short notice.
Transparent:The system generates valuable data, which can be used to help precisely optimize the productivity of logistical processes.
Automation depends entirely on having the right technology for truck navigation. If complex adjustments to the infrastructure are required for this, the budget is often exceeded. Adjustments to new or changed processes should also be carried out as quickly and easily as possible.
Linde's geonavigation is easy to integrate into existing warehouse or production environments, and navigates using the existing fixed points in the room. To do so, the environment is first recorded in the form of a map, which is then cleaned up for navigation before finally setting the routes. The autonomous trucks use the map to determine their position in the area. For this purpose, they compare the reference map in real time with the structures detected by the navigation laser at the time.
Changes to the spatial structure or new routes can subsequently be adjusted quickly and easily in the system. For additional flexibility, users can switch to manual operation at any time and perform other truck maneuvers. This also enables users to respond to the respective capacity situation.
Linde makes it easy for companies to get started with the help of a "Proof of Concept" (PoC). This involves Linde experts integrating a truck into the material flow for a straightforward application as an example. That enables companies to experience the benefits of automation for their own value creation without great effort.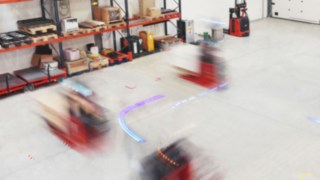 Linde provides a reliable automation solution, which helps customers to optimize their internal material flows and thereby to reduce their costs significantly.
Cost-effectiveness
With a unique system using geonavigation, comprehensive intralogistics expertise and a wide variety of products, Linde's automation solutions help companies to optimize their material flow and save costs in the process.
Companies can make savings simply by setting up the automation technology, primarily since infrastructure measures are no longer required and thanks to the straightforward implementation. Big savings in the overall operating costs ensure an immediate return on investment (ROI) here.
Furthermore, automation reduces injuries to staff, damage to goods and infrastructure, and improves transport quality, reliability, productivity and capacity utilization. Saving on staff and damage costs, in particular, significantly reduces the total operating costs.
Safety
Companies benefit from Linde's high standards in terms of safety and reliability, and also from the performance of the MATIC trucks. These are based on proven Linde trucks retrofitted with automation components.
An ingenious safety management system consisting of sensors, 3D cameras, visual and audible warning devices, and emergency stop switches ensures that the autonomous trucks do not damage shelves, product carriers, or goods. Furthermore, the robotic trucks can be operated manually at any time. If someone operates the control unit, automatic operation stops immediately. This means the truck can be quickly moved out of a dangerous area in an emergency, or used for a task outside of its automated work cycle.
This improves the reliability and quality of supply while increasing occupational safety in the warehouse. Customers also benefit from Linde's extensive service network, ensuring high system and truck availability around the clock.
Safety Features
Primary:
High safety level (performance level D)
360° safety for the truck at ground level
Adaptive warning and stop field adjusts according to speed and direction
Additional emergency buttons
Secondary:
Height detection
Adaptive speed depending on the distance of the obstacles
Truck continues driving automatically after clearing obstacle
Easy switching to manual mode by touching the tiller
Visualization with the BlueSpot
Load handling:
Load detection sensor below the forks and above the load
Load detection sensor via barcode (1D and 2D) or RFID tags
Automatic unhooking system (P-MATIC)
Product Range
With high- and low-platform pallet trucks, tow tractors, counterbalanced forklifts, and a high-functionality truck for work in narrow aisles, the automated MATIC range covers 80 percent of all handling tasks in production and warehouse logistics.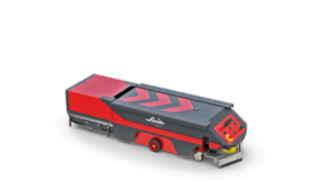 C-MATIC—Guided cart
Transport of light goods to the production line
Kitting for the assembly line
Disposing of reusable materials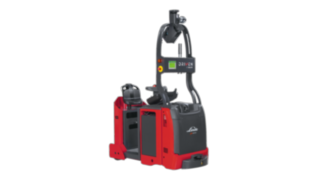 P-MATIC—Tow tractor
Transport of heavy goods to the production line
Tugger train applications
Disposing of reusable materials
To the product page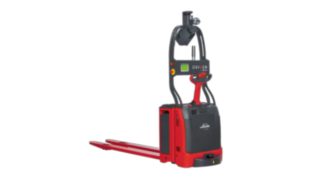 T-MATIC—Pallet truck
Transport over long distances
Delivery to dispatch preparation areas
Transport of extra-long loads
To the product page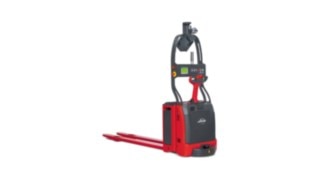 L-MATIC—Pallet stacker
Handling and storage at lower heights

From the conveyor belt to mechanized order picking

Handling pallets and pallet cages
To the product page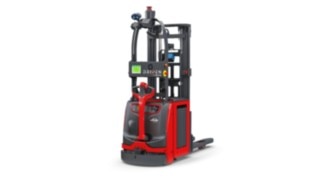 L-MATIC HD
Medium-sized lifting and storage device
Load transport from the warehouse to the machine
Handling of pallet cages and transport containers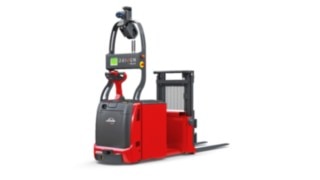 L-MATIC AC—Counterbalanced pallet stacker
Handling and storage at lower heights
From storage and retrieval through to conveyor belts
Handling of closed palettes, pallet baskets or pallet cages
To the product page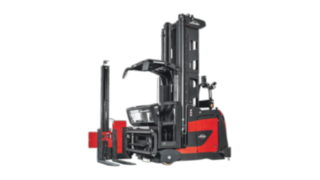 K-MATIC—Very narrow aisle truck
Moving goods into and out of storage in narrow aisles at great heights
Modular system
Complete pallet handling
To the product page