Same, but different

From the outside, it may seem like all order picking jobs are the same. At Linde Material Handling, we know that's not true – and that's why our range of order pickers sets the benchmark. We take expertise to the next level by bringing you an order picker range so wide, that when you discover the one you need, it'll feel like it was made just for you.
All our order pickers are designed to maximise usability, ergonomics, efficiency and safety. But each truck is focused on a specific application – because depending on where the products are located in the warehouse, how easy they are to handle, the picking frequency expected and many other factors, it's important that you have the right choice of tools to get the job done efficiently.
What's more, when you have trucks suited exactly to the task at hand, you feel more comfortable and safe throughout the day – helping takes productivity to the next level.
Yes, our order pickers go way beyond a one-fits-all solution – because IT'S LINDE.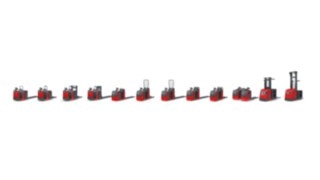 Which order picker fits your requirements?
Each application is individual. Factors such as load carrier, weight of goods, shelf height etc. differ from application to application. Based on a few questions about your operating conditions, we can give you an indication of which order pickers from our portfolio could be a solution for you:
Make the picking process even more productive