A survey on automation in intralogistics
Robots as employee of the month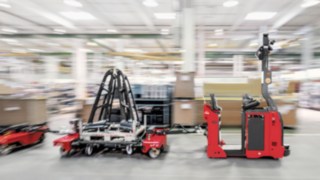 Chatbots answer customer enquiries, vehicles drive autonomously and the refrigerator orders groceries on time: there's no question that automated systems are gradually conquering everyday life. But how far is it before robots become familiar, perhaps even valued employees? And how do these systems change intralogistics? A recent study has been devoted to such questions.


On behalf of the Robotics for-Retail (R4R) initiative and for the white paper "Robotics4Retail - Status quo, Potentials and Challenges", theEHI Retail Institute interviewed decision-makers from retail companies about their experiences, hopes and fears regarding the use of robotics and automation in intralogistics.


Drivers of the automation trend
Increasing competition, new opportunities thanks to digitization, the desire to make work easier for employees, but also the need for higher employee availability have increased interest in automation and robotics, especially in the consumer goods trade. Linde Material Handling already offers a whole range of automation and robotics solutions for intralogistics. This enables cost-efficient automation of individual process steps up to complex material flows.


"Stupid" and "smart" systems
Almost one-third of those interviewed described automation as a more consistent, standardised and permanently repeating process, such as material flow with conveyor belts or other aids. Robotics begin where complex, changing processes are involved and "intelligent" reactions to changed ambient situations are required.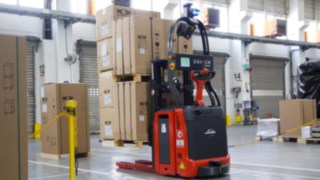 Example from practice
In practice, the distinction between automation and robotics is usually not as sharp as the example of Wolf GmbH shows. The systems provider for heating, ventilation, air-conditioning and solar technology uses an automated industrial truck from Linde for recurring transport tasks. The vehicle uses natural feature navigation to move palletized finished goods along previously learned routes. However, the MATIC vehicles are equipped with navigation lasers, a 3D camera and visual and acoustic warning devices. This allows obstacles to be detected in real time. A crucial prerequisite for intelligently working with other people or vehicles in the same environment.
Automation as an all-purpose weapon
According to the survey, the retail sector uses automation in intralogistics for almost all process steps: During storage and transfer of goods - usually in fully automated high-bay storage, internal transport, order picking and also for palletising processes. In addition, there are tasks such as automated packaging for shipping or label gluing. The retailers are currently using intelligent robotics in the narrower sense of the word primarily for greater flexibility and to cope with order peaks, for example in order picking, as well as for internal transport. With the MATIC vehicles, Linde offers solutions for a whole range of the above-mentioned applications - and also for other applications.
Automated trucks from Linde
Example from practice
The extent to which automation of the material flow is already possible is demonstrated by the parent plant of the French metal packaging manufacturer Massillyin Cluny: a palletizing machine picks up boxes of finished products and assembles the pallets. Next door, an automated Linde stacker is waiting for its deployment. As soon as the robot arm has completed a pallet, the Linde L-MATIC automatically clears the exit of the palletizer, picks up the pallet and places it a few metres away on an automatic film wrapping machine. From there, the L-MATIC picks up the pallet again and drives it to the entrance of the high-bay warehouse. Only here do forklift drivers pick up the pallets and store them.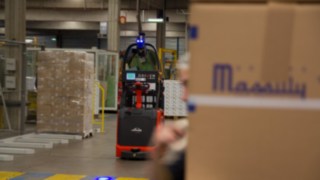 Technical requirements
The longest possible battery life is particularly important to the retailers surveyed. After all, the systems can only take advantage of their advantages if they are available as continuously as possible. In the interview, for example, fuel cells were mentioned here as an option. An innovative energy system available for numerous Linde industrial trucks. In addition, the dealers also attached great importance to high load-bearing capacity and low error susceptibility, as well as interface compatibility and the desire for modular systems.


Open survey for a new field
Considerations on robotics and its use in the retail sector are a very new phenomenon. The retailer survey was therefore conducted in the form of personal and unsupported interviews. This made it possible to grasp all the arguments and their backgrounds and to gain many new insights during the course of the study. A total of around 30 retailers were interviewed for 1 to 2 hours each. In 2016, the companies surveyed generated sales of 148 billion euros and represent about 32,000 stores.