Fatigue-free working in all situations
The high lift trucks L14 - L16 R enable lifting heights up to 5,3 meters. Thanks to the optional initial lift and operator protection roof, they are also suitable for safe loading and unloading of trucks via ramps or bridge plates. With a compact width of 820 mm, the vehicle is both manoeuvrable and comfortable. Due to a lateral and raised seating position, drivers have the best view of loads and surroundings. The vehicles are equipped with a powerful motor and reach speeds of up to 10 km/h. In ECO mode, energy consumption is reduced by 12 percent.
Characteristics
Safety
The driver's body is safely located within the chassis contour at all times. The overhead guard provides additional safety against falling loads. Drivers receive further support from the optional Linde Load Management system. It measures data such as residual capacity and warns the driver when the load reaches the permissible limit. An automatic levelling system also ensures that all wheels continuously touch the ground, thus stabilizing the vehicle. For safe handling, the soft landing function automatically brakes the forks so that loads can be lowered very gently.
All-round protection for the operator
Overhead guard
Optional Linde Load Management
Fork lowering with soft landing function
Ergonomics
The seat, which is turned 90° to the direction of travel with three independent adjustment options and integrated control elements, allows the operator to take an optimal position in which he can work without fatigue. The height of the driver's workstation can be optimally adjusted to the driver by means of an adjustable foot platform. A padded entry handle also provides easy access to the vehicle.
Lateral sitting position
Three individual seat settings
Adjustable base plate
Padded entry handle
Handling
The high lift truck L14 - L16 R is equipped with a powerful 3-kW three-phase AC motor and reaches speeds of up to 10 km/h. The robust chassis offers high residual capacities from 1400 to 1600 kg. This combination ensures high productivity. The compact 820 mm wide chassis and the intuitive one-handed control also provide excellent maneuverability even in tight working conditions. Lateral battery replacement is particularly easy thanks to metal rollers and ergonomic lever in the battery compartment.
Residual capacities from 1400 to 1600 kg
Compact for best maneuverability
One-hand control
Easy battery replacement
Service
Thanks to easily accessible components and the use of maintenance-free technologies, the L14 - L16 R series vehicles can be operated cost-effectively and with high vehicle availability. The modern CAN bus connection enables efficient maintenance, as all system data can be read out quickly and reliably via notebook.
Easy maintenance access
Maintenance-free components
High vehicle availability
Fast diagnosis through CAN bus connection
Optional Equipment
Flexible lift mast heights
Standard, duplex and triplex masts are available to customers to meet the wide range of application requirements. For higher lifting heights a duplex mast is used. This mast has an additional inner mast profile, which almost doubles the lifting height. A triplex mast is equipped with two internal mast profiles lying one inside the other. The electric pallet stacker L14-L16 R achieves lifting heights of up to 5316 mm.
Heated leather seats
Leather seats and adjustable seat heating increase driving comfort when used in cold storage or in cold environments.
Lateral battery change
The lateral battery removal with roller bearing and ergonomic lever enables quick replacement, especially for use in several shifts.
Linde Load Management Advanced
The Linde Load Management assistance system calculates the maximum possible height and weight in real time on the basis of residual capacity. This increases safety and productivity during handling.
Lithium-ion batteries
Thanks to Linde's innovative lithium-ion technology, the batteries are fully charged at room temperature after just 1.10 hours.
Get a Quote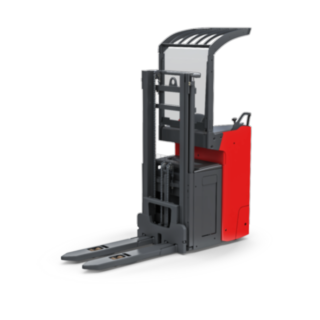 L14 - L16 R/Ri