The Linde Safety Scan in use at CTL Celltechnik
Safety Scrutinized from an Objective Perspective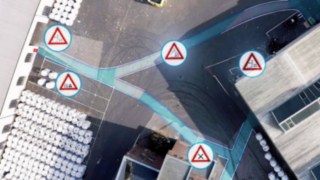 When it comes to potential risks in intralogistics, an external perspective can be worth its weight in gold. This was precisely the experience of CTL Celltechnik Lodenau in Saxony, Germany. With the comprehensive Linde Safety Scan the fiber specialist was able to significantly reduce the risk of accidents in its internal goods handling.
Carrying out the same procedures every day using the same steps means that employees are efficient, well-coordinated, and experienced. It is a well-known fact that we spend much of our lives operating "on auto-pilot", which definitely has its advantages. For example, if you had to consciously think about each of the countless activities that you perform while driving—from looking in the mirror to changing gear—your brain would very quickly be overwhelmed. However, there is also a downside to operating on auto-pilot, which is particularly apparent in work environments.
The Well-Known Phenomenon of Operational Blindness
This makes it incredibly hard to look at established processes within the company in a purely objective way and potentially introduce better solutions. This phenomenon is particularly relevant in the area of occupational safety, as Volker Altus, Head of Engineering and Production at CTL Celltechnik Lodenau GmbH & Co. KG, acknowledges: "We were aware that there were potential risks at various points in our intralogistics processes, but we were keen for these to be reviewed objectively and critically by external experts. And I have to say, the results really surprised us."
Traffic in the Depot is Hectic
CTL Celltechnik has been part of the J. Rettenmaier & Söhne group of companies since 1991 and the Lodenau-based company specializes in processing plant fibers. "To put it in simple terms, what we do here is mix, for example, cellulose from waste paper with bitumen. This is then used to produce pellets for road building around the world," explains Volker Altus. The company also manufactures filter aids from sawdust, for use in applications such as systems for filtering wine or cooking oil. Forklift trucks, warehouse trucks, and other loading trucks play a supporting role in the production chain in more ways than one. A total of 25 industrial trucks are constantly on the go at the company's site, along with the trucks delivering the raw materials, which are frequently coming and going.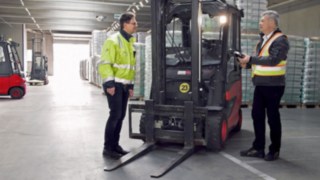 And What Does This Mean for the Safety of People, Infrastructure, and Materials?
"Safety is the absolute top priority for us. This is an area where we are happy to make every investment necessary because if something were to go wrong then human lives would be at stake," emphasizes CTL logistics expert Volker Altus. Thus CTL's occupational safety steering committee came up with the idea of drawing on Linde's expertise to scrutinize their intralogistics processes from a safety perspective. Volker Altus says: "When we heard about the Linde Safety Scan from our Linde MH network partner Beutlhauser in Dresden, we didn't have to think too long about it and we went straight ahead with the implementation in 2020."
Internal initiative meets external expertise
The Linde Safety Scan, which the Aschaffenburg-based material flow specialist has already successfully implemented more than 100 times in a wide range of sectors, is a comprehensive consultancy service with a clearly defined schedule. Lutz Schlicke, service consultant in the field service at the Linde MH network partner explains how it works: "Following an initial briefing, we looked at the conditions on site and defined the scope of the project. This was followed by the analysis, which involved asking questions such as: Which trucks are moving at what times and in what locations, and what dangerous situations could this create?"
The Main Traffic Routes: A Problem Area
There is a potentially dangerous conflict of interests here at CTL as this is where pedestrians meet forklift trucks—some of which are heavily laden and are traveling comparatively quickly—the arriving and departing trucks, and a wheel loader, which regularly reverses out of one of the production halls. Even though the wheel loader is equipped with a reversing spotlight, there is the risk that truck drivers who are not familiar with the site may be startled by the sudden appearance of the wheel loader and swerve to avoid it, potentially endangering other users of the traffic routes in the process.
Showing How Things Can Be Better—and Safer
When analyzing this scenario, the Linde safety experts also placed GPS trackers on the trucks to be able to work out the distances that the CTL employees were keeping from one another. "Based on all the findings we collected, we were then able to develop our recommendations in the next step," says Otto Sterl, Head of Safe Work at Beutlhauser. One of these proposals was to introduce a general speed limit for the main traffic routes mentioned of a maximum of 10 km/h for all trucks, and this measure alone would make the situation considerably safer. The Linde Safety Scan also revealed that improving footpaths would have a dramatic impact on safety. "We developed a suitable plan in conjunction with CTL," adds Beutlhauser expert Otto Sterl.
Technical Measures Also Being Taken
At CTL, these measures related to the area of light systems. "Following a Linde recommendation, we immediately fitted one of our existing trucks with the VertiLight light solution, which provides extensive, anti-glare, and safe illumination of the working area for our employees during loading and unloading operations," reports CTL logistics expert Volker Altus. The managers were equally impressed by the Linde TruckSpot™ , which projects an unmissable warning symbol onto the ground from the truck. The solution was also permanently added to CTL's requirements specification, along with the Linde Safety Guard, which enables forklifts and pedestrians to be warned of one another's presence. However, it goes without saying that this is not the end of the conversation about improving safety at CTL Celltechnik. "The Linde Safety Scan clearly showed that the combination of 'staying on the ball in-house' and an objective external perspective from a reliable partner is the best solution for us when it comes to minimizing potential risks in the long term," says Altus summing up the positive outcome.
CTL Celltechnik Lodenau GmbH & Co. KG
CTL Celltechnik Lodenau GmbH & Co. KG is part of the family-run J. Rettenmaier & Söhne group of companies. At their site in Lodenau (Oberlausitz), around 60 employees produce filter aids and pellets for road building from natural fibers. The fleet of industrial trucks on site is exclusively made up of Linde Material Handling trucks and comprises 13 forklift trucks and warehouse trucks in total. The Dresden-based Linde MH network partner Carl Beutlhauser Hebe- und Fördertechnik GmbH provides service and support.