A forklift that gets under your skin
Linde and the Love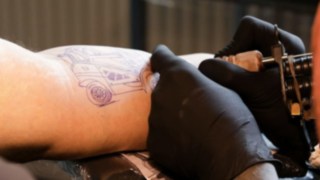 For many years Marcell Lange has been driving a Linde forklift with which he has a very special sense of affection. Now he has found a way to express this affection. Even if it hurts.
Marcell Lange has found the love of his life. "It has been faithful to me for many years", he says, referring to his Linde forklift, in which he spends most of his working day. To commemorate this intimate relationship between human and machine, Marcell has come up with something very special. And he is willing to accept physical pain for it.
When Marcell talks about his Linde forklift, there is real affection in his voice. "Driving my forklift is simply fun", he says. "What I enjoy most is driving the truck. Driving, steering, loading and unloading things - that's what makes it really special." Marcel is particularly impressed by the ease with which he and his truck merge into a functioning unit at work. "Driving a Linde truck is simply comfortable. The truck is comfortable and doesn't need a lot of bells and whistles. It gives you exactly what you need."


Healthy attitude
For over 50 years, Linde Material Handling has been working to make every forklift driver feel this way. To make this possible, the driver's workplace of a Linde truck is designed according to ergonomic principles. This is the only way to keep the driver's physical strain to a minimum and thus minimise the risk of accidents and absence due to illness, as well as to increase the efficiency of the man-machine team.
So-called human vibrations are particularly stressful for the driver. These are vibrations, jolts or shocks that occur during everyday operation. They can hardly be felt individually, but together they have a considerable effect on the driver's well-being. To keep these effects to a minimum, Linde forklifts are equipped with a hydrostatic drive that ensures particularly gentle acceleration and braking.
In addition, the chassis and driver's cab of the truck are systematically decoupled from each other, so that the vibrations of the vehicle housing are not transmitted to the driver. The optional rotating driver's work station is particularly health-friendly and highly efficient at the same time. It gives the driver optimum visibility when reversing without having to overturn his head and back.


Human and machine in harmony
But not only the pleasant driving characteristics inspire Marcell. He is also impressed by the effortless operation of his Linde truck: "The control levers of the vehicle are very important to me. There aren't too many, just the ones you need." Marcell's forklift is not the only one whose controls make it particularly easy for the driver.
Since Linde always wanted human and machine to form a single unit, the controls for all types of vehicles are arranged so that the user can reach them easily. Depending on the model, the driver's work station is optimised for the particular purpose or can be adapted to all circumstances. Additional operating comfort is provided by Linde Load Control, which allows the driver to control the working and auxiliary hydraulics of the truck via two control levers in the armrest.
All these useful features have been inspiring Marcell for many years. Now he has found a way to express this enthusiasm. In a tattoo studio in Jüterborg, Brandenburg, he had his forklift tattooed on his left forearm. "I came up with the idea of a forklift tattoo because I drive every day anyway and the vehicle is simply great", he says.
It's no longer worth mentioning to Marcell today that he had to endure physical agony to immortalize his forklift. "The pain was definitely worth it for me", he says. "It's nice to see the finished truck on my arm. It's a wonderful feeling. And it stays forever."