Parlevliet & Van der Plas Modernize with Linde
More Fish for Life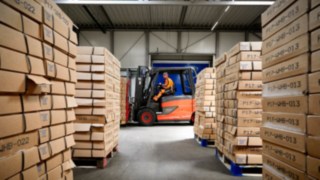 Together with Dutch Linde network partner Motrac, large fishery company Parlevliet & Van der Plas has brought its intralogistics right up to date at several sites. The high quality of Linde's trucks, as well as solutions to ensure comprehensive safety and comfort, were a key factor in the decision to work together.
Anyone wanting to supply the world with fresh fish around the clock will be dependent on smooth processes. This is particularly true for the Dutch fisheries empire Parlevliet & Van der Plas Group, or P&P for short. With the help of Motrac, the Dutch network partner of Linde Material Handling, P&P has therefore recently brought its intralogistics right up to date at several sites.
"When we had to decide on the logistics modernization of our sites, we decided to collaborate with MotracLinde for several reasons", explains John Zeijderveld, Port Operations & Coldstore Manager at P&P. "In addition to the driver comfort of the trucks and the comprehensive safety features, the good experiences that we have had with Motrac in other areas were decisive for us."
Huge Quantities of Fish
With more than 6000 employees, Parlevliet & Van der Plas Group is one of the world's largest fishery companies. Founded in 1949 by Dirk Parlevliet and brothers Dirk and Jan van der Plas as a small fish business, over the coming decades P&P expanded to become a large global fishery company. The company took a decisive step in 1959 when it extended its business to include catching fish using its own ships. Under the motto "Fish for Life", P&P now covers the entire value-added chain in the fisheries market, from the catch to trading through to consumption.
"In order to be able to store these huge quantities of fish and react quickly to changing customer requirements, we have a refrigerated warehouse with a 60,000 ton storage capacity at our site in the Dutch city of IJmuiden", explains Zeijderveld. He goes on to say, "in order to be efficient, around 85 per cent of the storage capacity must be used consistently. The logistics therefore need to work smoothly. As we are continuing to grow, we are even building another refrigerated warehouse at our site in Zoutkamp."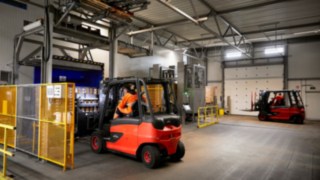 Modern Intralogistics
In recent years, P&P has increasingly invested in modern digital solutions for intralogistics, including ERP systems, a warehouse management system as well as scan solutions to track each individual fish product throughout the entire process chain. In parallel to this, the logistics hardware has been modernized in order to be able to unload and load ships and trucks more efficiently and collect customer orders more quickly in the refrigerated warehouses.
"We made the decision to work with Linde on equipping and servicing our truck fleet several years ago", explains Zeijderveld. "The years of positive experiences at our subsidiary Heiploeg and other companies in our Group were decisive. This decision has paid off, and we are now benefiting hugely from the experience and specialist expertise of the Motrac employees."
According to Zeijderveld, every five to six years P&P orders new forklift trucks in order to benefit from technological innovations and consistently optimize all trucks to make them sustainable. "In our experience, Linde forklift trucks are of such a high technical quality that their economic life is much longer than other brands." In recent years, Linde and MotracLinde have supplied dozens of forklift trucks to P&P, including around twenty to the site in IJmuiden. Most of them are powered by electricity in order to keep CO2 emissions and the environmental impact as low as possible.
Comfort and Safety
For Zeijderveld, one of the most important features of Linde forklift trucks is that they have the power, stamina and robustness to deliver top performance even in the tough operating conditions in port facilities and refrigerated warehouses. However, in addition to these purely performance-related factors, driver comfort and safety also play a crucial role. "Many of our employees spend at least six hours a day sitting in their trucks. We therefore want them to be as comfortable as possible."
In addition to driver wellbeing, ergonomically optimized driver's workspaces also offer economic benefits; because they prevent incorrect and excess strain, P&P has seen a dramatic reduction in illness-related absences among its drivers. In recent years, time lost has decreased by almost 20 per cent. Employee safety also plays a central role in the truck choice for Zeijderveld. He says, "we never economize on safety and always look for ways to prevent damage and injuries even more efficiently. After all, the wellbeing of our employees and the availability of our equipment are key factors in our success."
Many of the Linde trucks at P&P are equipped with a protective device that prevents goods slipping into the cabin. If a driver drives around a bend too quickly, the Linde Curve Assist assistance system automatically brakes the truck to a safe speed. The Linde BlueSpot safety light projects a spot of blue light onto the floor, thus warning pedestrians and other drivers of approaching forklift trucks. All reach trucks are equipped with theLinde Dynamic Mast Control. This reduces oscillating movements of the mast that occur when working at a great height.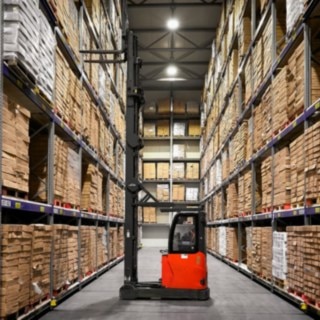 Service and Training
"We carry out first-line servicing for the forklift trucks and reach trucks ourselves, and for other maintenance work and repairs there is always a dedicatedservice colleague from Motrac", says Zeijderveld. "As we have our own well-equipped technical workshops, some of them have been set up as a local service center for Motrac in IJmuiden and Zoutkamp."
In addition, the Linde network partner also assists the company with the training of the forklift truck drivers. Some of them have passed the certified training for the operation of a reach truck in Almere. "With good equipment and professionally trained personnel, we can work more efficiently and process more fish products for the customers in peak periods", says Zeijderveld.