Schenker takes full control of its forklift truck fleet
All information straight to your phone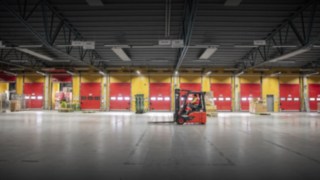 Digitalization has fundamentally changed the logistics processes; the forklift truck fleets have become intelligent, the forklift trucks communicate with each other, and data control improves cargo handling. At the Lunda Terminal outside Stockholm, Pierre Cauwenbergh at DB Schenker has full control of his forklift truck fleet thanks to Linde's innovative fleet management system Linde connect.
– Everyone who works here benefits from Linde connect, he says.
DB Schenker Sweden
DB Schenker is one of the largest logistics companies in the world, offering road and railway transports, international sea and air freight transports, as well as consultancy services and solutions for inventory and logistics. From Sweden, everything from small circuit boards to enormous ship parts are distributed all over the world. The Schenker group was founded by Gottfried Schenker, and his idea of groupage, of collecting cargo from senders and shipping it in one consignment, is still prevalent to this day. DB Schenker in Sweden is a subsidiary of the German state-owned Deutsche Bahn, and has 3,500 employees distributed across 25 districts throughout
the country. DB Schenker's Lunda Terminal is Schenker's largest terminal in Sweden, and it is an important hub in the company's nation-wide terminal system.

Source: www.dbschenker.com
Pierre, a forklift truck and training manager at DB Schenker, is very familiar with Linde's previous version of the fleet management system, and knows what it means in terms of efficiency, safety, and economics. Now, in cooperation with Linde, Schenker has taken the next step when it comes to its development.
Schenker is replacing all Linde counterbalanced forklift trucks at the company's cargo and package terminals in Stockholm with new Linde forklift trucks. The process started on November 1, when around 30 forklift trucks were commissioned. A total of around 50 forklift trucks will be replaced, including stackers and pallet trucks.
Linde connect is installed on 23 forklift trucks at the Lunda Terminal, and they are all equipped with the full functionality provided by the system. Access, which manages access, permissions, and personal operator log-ins. The analysis tool, which supervises the performance of the fleet. Crash detection, an electronic damage control. And the safety control and daily inspection feature, explains Magnus Ragnarsson, coordinator for connect at Linde.
Focus on safety
For Pierre Cauwenbergh, Schenker's full-scale connect implementation means that he will have full control of his forklift truck fleet. In particular, he highlights the safety aspect.
– If there is a collision, which is all but inevitable, we have a methodology that we always follow. First, we check how the operator is doing. Is he or she in shock, in need of medical attention, or needing to call it a day and go home? After that, we inspect the truck and the cargo. On the basis of this, an incident report is entered directly into the system, which we will benefit from, historically, and during evaluations.
Is it self-evident that cargo handling will be more efficient if the forklift trucks go at high speeds?
– Not at all. For one thing, there is the risk of bumps and collisions; for another, the cargo might not be optimally handled at high speeds. With connect, we are able to measure this. We can measure productivity at a certain speed, and then reduce the speed of the forklift trucks, and measure again after a while. I really don't think slowing down the speed by a few miles per hour will affect productivity. It means a lower speed while retaining productivity, which has a positive effect both economically and in terms of safety.
Daily inspections always take place before the operator is given access to a forklift truck, and is carried out using an e-reader mounted on the forklift truck.
Economically valuable
– With all the available features installed, I get a comprehensive picture of the entire fleet. I can see which drivers have permissions for which forklift trucks, and, as I mentioned, I can adjust the speed of the forklift trucks, if necessary. I also get all the reports necessary in order to see the active operation hours and utilization rates of the forklift trucks, what proportion of the operation hours they are driven forward and in reverse, whether batteries are replaced in time, and many other things, Pierre says.
– Using the reports as a basis for this, I can then determine whether the fleet is optimally customized for the job that we do. Are there too few or too many forklift trucks, or do we need more of a certain kind of forklift truck? These reports are a valuable tool in economic terms when I plan the expansion of the fleet and possible investments. At present, we have an optimal fleet, but that might change, of course.
Asked what the operators think of connect, Pierre replies:
– We have tested the system, and they know what it means. I haven't noticed any objections, rather the opposite. With connect, permission criteria are being met, and safety is further improved thanks to fewer collisions and bumps, and calmer driving. I feel that everyone understands and appreciates what this means for their work and safety.