The new E30 electric forklift truck with Linde Steer Control undergoes field test
"A Whole New Driving Experience"
Day in, day out, huge quantities of material are transported at Westfälische Drahtindustrie (WDI) in Hamm, Germany. Until now, the wire manufacturer has been relying on conventional trucks with powerful internal combustion engines. With the E30 from Linde, the company is using its very first electric forklift truck to be equipped with a revolutionary steering system – completely bypassing the need for a traditional steering wheel. And it has been met with a great deal of enthusiasm.
The day-to-day work at Westfälische Drahtindustrie puts even the toughest forklift trucks through their paces. Each day, 40 to 50 lorries arrive at the main plant in Hamm, North Rhine-Westphalia, loaded with up to three metric tons of heavy wire reels. They all have to be quickly unloaded and transported across the expansive premises for further processing: to the warehouse, the in-house pickling line, or one of the many wire drawing machines in the production halls.
In one year alone, the new surface coating system in Hamm can process anything up to 550,000 metric tons. Westfälische Drahtindustrie, or WDI for short, has around 1,300 employees working across 15 sites, making it one of the largest wire manufacturers in Europe. Needless to say, wire is an indispensable part of our day-to-day lives.
"Our wire is used in all sorts of products", explains Dirk Vormann, who has been working as a sales manager at the Hamm site for more than 20 years. "It's made into braces for young children, shelves for refrigerators, bolts for bicycle chains, or flexible components used for airbags. Put simply, wire holds the world together."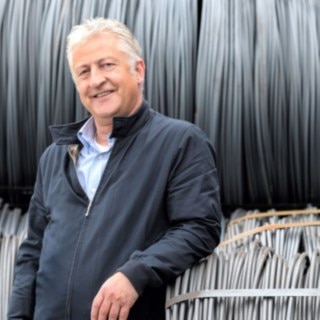 At WDI, we want to reduce our carbon emissions. At the same time, we have strict requirements for our forklift trucks, as they are in operation around the clock.
WDI Sales Manager, Dirk Vormann
To keep supplying the world with wire, huge quantities of material have to be transported from A to B each day in Hamm. This work requires a fleet of around 40 forklift trucks, most of which are from Linde Material Handling. From compact speedsters for smaller transport jobs to massive heavy trucks with drum clamps, WDI relies on all its trucks having enough power, stamina, and robustness to provide maximum performance under tough conditions. As different as all these trucks are, they have one thing in common: a combustion engine whirring away under the hood. At least until now!
Powerful, Agile, Climate-Neutral
There has also been a new type of forklift truck whizzing around the WDI site as of late – fast, maneuverable, quiet, and fitted with a completely new steering system that doesn't require a traditional steering wheel. The E30 electric forklift truck is the prototype of Linde's new series of counterbalanced trucks, which is currently being put through its paces at the Hamm plant. Alongside the E20 – E35 electric models, this new generation of forklift trucks also includes the X20 – X35 electric forklift trucks, as well as the H20 – H35 and H35 – H50 diesel and gas-powered trucks.
More about the new generation of counterbalanced trucks from Linde
All four models are based on one universal product series platform, which can be fitted either with a combustion engine or an electric motor. This means users can choose between different types of drive without having to compromise on performance – something which Dirk Vormann is particularly pleased about: "At WDI, we are committed to reducing our carbon emissions in order to make our production as climate-neutral as possible. At the same time, we have strict requirements for our forklift trucks, as they are in operation around the clock."
The electric versions of the new generation of forklift trucks have been specially optimized for indoor use. For this purpose, the E20 – E35 models are now fitted with synchronous reluctance motors, which significantly increase the energy efficiency and thus make a noticeable improvement to performance. Thanks to the combination steering axle, along with the twin-motor front-wheel drive, the new electric models work especially well in confined spaces and narrow aisles.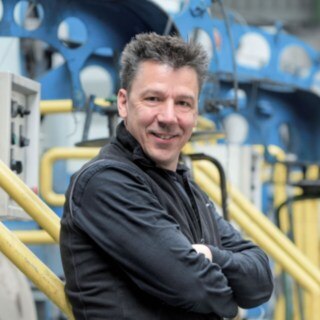 Thanks to the maneuverability of the new forklift truck, we can place goods in exactly the right position, despite being short on space.
WDI Operations Manager, Jörg Leuschner
"The E30 allows us to achieve a high turnover of materials, even in cramped conditions", says Operations Manager Jörg Leuschner, who is in charge of production at the Hamm site. "The drawn wire sits on stands on the shelf or has to be transported on pallets in reels. One of the E30's main tasks is to supply the drawing machines with wire. That's not easy, as the machines are often stood very close together. Thanks to the maneuverability of the new forklift truck, we can place goods in exactly the right position in spite of that."
Absolute Pleasure to Drive
Özkan Erdogan is one of six drivers at WDI who tested out the new E30. In his six years as a professional forklift driver, Erdogan has driven just about every model of truck going. After just five days in the new electric forklift truck from Linde, his mind is made up: "I never want to drive anything else!"
Erdogan and the other drivers are particularly impressed with the innovative steering concept, Linde Steer Control, which eliminates the need for a conventional steering wheel in WDI's E30. Instead, the driver steers using an electric mini steering wheel, which is directly integrated into the forklift truck's left armrest. "It's a whole new driving experience," explains Erdogan. "You're much more focused because of how sensitive the steering is."
But that's not the only advantage of Linde Steer Control. Getting rid of the steering column reduces the number of steering movements required and makes the truck's control system much more intuitive. At the same time, the new design reduces the physical stress placed on drivers. "You're always maintaining the same posture," explains Erdogan. "With a regular steering wheel, you've often got to change seating position. When you get home from work you can feel it in your shoulders. But with the mini steering wheel it isn't a problem because you only have to move your finger and the rest of your arm can lie comfortably on the armrest. You just can't beat that."
But Linde Steer Control isn't the only reason why Erdogan is in raptures over the E30: "The new truck is quiet and compact. It's really easy to get into corners, without having to worry about damaging anything. Also, the number of large windows gives you perfect all-round visibility and you can see everything you need to see in every direction."
The drivers at WDI are also impressed by how comfortable working in the new electric forklift truck is. "It's just an absolute pleasure to drive. After an eight-hour shift in the E30, you feel as though you've hardly worked at all", says Erdogan. A key factor behind how comfortable the new electric forklift truck is to drive is what is known as an elastomer ring bearing. This decouples the steering axle from the chassis, which protects the driver against impacts and vibrations when driving over bumps, guide rails, or uneven surfaces.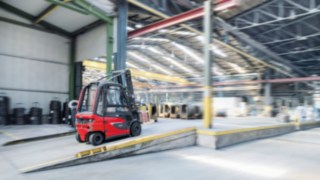 Until now, elastomer ring bearings have only ever been used in diesel and gas-powered trucks. In the new Linde series, they are now fitted as standard in the electric versions, too – much to the delight of Özkan Erdogan: "We have a few uneven areas here on-site, so you normally get shaken about a bit when you have to drive over them. With the E30, you don't notice it at all, not even when you have a load on the forks."
Additional product details for the E20 – E35 electric forklift trucks
Charging Made Easy
It is not just operating the new E30 that Erdogan finds easy and user-friendly. Even charging the battery is a piece of cake: "I can just quickly connect the truck to the charging station during a short break. That's much easier than with an IC truck, as you never have to worry about getting to the filling station before your next job."
The effortless charging is possible thanks to the E30's lithium-ion battery. All the forklift trucks in the new electric series from Linde offer the customer a choice of energy storage systems: Lead-acid battery, fuel cell, or even lithium-ion battery.
"All of our forklifts are used in three-shift operation and are constantly on the go, 24/7. Generally speaking, there is no downtime", explains Operations Manager, Leuschner. "The lithium-ion battery is ideal for our purposes because it allows for fast interim charging. At the moment, we only charge the trucks during our drivers' break times. That is plenty to keep the truck going around the clock."
After a test phase of around four months at WDI – the capital of combustion trucks – the results are in, and the E30 has done a solid job of convincing everyone. "All our drivers are extremely impressed by the new electric model and by Linde Steer Control. And in management, too, we are very happy with the handling capacity, durability, and environmental friendliness of the forklift", summarizes Sales Manager, Vormann. "Following this experience, we can definitely envisage converting our whole fleet in Hamm to electric trucks in the future."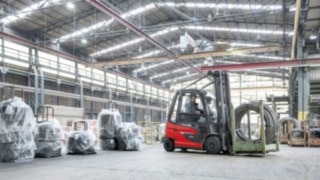 Westfälische Drahtindustrie GmbH
Westfälische Drahtindustrie GmbH, with its headquarters in Hamm, Germany, is among the largest independent producers of quality wire in Europe. The origins of the company go back to a wire manufacturing plant funded in 1856, which began trading as a limited company in 1872 and then operated under the name WDI from 1890 onwards. Following a period as a subsidiary of a larger group, the company resumed operating under the name Westfälische Drahtindustrie GmbH in 1987.
In its main corporate divisions, WDI produces quality wire, bright steel, construction steel and high-performance wire rope. In four additional corporate divisions, at multiple sites the company produces welding wire, pre-stressed steel, and overhead power lines. At the Gandersheim site, chain-link fencing is produced in various sizes and designs. The most important sales markets for WDI wire products are wire and bright steel for mechanical engineering, wire for the construction industry, wire and bright steel for the automotive sector, and stranded wires for overhead power lines in the energy industry. WDI products are used worldwide in up to 16,000 applications.
The Managing Associate of WDI is Katja Pampus. Trained in industrial business, Katja comes from an entrepreneurial Westphalian family. She is the second generation to manage Westfälische Drahtindustrie GmbH, having taken over from her father, Werner Pampus.