Handle heavy loads precisely and swiftly
The H100 – H180 D IC trucks can transport even the heaviest of loads precisely, swiftly, and cost-effectively, securing a competitive advantage in terms of handling performance. All this is made possible by Linde's hydrostatic drive, which allows heavy trucks to be moved with millimeter precision. The driver can quickly and smoothly shift between backward and forward movement, while modern diesel engines guarantee high torque and low fuel consumption.
Characteristics
Safety
Large glass panes and the curved windscreen offer the driver exceptional visibility – and the same is true to the rear, as the visibility-optimized counterbalance has drastically reduced the blind spot behind the truck. Plus, the driver's cab is positioned exactly in the middle facing forward. Seat monitoring locks out the operational and driving hydraulics when the driver is not sat in the truck. What's more, when the heavy truck reverses, a clear (85 dB) signal sounds, alerting other trucks and people on foot.
Excellent all-round visibility
Seat monitoring
Counterbalance and mast optimized for visibility
Automatically applied parking brake
Ergonomics
When developing this heavy load truck, our goal was to create an ergonomic workspace. That's why, for example, the driver's cab is decoupled from the chassis and engine by numerous rubber bearings, meaning the driver feels fewer vibrations and shocks. Features such as the height-adjustable armrests and steering column, and the adjustable seat with hydraulic suspension, all work to ensure an ergonomic workspace. The Linde dual pedal steering alleviates the driver's day-to-day work, requiring only gentle pedal movements, preventing fatigue.
Rubber bearing decoupled driver's cab
Hydraulic suspension seat
Minimal effort required to operate truck
Height-adjustable arm rests and steering column
Handling
Power on demand: the principle underlining the H100 – H180 D IC trucks – the engine speed is regulated according to the amount of power required. This means that the engine is always running in the most efficient range, thereby saving fuel. The smooth Linde hydrostatics ensure excellent handling performance, as the driver can accelerate without the need to engage the clutch or shift gears, and the truck automatically comes to a standstill as soon as the driver's foot leaves the pedal. Plus, Linde Load Control allows them to precisely control the lifting height and fork position.
High torque diesel engines
Low fuel consumption
Hydrostatic direct drive
Precise load movements with Linde Load Control
Service
Not only is the Linde hydrostatic direct drive wear-free, it also operates without a transmission, clutch, differential, or drum brakes. This significantly reduces servicing costs incurred by the truck. The side-mounted service box allows for rapid maintenance work, affording the mechanic direct access to various filters, batteries, the windscreen washer fluid tank, and diagnostic connector. The driver's cab can also be tilted laterally using an electro-hydraulic pump in order to carry out works in the engine compartment.
Wear-free drive
Side-mounted service box
Easily accessible engine compartment
Videos & Images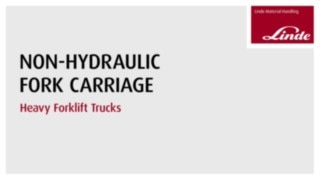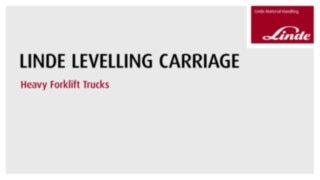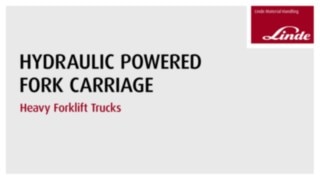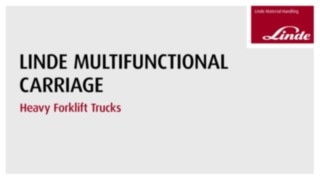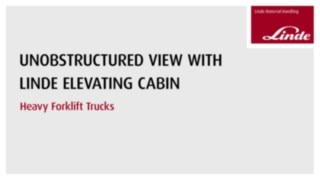 Technical Data
| Model | Load capacity/Load | Load centre distance | Wheelbase | Turning radius | Travel speed, with/without load |
| --- | --- | --- | --- | --- | --- |
| H100/1200 | 10.0 (t) | 1200 (mm) | 3300 (mm) | 4578 (mm) | 29.7 / 30 km/h |
| H100/600 | 10.0 (t) | 600 (mm) | 2960 (mm) | 4092 (mm) | 27.9 / 30 km/h |
| H120/1200 | 12.0 (t) | 1200 (mm) | 3300 (mm) | 4578 (mm) | 29.7 / 30 km/h |
| H120/600 | 12.0 (t) | 600 (mm) | 2960 (mm) | 4092 (mm) | 27.9 / 30 km/h |
| H140/1200 | 14.0 (t) | 1200 (mm) | 3300 (mm) | 4578 (mm) | 29.7 / 30 km/h |
| H140/600 | 14.0 (t) | 600 (mm) | 2960 (mm) | 4206 (mm) | 29.7 / 30 km/h |
| H150/600 | 15.0 (t) | 600 (mm) | 2960 (mm) | 4206 (mm) | 29.7 / 30 km/h |
| H160/1200 | 16.0 (t) | 1200 (mm) | 3600 (mm) | 4905 (mm) | 29.7 / 30 km/h |
| H160/600 | 16.0 (t) | 600 (mm) | 3300 (mm) | 4578 (mm) | 29.7 / 30 km/h |
| H180/600 | 18.0 (t) | 600 (mm) | 3300 (mm) | 4578 (mm) | 29.7 / 30 km/h |
Optional Equipment
Attachments:
Multiple pallet clamps, rotators, clipboards, carrying pins, and much more are all available.
Fork carriage
The range covers mechanical and hydraulic fork carriages, models with additional end position lateral lifts, tiltable, shaft-guided fork carriages, and everything in between.
Multi-functional fork carriage
This fork carriage can be equipped with up to six hydraulic circuits, making an incredibly wide range of carrying and fork operations possible: Lateral movement of the entire fork carriage – even when both forks are positioned externally – individual movement of specific forks, and much more.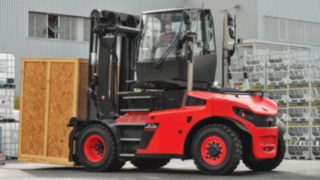 Rotating cab
The entire cab can be rotated up to 65 degrees clockwise, and 180 degrees counterclockwise. This ensures that the driver always has an optimal view of the load and the travel route in any application and without adopting an unhealthy position. The cab can be rotated either continuously using the joystick or to preset positions using four buttons.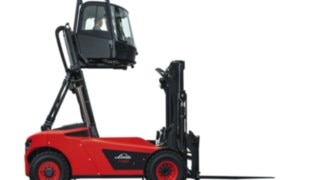 Lift cab
The driver's cab can be raised to any height up to 2.5 meters. This gives the driver a better view of the load and their working environment, allowing them to transport goods more safely. Travel speed is automatically decreased when the cab is raised.
Load display
The current load as detected by the sensors is displayed on the truck's 7" color display, which is included as standard.
Radar Eye
Sensors monitor the area to the rear of the truck while reversing, alerting the driver to any moving or stationary obstacles via an optical and acoustic signal. The range for the warning system can be adjusted.
Block heater
Trucks in this product line feature an electric auxiliary heater, which can be self-contained or powered by the diesel engine.
Get a Quote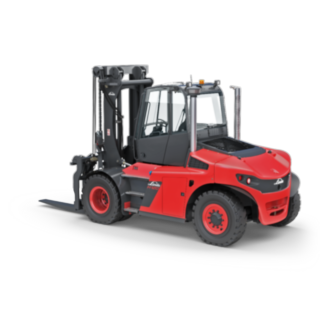 H100 – H180 D