Transporting sensitive goods on two levels
The N20 C D double-deck order picker is the ideal solution for efficient order picking and safe transport of pressure sensitive goods such as food. It can be used to pick up two pallets separately and transport them on top of each other to save space. Thanks to its compact design, the order picker proves to be extremely maneuverable and ideal for narrow aisles, even with full loads of up to 2,000 kilograms. The powerful acceleration to up to 12 km/h allows fast but at the same time safe goods handling with high handling performance. Power steering and automatic speed adjustment ensure maximum safety when transporting both pallets. The low-entry access, the intuitively operated and ergonomic steering wheel, and the spacious operator's platform promote healthy working conditions.
Characteristics
Safety
The N20 C D order picker has a robust chassis with rounded edges. Self-centering power steering requires only a small amount of steering wheel turning, reducing operator movement within the operator's platform. Speed is automatically reduced when steering. Three separate braking systems ensure safe braking in line with the environment and the load being transported: The service brake operates electromagnetically. A hydraulically assisted braking system adjusts to the load weight. Linde Brake Control also enables automatic braking when the drive is released. Additional options such as front LEDs and Linde BlueSpot™ maximize safety.
Robust chassis with rounded edges
Smooth running, self-centering steering wheel
Automatic speed reduction in curves
Safe braking in any situation with three braking systems
Ergonomics
Each driver can adapt the low-lift order picker individually to their needs: The Linde Steering Wheel and backrest are flexibly height-adjustable so that the driver can adopt a comfortable, gentle posture. The central control elements are located directly on the Linde Steering Wheel, enabling the driver to reach and operate them intuitively with both hands. A cushioned platform with non-slip rubber pad reduces the vibrations transmitted to the operator. Access to the operator's platform has also been designed with ergonomics in mind: A wide design with low entry height makes it easy to get in and out of the cab on both sides.
Height-adjustable Linde Steering Wheel
Adjustable backrest with foldable seating support
Damped platform with rubber padding
Wide access from both sides
Low entry height
Handling
Powered by a 3 kW three-phase AC motor, the order picker accelerates quickly to up to 12 km/h. Either lead-acid or optionally lithium-ion batteries provide the optimum power supply to meet the requirements of the fleet. With the Linde steering wheel's intuitive operating concept, the driver controls all driving and mast functions effortlessly and with pin-point accuracy. A liftable operator's platform is optionally available for convenient order picking on the first and second levels. Efficiency is also enhanced by a clearly arranged multi-function display, numerous storage compartments on the vehicle and optional buttons on both sides for pedestrian operation.
Powerful 3 kW three-phase motor
Fast acceleration up to 12 km/h
Intuitive steering concept via steering wheel
Clear multi-functional display
Numerous storage options on the vehicle
Service
The order picker ensures low maintenance requirements and only requires a service check after around 1,000 hours. The three-phase AC technology is completely maintenance free. Brakes do not have to be readjusted. During maintenance, the service technician can easily remove the front panel to motor compartment and has free access to all central components. All wiring harnesses and cables have been clearly arranged for quick servicing. The service technician can conveniently read out the vehicle data on their terminal device via a CAN bus connection.
1,000 operating hours without service check
Maintenance-free three-phase electric motor
No readjustment of the brakes
Easily accessible service components
CAN bus connection
Videos & Images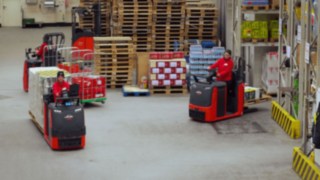 Technical Data
| Model | Load capacity/Load | Lift | Travel speed, with/without load | Turning radius | Battery voltage/rated capacity (5h) |
| --- | --- | --- | --- | --- | --- |
| N20 C D | 1.2 / 2.0 (t) | 1580 (mm) | 9 / 12 km/h | 2313 / 2440 (mm) | 24 / 420/465 (V)/(Ah) o. kWh |
Optional Equipment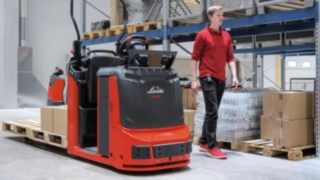 Semi-automated option
The two semi-automated (SA) driving modes shorten walking distances and reduce the need for constant stepping on and off the truck since the order picker automatically follows the driver or drives ahead. This significantly increases the efficiency of horizontal order picking.
Liftable operator's platform
The operator platform can be lifted to allow occasional order picking at the first and second rack levels up to 2.8 meters picking height.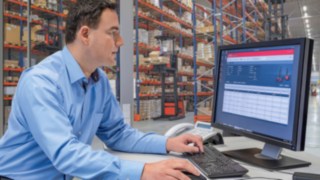 Fleet management
With the fleet management solution connect from Linde, it is possible, among other things, to analyze the use of the entire fleet of vehicles in order to subsequently optimize the service or capacity utilization of the truck fleet.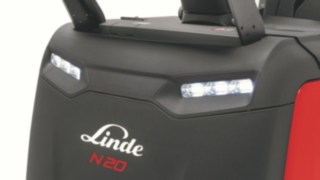 Front LEDs
The two LED headlights are located at the front and have a high brightness. They are waterproof and dustproof.
Cushioned platform
The pneumatically cushioned construction reduces vibrations caused by uneven road surfaces.
Load backrest
An additional protection for driver and load is the load backrest, which can be adapted to the height of the load.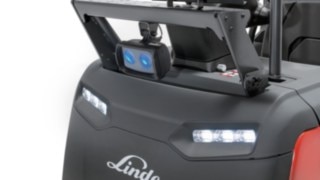 Linde BlueSpot™
The Linde BlueSpot™ route warning system increases safety in operation, as the LED spot makes trucks silently visible.
Lithium-ion technology
With Linde's innovative lithium ion batteries, trucks can be recharged in a much shorter time and intermediately charged during operation.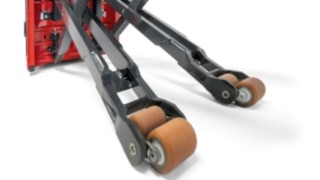 Inching controls
On both sides of the vehicle there are pushbuttons. The driver uses them to operate the order picker from the outside and walks alongside at the same time.
Panoramic front mirror
A large mirror at the front of the vehicle provides a good all-round view and thus increases safety for the driver, load and pedestrians.
Lateral battery change
The lateral battery removal, by means of roller bearings, enables a quick change, especially for use in multi-shift applications.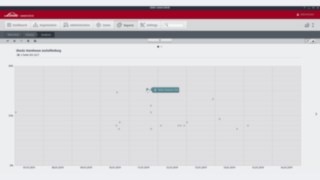 Accident monitoring
Whether driving errors, uneven surfaces or improper vehicle use, a shock sensor registers shocks. The evaluation of the data via the fleet management software provides information on the cause of damage and accidents.
Slowed lowering
When the fork is fully loaded, the lowering speed is reduced. This provides additional protection against damage to the goods.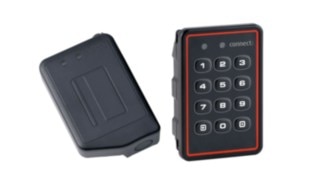 Access control
Access control via the connect fleet management system ensures that vehicles are only used by authorized persons. The driver must identify him or herself with a PIN or RFID card before starting.
Get a Quote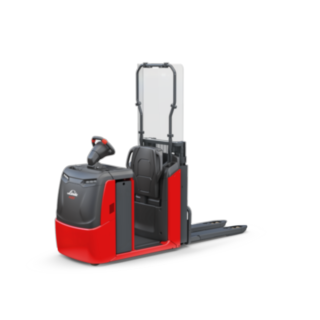 N20 C D