The Linde H50 in use at Smurfit Kappa
It Doesn't Just Look Good on Paper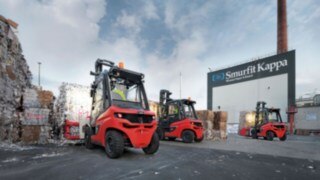 There's tough, then there's the paper industry: At the paper producer Smurfit Kappa Wrexen Paper & Board, the counterbalanced trucks run with a full load almost non-stop—day and night, whether in oppressive heat or biting cold. An extreme deployment scenario, where the new Linde H50 diesel powerhouse was able to show what it can do even before its market launch.
As the German saying goes, paper is patient. This kind of fortune cookie wisdom may only be met with a weary smile from the employees at Smurfit Kappa Wrexen Paper & Board. After all—here at the company's site in Diemelstadt, Germany—paper is one thing above all else: relentless. Day after day around 50 truckloads of waste paper roll into the yard. This amounts to 1,000 tons of this valuable raw material, which originates from household paper recycling, as well as from various large companies. "From that we annually make approximately 240,000 tons of containerboard and 80,000 tons of paperboard for graphic use," says Astrid Sprenger, Head of Recovered Paper Yard. Both are then sold internationally, and ultimately find their way to the end consumer in a variety of forms: be that as a removal box, document file or something else entirely. And since paper is at least as universally usable as it is in-demand, the work at Smurfit Kappa literally piles up high. Bale after bale, tonne after tonne and every type imaginable, all this recyclable material needs to be unloaded from the incoming trucks, taken to the storage locations and from there taken to the production plant. "We wouldn't get very far with patience, not unless we wanted to see waste paper mountains towering overhead," says Astrid Sprenger with a grin.
Hard Work, Powerful Trucks
From a bird's eye view, the comings and goings at the Smurfit Kappa depot look a bit like an installation by a performance artist: big, colorful mountains of material, with small red dots moving constantly moving back and forth between them. Some mountains increase in size, while others shrink, with the dots lifting, lowering, maneuvering, and moving about almost non-stop. "The counterbalanced trucks from Linde are at the heart of our logistics operations," says Tobias Jäkel, Raw Materials Yard Foreman, explaining the impressive work of art. In the waste paper sector alone, twelve forklifts from the Aschaffenburg-based material handling specialist are in use, the majority of them in the five-ton load capacity range. "We use them for loading and unloading the trucks in the day shift from Monday to Friday, 7 a.m. until 4 p.m. The most demanding job for the trucks, however, is to supply production, something they do practically non-stop, 365 days a year. Last year alone, each truck moved 500 tons of goods per day and clocked up 500 operating hours per month," according to the logistics expert.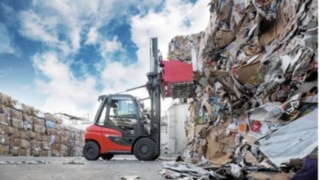 Marathon Meets Strength Training
And the comparison is spot on. After all, the counterbalanced trucks at Smurfit Kappa don't have to just shine in endurance runs, but literally have to flex all their muscles. Of course, the trucks rely on diesel instead of protein shakes for their power. "Diesel forklift trucks have been and continue to be first choice for us, because the work they do is extremely intense," sums up Tobias Jäkel. "Both during lifting and driving maneuvers, the trucks are almost constantly under full load. The longest breaks tend to be just the ten-minute fuel stops."
In a high-intensity usage scenario like this, the operator and the truck almost inevitably become one. This meant that management were all the more excited when, in November 2021, Linde Material Handling offered to provide a pre-series truck from the new H35 – H50 generation of counterbalanced trucks for trial operation. "When a truck generation like the previous H50 from Linde having proven itself for years, our people were, of course, particularly wary when we put something new in the yard," says Smurfit Kappa logistics expert, Jäkel.
The Bar Was Set Extremely High ...
... and the new H50 had to hit the ground running from the first shift. Equipped with a special paper bale clamp, the forklift truck went straight into 24/7 production supply. "Our logistics is set up in such a way that employees are assigned their transport jobs via terminals in the vehicles. Depending on the production schedule, they collect the sorted stored waste paper bales, take them to production, place them on the machines and go back again. This happens throughout the whole shift," explains Tobias Jäkel. One particularly challenging aspect is that the drivers cover almost half of the up to 200-meter long stretch in reverse. This means that good visibility is paramount, firstly, of course, in terms of work safety, but equally for handling performance. "We were—and here I really am speaking for my whole team—very surprised by how much the visibility has been improved in the new truck, considering how good it was in the old generation. The large glass surfaces actually give the impression that you are sitting outside when you are in the cab," says Jäkel, impressed. It only becomes clear that this is not the case when the thermometer falls below zero in the winter: "When it comes to temperature control, the new generation has again ramped up its performance, making long stretches of outdoor work noticeably much more pleasant," adds the logistics expert. "Now we're waiting for the next hot summer."
Our yard is not exactly a dodgem track, even if does tend to be just as lively. In fact, we try to keep health risks to employees—which can arise due to truck impacts—to a minimum.
Good Workplace, Better Performance
According to managers Astrid Sprenger and Tobias Jäkel, most operators quickly realized that their needs had been given high priority in the development of the new truck. The driving experience received a lot of praise from the teams, as did all the excellent ease of use of the driving and lifting functions . "Our yard is not exactly a dodgem track, even if it does tend to be just as lively. In fact, we try to keep health risks to employees—which can arise due to truck impacts—to a minimum."
"The whole design of the truck—from decoupled chassis to the air suspension in the seats—has a noticeable impact," adds her colleague who has himself already spent many hours in the vehicle. "For us, ergonomics and comfort aren't just about safety at work, but also have a lot to do with motivation. If we try to make savings in the wrong areas and send the truck out into the world without features like air conditioning, seat ventilation, etc., we have lost the race for the best workers right from the start," says Astrid Sprenger. Of course, from this perspective the new generation of trucks' outstanding level of safety also counts: Like all counterbalanced trucks at Smurfit Kappa, this truck also features the Linde Safety Guard. If people have to move around the yard on foot, they get a "portable unit." This unit warns pedestrians of approaching trucks. At the same time, drivers get a visual and an acoustic warning signal about pedestrians in the vicinity of their truck. The test vehicle is also equipped with ultra-bright Linde Verti Lights at the front, while the LED stripes at the back provide extra safety for frequent reversing. "We did not previously have these technologies in our existing fleet – but in future they will likely be part of our standard equipment," says Jäkel.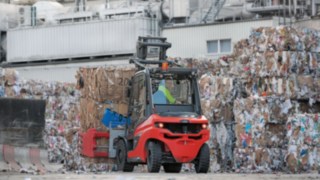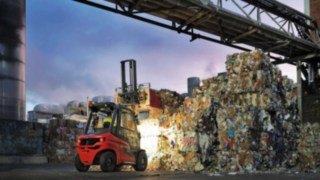 You Can Count on It
The latest generation of the Linde H50 has now been working away at Smurfit Kappa for several months now, completing one transport job after another—with happy employees in the cabin and happy managers in the office. "You can really see the handling performance of the new trucks," underlines Astrid Sprenger looking at the figures. "We would have been surprised if it had been anything else, because the H50 delivers full power even in the toughest situations while remaining very responsive in terms of handling," Tobias Jäkel adds. This was something that was very quickly evident to the two logistics experts, because the truck was introduced at the busiest time of the year: "The weeks around Christmas are particularly demanding here, because we have to store even more material and finished products in our yard. In a sense, an extra test of stamina," says Jäkel. A test in which the new truck excelled in terms of reliability. The verdict is unanimous: "So far, the new truck has won us over completely," concludes Astrid Sprenger, "On paper—and of course, with paper."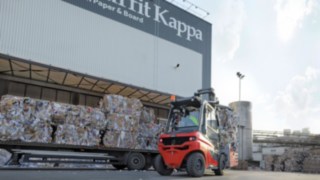 Smurfit Kappa
Smurfit Kappa is Europe's leading producer of packaging made from corrugated sheet board, containerboard, and bag-in-box packaging with around 350 sites across the continent. At the Smurfit Kappa Wrexen Paper & Board site in Diemelstadt-Wrexen in Germany, around 300 employees are involved with producing containerboard and paperboard for graphic purposes. For its intralogistics, the paper specialist has relied on technology from Linde Material Handling for many years. In total, there are around 40 Linde trucks in use on site. In addition to various warehouse trucks, there are approximately 25 counterbalanced trucks in the 2.5 to 7 tonne payload range. The forklift truck fleet is managed using the Linde connect fleet management system; service is provided by two dedicated site-based employees from the network partner who maintain the vehicles in their internal workshop.