Linde Material Handling at LogiMAT 2023
Green Performance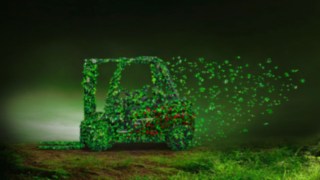 Our red machines will ultimately help make you more green: Sustainability and performance in perfect harmony, without any loss of performance. Linde Material Handling will be attending LogiMAT 2023 where, in keeping with the slogan "Green Performance," it will be demonstrating innovative forklift trucks and technologies that you can use to make your intralogistics fit for the future. Visit our trade fair stand and discover solutions for optimizing climate protection and maximizing profitability.
Come to LogiMAT and experience our full range of solutions for sustainable high performance in the material flow. From the new X35 – X50 electric counterbalanced forklift trucks, to innovative order pickers, through to software solutions for increased safety and holistic energy management. But that's only scratching the surface.
See, touch, experience—it's all in your hands
In the outdoor area between halls 8 and 10, you can experience our trucks in action. You will also have the opportunity to test drive a selection of forklift trucks and warehouse trucks there.


And if that wasn't enough, you will also be able try out our revolutionary steering concept Linde Steer Control . This solution allows you to maneuver your forklift truck using a mini-wheel or a joystick instead of the conventional steering wheel. A whole new driving experience with minimal movement and maximum precision.
Our highlights at LogiMAT 2023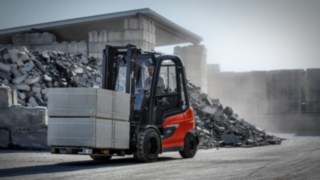 Powerful, Fast, Environmentally Friendly: The X35 – X50 Electric Truck
In the X35 – X50 counterbalanced trucks, we are proud to present a genuine first in electric forklifts, where sustainability and peak performance go hand in hand. The Xs are the first electric trucks to match the performance and robustness of the conventional combustion trucks. Powerful and immune to dust and dirt, they are suitable for even the toughest outdoor applications. They combine the power and endurance of a combustion truck with the flexibility and zero-emission operation of an electric truck. While, until recently, combustion trucks were the only available option, you can now opt for a quiet, environmentally friendly alternative.
Order Picking at Any Height: The New V Modular
Our vertical order picker, the V modular, reaches picking heights of up to 14.5 meters and is available in two different versions: In the version with additional lift, the operator picks from the cabin directly onto the pallet in front. Version two has a front-opening cabin which allows the operator to access the safely secured pallet and to pick the goods from there. The vibration-damped cabin protects against vibrations and impacts. High lifting and driving speeds ensure top picking performance. Thanks to the modular design, you can choose between different chassis widths, battery sizes, mast variants, and cabin designs.
Find out more about the new V modular from Linde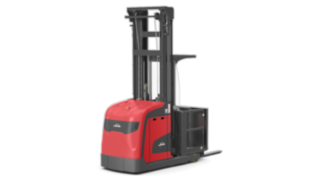 More from Linde Material Handling at LogiMAT
Energy Solutions
At LogiMAT, we will be presenting trucks and drive systems that provide the right technology for all needs and every sustainability goal.
Automation
At our LogiMAT stand, you will find everything you need relating to automation to make your material flow faster, more efficient, safer, and more sustainable.
Safety and Ergonomics
Whether it's vibration-damped cabins, innovative steering systems, or the latest assistance system: At LogiMAT, you will find everything you need to make your forklift trucks more comfortable and safer.
A look back at the highlights from LogiMAT 2022