Agility and Excellent Handling Performance
The H14 – H20 IC trucks from Linde are versatile, maneuverable and energy-efficient. With their compact external dimensions, these counterbalanced trucks are suitable for use in the tightest of spaces, such as at the conveyor, for vehicle loading and for shelf storage and retrieval. At the same time, they provide the driver with a spacious and ergonomic workspace with excellent visibility. The robust and reliable trucks can be individually fitted out for any use. Their wide range of models, comprehensive standard level of equipment, numerous optional extras and attachments, and customer-specific solutions guarantee maximum versatility. These trucks are thus a match for even the hardest conditions—for example, in dusty environments, in multi-shift operation, or as towing trucks. Thanks to their low fuel consumption and high availability, the total cost of ownership is especially low.
Characteristics
Safety
The Linde Protector Frame protects the driver: The cab roof and frame form a spacious, enclosed protection zone. A slim mast profile ensures that the driver has optimum sight of the load and the work environment ahead. This structure is made possible by the truck's overhead tilt cylinder. Also important for vehicle safety is Linde Curve Assist. This system reduces speed on bends, thereby reducing the risk of the forklift tipping. The Linde Engine Protection System monitors important engine parameters such as oil pressure, coolant level, and temperature; it warns the driver of impending engine damage and indicates when servicing is due.
Linde Protector Frame
Optimal all-round vision owing to slim mast profile
Linde Curve Assist assistance system
Linde Engine Protection System (LEPS)
Ergonomics
The driver benefits from a large cab with plenty of legroom. Key factors in reducing work fatigue are comfortable seats, the ergonomic operation concept and the highly visible display of important vehicle information. The operator has precise and sensitive control of all mast and lifting movements from the fingertips, with the arm resting relaxed on the armrest. In addition, the mast and axles are isolated from the cabin by rubber bearings. This means that virtually no vibrations or shocks are transmitted to the driver.
Spacious cab with ample leg room
Hydraulic seat springs
Ergonomic operation concept
Decoupled driver's workspace
Handling
The hydrostatic direct drive guarantees sensitive, smooth, and precise movement, assisted by strong diesel, LPG, or natural gas motors that provide high torque with minimal fuel consumption. The trusted Linde dual-pedal control ensures efficient handling. Last but not least, all functions of the mast can be controlled right down to the last millimeter thanks to Linde Load Control This allows for significant productivity gains in the transporting and warehousing of loads.
Hydrostatic power unit for precise movements
Powerful motors
Dual-pedal control for efficient handling
Precise mast movements with Linde Load Control
servicing,
Linde IC trucks are outstanding for their very long service intervals, with the first check only carried out after 1000 operating hours have been clocked up. After 3000 operating hours, service technicians check the tilt cylinder and suspension elements, and replace the ventilation, pressure, and suction filters. The hydraulic oil only needs to be changed after 6000 hours. These long intervals are made possible thanks to a number of design details, including new high-performance filters and maintenance-free components on the tilt cylinder. The hydrostatic direct drive, too, is maintenance-free. When a service is required, the components are readily accessible to the service technician. Rapid diagnosis can be made via a laptop.
Long maintenance intervals
Maintenance-free hydrostatic power unit
Easily accessible maintenance components
Diagnosis via laptop
Technical Data
| Model | Load capacity/Load | Load centre distance | Wheelbase | Aisle width with pallet 800 x 1200 along forks | Travel speed, with/without load |
| --- | --- | --- | --- | --- | --- |
| H16CNG | 1.6 (t) | 500 (mm) | 1600 (mm) | 3886 (mm) | 20 / 20 km/h |
| H16D | 1.6 (t) | 500 (mm) | 1600 (mm) | 3886 (mm) | 20 / 20 km/h |
| H16T | 1.6 (t) | 500 (mm) | 1600 (mm) | 3886 (mm) | 20 / 20 km/h |
| H18CNG | 1.8 (t) | 500 (mm) | 1600 (mm) | 3891 (mm) | 20 / 20 km/h |
| H18D | 1.8 (t) | 500 (mm) | 1600 (mm) | 3891 (mm) | 20 / 20 km/h |
| H18T | 1.8 (t) | 500 (mm) | 1600 (mm) | 3891 (mm) | 20 / 20 km/h |
| H20CNG | 2.0 (t) | 500 (mm) | 1600 (mm) | 3895 (mm) | 20 / 20 km/h |
| H20CNG-CT/600 | 2.0 (t) | 610 (mm) | 1600 (mm) | 3895 (mm) | 16 / 16 km/h |
| H20D | 2.0 (t) | 500 (mm) | 1600 (mm) | 3895 (mm) | 20 / 20 km/h |
| H20D-CT/600 | 2.0 (t) | 610 (mm) | 1600 (mm) | 3895 (mm) | 16 / 16 km/h |
| H20T | 2.0 (t) | 500 (mm) | 1600 (mm) | 3895 (mm) | 20 / 20 km/h |
| H20T-CT/600 | 2.0 (t) | 610 (mm) | 1600 (mm) | 3895 (mm) | 16 / 16 km/h |
Optional Equipment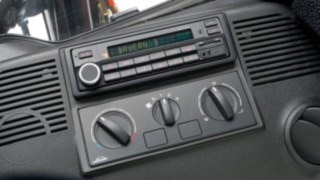 Radio with Bluetooth speakerphone
The DAB+ radio has fascia connections for USB and Bluetooth®, along with two loudspeakers and an additional antenna.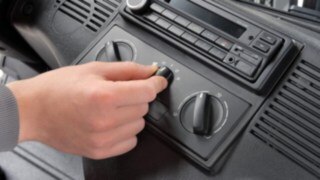 Air Conditioning*
The powerful air-conditioning system (which contains fluorinated hydrocarbons) with integrated heating and pollen filter guarantees a comfortable working environment in the cab all year round, while also preventing windows from fogging up.
* contains fluorinated hydrocarbons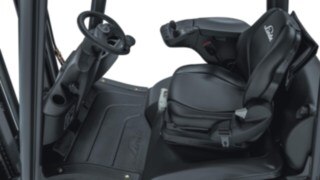 Various seat options
For maximum comfort, various seats are available. These have different equipment characteristics such as seat heating, lumbar support, air-cushioning, active seat ventilation and various adjustment functions.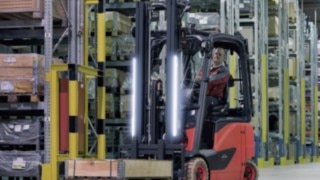 LED Strips
The two-color LED strips provide an even and extensive illumination of the working area. They illuminate the truck's direction of travel with white light.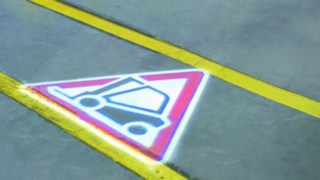 Visual Warning Systems
Light-based warning systems such as Linde TruckSpot™ and Linde BlueSpot™ project warning signs or colored spots of light onto the floor to warn pedestrians and other trucks—even at junctions with impaired visibility.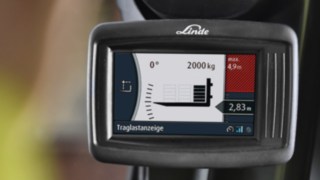 Linde Safety Pilot
The Linde connect driver assistance system has many functions to improve safety and efficiency, include a display of the maximum load weight, maximum permitted lifting height, and speed.
Full Cabin
The comfort cab protects the driver when working outdoors and its generously sized glass panes provide outstanding all-round visibility of the load and working environment.
Get a Quote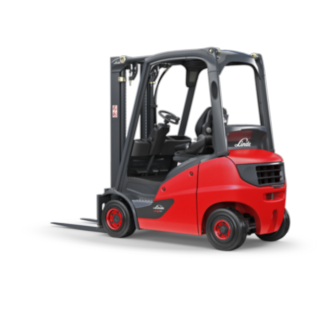 H 14-20