Move comfortably through the warehouse with two pallets
The pallet stacker D10 AP from Linde Material Handling can be used as a pedestrian or ride-on truck, providing flexibility. When transferring goods, it accelerates to a maximum of 10 kilometers per hour while the operator stands on the fully suspended, folding stand-on platform. Thanks to its narrow chassis, the truck is particularly suitable for loading and unloading trucks and for use in confined warehouse environments. The double-deck pallet stacker can transport two pallets at the same time with a total weight of 2,000 kilograms. The Linde OptiLift system ensures easy pallet handling and enables fully proportional lifting and lowering thus protecting the load. Since the rotation speed of the lifting motor is adjusted accordingly, lifting movements are extremely precise, quiet and smooth. Two folding side guards keep the operator within the truck's chassis contour at all times. In addition, the creep speed and automatic brake function ensure optimum safety and high productivity.
Characteristics
Safety
The folding stand-on platform of the D10 AP pallet stacker functions as a dead man´s switch. In addition, two folding side guards keep the operator within the truck's chassis contour when the platform is being used. The truck automatically reduces speed when cornering and when releasing the traction control. An optional load guard prevents the goods from slipping or falling.
Stand-on platform with dead man´s switch function
Speed reduction when cornering
Optional load backrest
Ergonomics
The D10 AP pallet stacker guarantees efficient material handling thanks to its ergonomic design: the fully suspended stand-on platform reduces shocks and vibrations during operation. The ergonomic tiller head allows the operator to control all functions conveniently and intuitively with their fingertips. In confined spaces, the operator can precisely maneuver the truck in creep speed. All important work utensils, such as gloves and packaging film, are stored in a spacious storage compartment. The multifunctional display provides information about the current truck status at a glance.
Fully suspended stand-on platform
Ergonomic tiller head
Spacious storage compartment
Multifunctional display
Handling
Over longer distances, the operator can use the convenient stand-on platform. The compact 2.3-kW engine accelerates to 10 km/h. The double-deck pallet stacker can carry two pallets with a total weight of up to 2,000 kilograms and adapts its speed to the load. Between the rack rows, the small chassis and the creep speed function allow precise maneuvering. The innovative castor wheels ensure optimum stability and traction during goods transfer and pallet handling.
Efficient transfer of two pallets
2.3-kW engine
Compact chassis
Creep speed function
Innovative castor wheels
Service
Thanks to the maintenance-free AC motor and the robust design, service costs are low. Service technician can read data quickly and reliably via CAN bus connection. All internal components are easily accessible and clearly arranged.
Maintenance-free drive technology
Fast diagnosis via CAN bus connection
Easy maintenance access
Videos & Images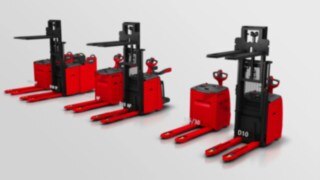 Technical Data
| Model | Load capacity/Load | Lift | Travel speed, with/without load | Turning radius | Battery voltage/rated capacity (5h) |
| --- | --- | --- | --- | --- | --- |
| D10AP | 1.2 / (2.0) (t) | 2024 (mm) | 10 / 10 km/h | 1978 (2340) (mm) | 24 / 345/375 (V)/(Ah) o. kWh |
Optional Equipment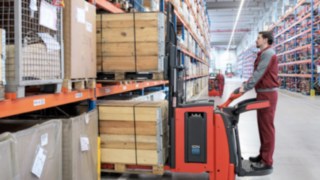 Load backrest
The load backrest ensures that loads cannot slip backwards and fall on the operator when the load carrier is raised.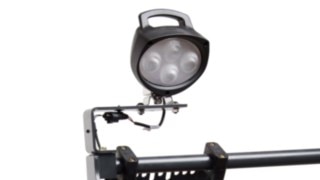 Front-LEDs
The LED working lamps have a high luminosity. They are also water- and dust-proof.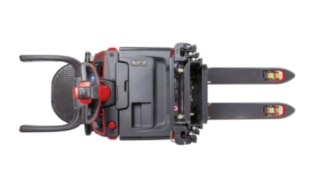 Fork dimensions
Linde offers various forks in different lengths and widths for the D10 AP.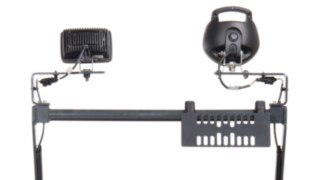 Accessory support
With numerous holders for working materials such as clipboards, scanners and film rolls, the operator's platform can be adapted to the operator's specific requirements.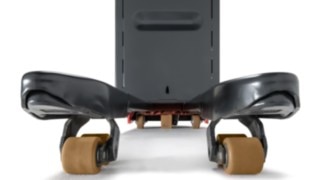 Hydraulic castor wheels
Hydraulic castor wheels ensure an optimum balance between stability and traction for constant ground contact.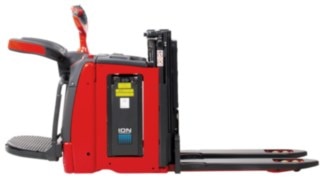 Lithium-ion technology
With Linde's innovative lithium ion batteries, trucks can be recharged in a much shorter time and intermediately charged during operation.
Get a Quote
D10 AP