Maneuverability in the tightest of spaces
The T20 - T25 FP pallet truck demonstrates its strengths in cramped conditions. With a chassis width of just 720 mm and precise power steering, it is extremely maneuverable, even in the tightest of spaces. This makes it particularly well suited for loading and unloading. With a maximum speed of 14 km/h (optional), the T20 - T25 FP can transport loads quickly and efficiently over medium distances, effortlessly moving loads of between 2000 and 2500 kg. A deep-seated chassis made of solid steel protects the driver in all driving situations, while the optional full-suspension operator's platform reduces the physical strain caused by vibrations and shocks.
Characteristics
Safety
The T20 - T25 FP pallet truck is equipped with a solid steel chassis that extends to the ground and protects the driver in the event of a minor collision. The compact design ensures that the driver's body remains safely within the chassis contours at all times while steering and is never exposed to any unnecessary risk. Independently operating braking systems protect the driver and load in all driving situations, with the entire surface of the driver's platform acting as a dead man's switch. When the driver leaves the truck, the braking system automatically intervenes. When cornering, the truck adjusts the speed and prevents possible overturning.
Steel chassis for driver protection
Independent braking systems
Driver's platform acts as a dead man's switch
Adapted speed when cornering
Ergonomics
With the T20 - T25 FP, all control elements of the ergonomic control handle can be easily operated with both hands, enabling convenient and precise handling of the pallet truck. The control handle is height-adjustable and can be precisely adjusted to suit the driver's individual requirements. The padded backrest offers the driver additional comfort and ensures that they can work for extended periods in a comfortable, fatigue-free posture. The optional full-suspension operator's platform also protects the driver from vibrations and shocks. Generous storage compartments provide ample space for important tools, making work easier for the operator.
Ergonomic, height-adjustable control handle
Padded backrest
Fully suspended operator´s compartment
Large storage compartments for work tools
Handling
Thanks to a compact chassis with a width of just 720 mm and electric power steering, the T20 - T25 FP pallet truck is extremely agile, allowing it to maneuver precisely even in the most confined spaces. The truck can carry loads of 2000 to 2500 kilograms. The powerful, low-maintenance 2.3-kW engine enables powerful acceleration. With a load, the T20 - T25 FP can reach a top speed of 12 km/h; without a load it can even reach 14 km/h. This makes the pallet truck particularly well suited for transporting pallets quickly, but also for rapidly loading and unloading trucks. As an optional feature, castor wheels ensure optimum traction and stability.
High maneuverability
Compact, powerful engine
Up to 14 km/h top speed
Powerful acceleration
Service
Thanks to a CAN bus connection, the system data of the T20 - T25 FP pallet truck can be analyzed quickly and reliably via a notebook. To enable service technicians to carry out maintenance work effortlessly and without delay, all important components of the truck are easily accessible. The maintenance-free technology of the AC drive enables long maintenance intervals and thus ensures high truck availability. With an optional digital instrument display, T20 - T25 FP drivers always have all truck information at their fingertips.
Fast diagnostics through CAN bus connection
Maintenance-free drive technology
Easy maintenance access
High truck availability
Videos & Images
Technical Data
| Model | Load capacity/Load | Lift | Travel speed, with/without load | Turning radius | Battery voltage/rated capacity (5h) |
| --- | --- | --- | --- | --- | --- |
| T20FP | 2.0 (t) | 125 (mm) | 10 / 12 km/h | 2095 / 2165 (mm) | 24 / 345/375 [23/205] (V)/(Ah) o. kWh |
| T25FP | 2.5 (t) | 125 (mm) | 10 / 12 km/h | 2095 / 2165 (mm) | 24 / 345/375 [23/205] (V)/(Ah) o. kWh |
Optional Equipment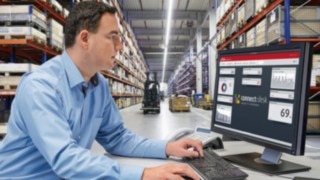 Fleet management
How and by whom are the individual forklifts used? What does the truck consumption data look like and is each individual truck roadworthy? With a combination of software and hardware,connect: fleet management from Linde provides the answers.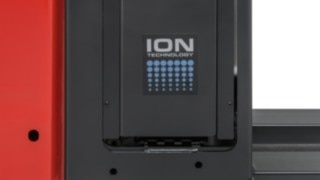 Lithium-ion technology
Thanks to the innovative lithium-iontechnology, the batteries are fully recharged after around 1.1 hours at room temperature.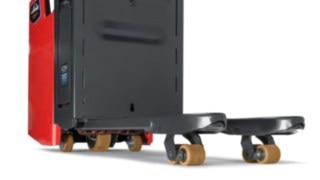 Level compensation
The system compensates for any unevenness in the ground and ensures that all wheels remain in contact with the ground at all times, thus ensuring the truck remains stable.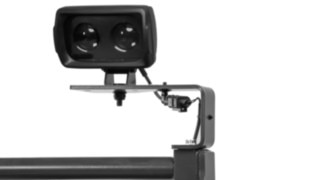 BlueSpot™
The Linde BlueSpot™route warning system increases safety in operation, as the LED spot makes forklifts visible without making a sound.
Load backrest
The load backrest, which is available in various sizes, provides an additional layer of protection for the driver by making the load more stable.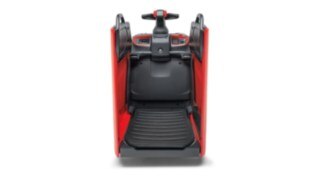 Fully suspended operator's platform
The optional fully suspended platform helps reduce the physical strain on the operator's body by absorbing shocks caused by uneven surfaces.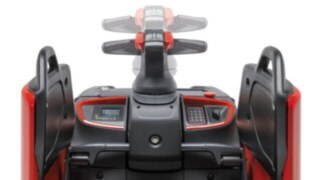 Height-adjustable control handle
The height-adjustable control handle allows the truck to be perfectly adapted to the driver's physical requirements.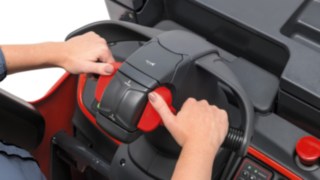 Increased speed
Powerful acceleration means the truck can reach its maximum speed with no hassle. Without load it can now reach maximum speeds of up to 14 km/h; with load 10 km/h is possible. This allows the driver to cover longer distances in even less time.
Get a Quote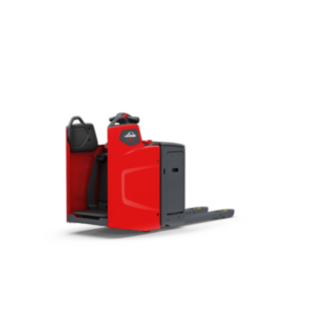 T20 – T25 FP